These Celeb Couples Prove Not Height or Weight Can Define Their Love For Each Other
What do you look at first when choosing a partner? Is it their height or their heart? For many, the only thing that matters is their partner's character and the type of person they are. Any other differences are set aside and both parties involved will find a way to resolve it. This is especially true for something as small as physical dissimilarities.
Even couples with a huge age gap can make their relationships work, so why worry? When the cupid decides it's your turn to fall in love, there is nothing you can do. However, what if the differences you have are on the physical side? Will it still not matter?
As they say, love is blind and doesn't look at appearances. Whether you're a foot taller or smaller than your partner, it shouldn't be an issue at all. The same goes for any differences in weight.
Just look at this list and see these loved-up celebrity couples who prove that at the end of the day, what truly matters is how they feel about each other.
1.Tess Holiday & Nick Holiday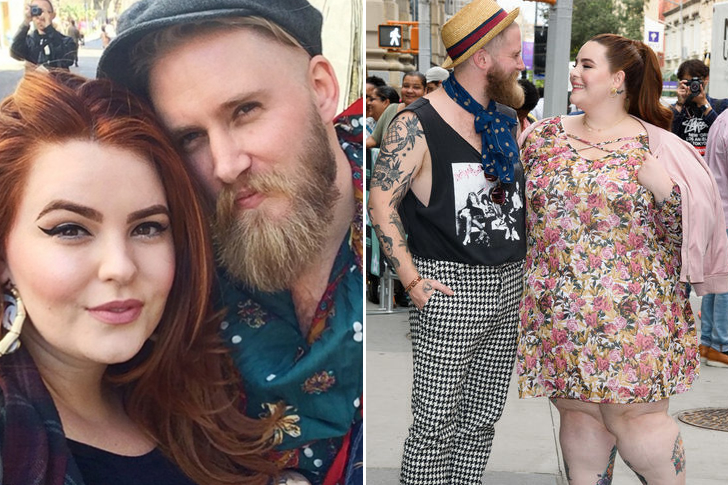 Love found its way like electricity toward Tess Holliday and Nicky Holliday. They started their romance with online conversations on Tumblr. The messages later led to a budding relationship of seven months, which eventually culminated in their wedding on July of 2015. Tess is a successful model and make-up artist. She used to go by the name Tess Munster before her marriage. She has been featured in several fashion blogs and magazines, such a Nylon and Vogue Italia.
Her internet fame led to a feature in the television documentary series Heavy by A&E. Nick, on the other hand, is a native of Australia. His career is in business, arts, and designing. After moving to America, the businessman/designer/artist worked as Tess's manager. Tess has a son named Rylee from a previous relationship. On June 2016, the couple welcomed their son, Bowie Juniper. However, the two parted ways in 2020.
2.Chrissy Metz & Martyn Eaden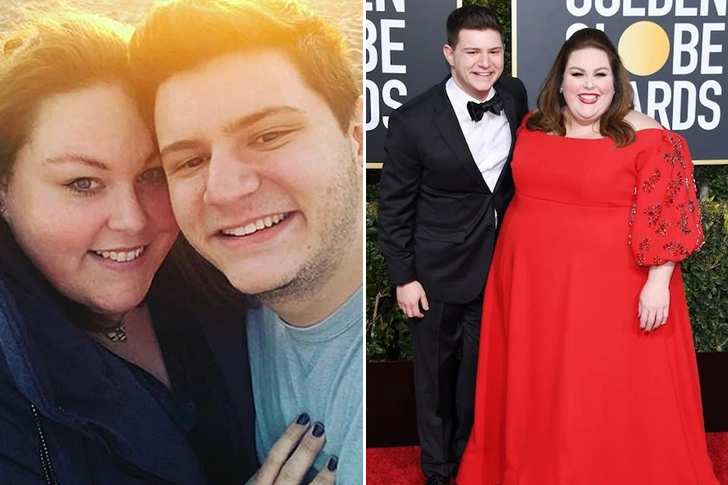 Award-winning actress Chrissy Metz met Martyn Eaden in 2006 before the prime of her career. Given the distance, with Metz in the USA and Eaden in the UK, their relationship was born out of online dating. Metz is most popularly known for her role in the series This Is Us. She portrays the character of Kate Pearson alongside Mandy Moore and Milo Ventimiglia. Another television feature to Metz's credit is American Horror Story: Freakshow. Her latest work is the 2019 film Breakthrough.
Meanwhile, Eaden seems to be shy of the limelight as not much is known about his career. To tie the physical gap between them, Eaden traveled to the US to meet his muse. This beautiful couple were eventually wed on January of 2008. In 2014, however, they decided to part ways. They reportedly still keep in touch and have retained their friendship.
3.Shaquille O'Neal & Laticia Rolle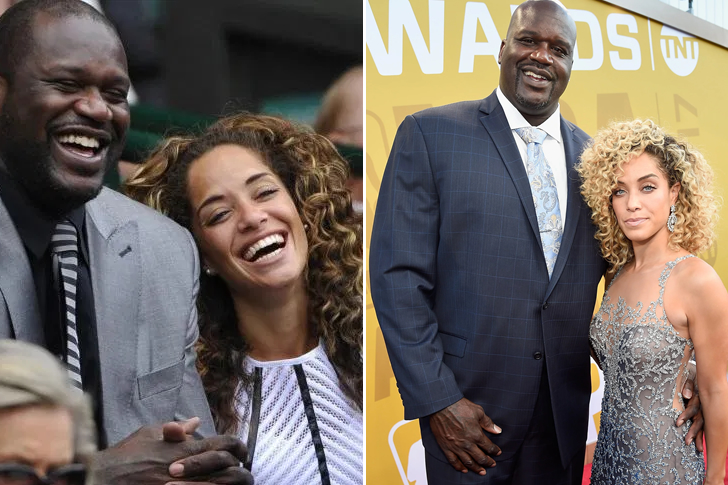 When it comes to brute strength and degree of dominance in the National Basketball Association, Shaquille O'Neal set the bar high for the league's future big men. The Hall of Famer finally hung up his size 22 sneakers after a memorable 19-year career in 2011, collecting four championship rings in the process. He won three of those championships with late-great superstar Kobe Bryant in Los Angeles, and one more during his brief stint with the Heat in Miami, Florida, in which state he met and fell in love with model and fashion entrepreneur, Laticia Rolle.
Laticia's personal life stayed well under the radar before rumors of her relationship the baller started to appear in the gossip columns in 2014. Sadly, their relationship eventually came to an end in 2018. Shaq continues to work as an NBA analyst while Laticia has been traveling the world and writing about it on her blog.
4.Kelsey Henson & Hafþór Júlíus Björnsson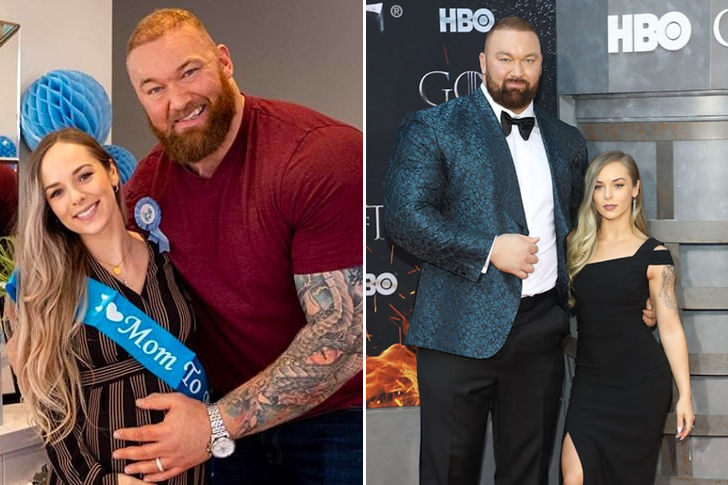 Hafþór Júlíus Björnsson met waitress Kelsey Henson while he was visiting Canada for a competition. Björnsson was the face behind the character Sir Gregor Clegane, "The Mountain", in seasons four to eight of HBO's Game of Thrones. But before he ventured into the world of acting, he was a record-breaking professional strongman in Iceland. He has competed in several competitions all over the world, including Iceland's Strongest Man contest, World's Strongest Man, and World's Strongest Viking.
Henson is also an athlete herself and is sponsored by some sports brands on Instagram. She seems to live a low-profile life when compared to her husband's, but she showers him with support especially during his competitions. The couple welcomed their first child together on September 2020. Mr. and Mrs. Björnsson must have taken a business loan since they opened their own business named Thor's Power Gym located in Kópavogur, Iceland.
5.Beth Ditto & Kristin Ogata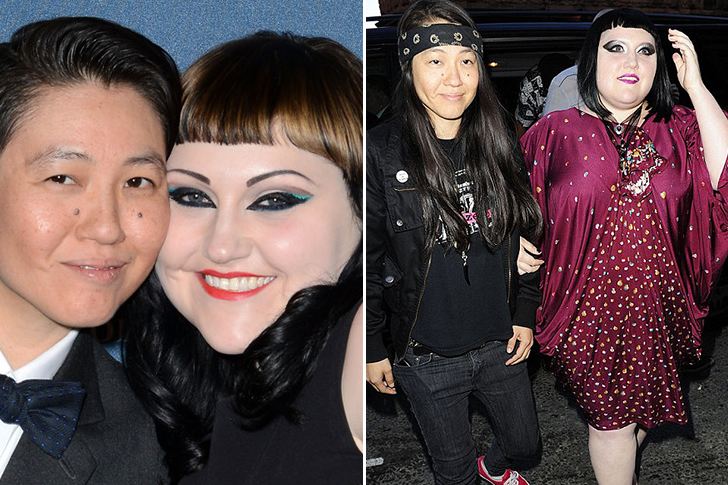 Beth Ditto has been with her best friend, Kristin Ogata since she was eighteen years old. Their friendship bloomed into a romantic relationship later on. Ditto is a musician by heart and was the vocalist of the indie band Gossip. She also ventured into fashion and has strutted down a couple of runway shows. Ditto has also collaborated with beauty and fashion brands such as MAC and Evans. Not much is known about Ogata's personal life as she prefers to stay away from the limelight.
The power couple actually married twice. They first tied the knot on the sandy beaches of Hawaii on July of 2013. After seventeen months, Ditto and Ogata went back to their hometown in Oregon and tied the knot for the second time. However, as of 2018, the couple have since decided to call their lawyers and go their separate ways.
6.Gabourey Sidibe & Brandon Frankel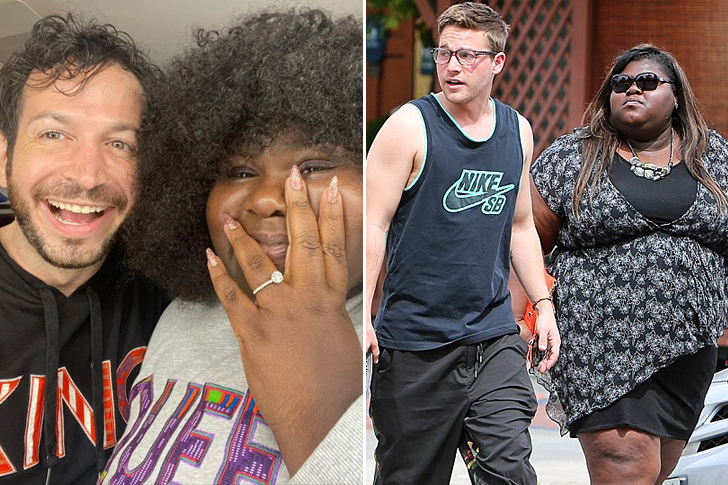 Gabourey Sidibe began dating Brandon Frankel in 2019 and despite being a relatively new couple, they've already weathered quite a lot. Sidibe is an actress best known for her debut film Precious where she plays the titular role. She received the Independent Spirit Award for her performance. Aside from this, she has also received credit for her work in the series American Horror Story. Following her film debut, Sidibe starred in succeeding films such as Tower Heist, White Bird in a Blizzard, and Antebellum, to name a few.
Frankel on the other hand is a proud owner of a talent representation/marketing company named Contra Inc. He also works for the Chicago-based company called Cameo. The adorable couple share a cat together, whom they named Aaron. On November 2020, both Sidibe and Frankel posted on their individual Instagram accounts, announcing their engagement.
7.Billy Gardell & Patty Gardell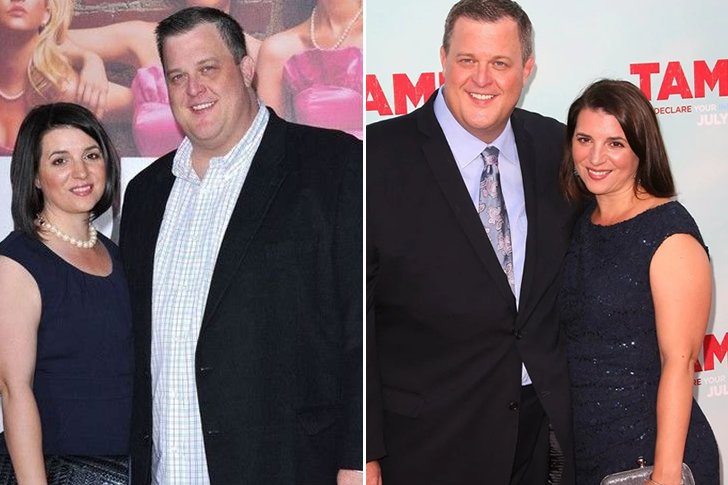 Theirs is a love story woven straight from a fairy tale. Billy and Patty Gardell have been together for 20 years. Patty has been with Billy since he worked his way into the industry. He has a lot of television contributions, but one of his most notable acting credit is being in the sitcom Mike & Molly opposite Melissa McCarthy. He was featured in a few other films such as You, Me and Dupree, Jersey Boys, and Once Upon a Time in Venice. Meanwhile, Patty has chosen to live a low-profile life.
The couple rang in the wedding bells back in 2001 and they have been together ever since. They are proud parents to their only son William III. Bill must have done some good investment planning as he reportedly said that he might retire by the time his son enters his teenage years.
8.Jason Momoa & Lisa Bonet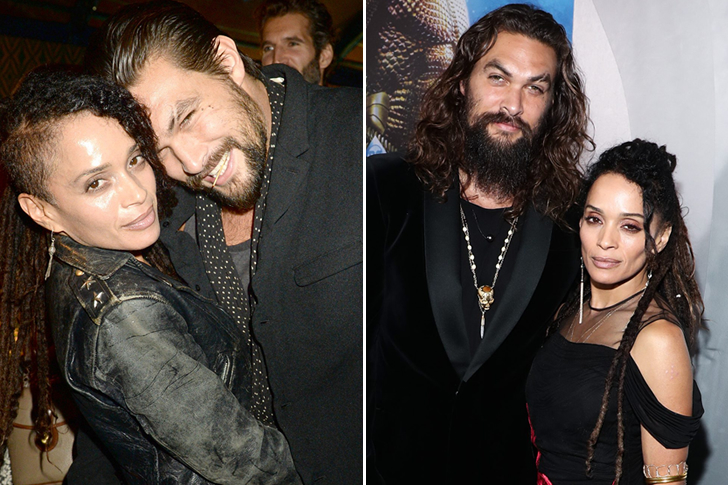 Jason Momoa and Lisa Bonet's love story will leave everybody jealous. The couple have been together since 2005 and have been inseparable throughout the years. Momoa was catapulted into prominence when he was cast as Khal Drogo in HBO's Game of Thrones. His short stint in GTO served as an investment towards bigger roles. Bonet, on the other hand, is an alum of the Crosby Show. She was featured mostly on television shows such as A Different World, Life on Mars, and New Girl.
She too has her share of credits from films, though she has since opted to lie-low. Although they have been together since 2005, the lovely couple did not seal the deal until 2017. They welcomed their first daughter together in 2007 and a son the following year. Through their marriage, Momoa is also a stepfather to actress Zoe Kravitz, who is Bonet's daughter with Lenny Kravtiz.
9.Samuel L. Jackson & LaTanya Richardson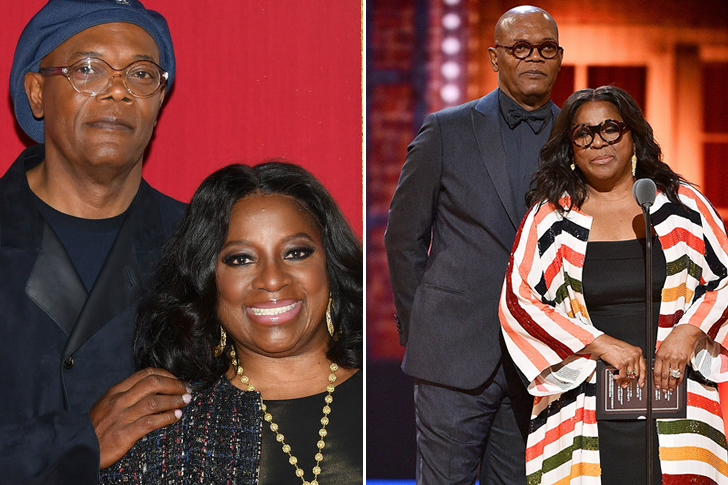 LaTanya Richardson was a student at Spelman College when she met Samuel Jackson at his alma mater, Morehouse College. They have been inseparable ever since. Samuel is one of Hollywood's biggest stars. He has starred in a lot of movies including Jurassic Park, Pulp Fiction, Star Wars, Coach Carter, The Avengers, and Glass, just to name a few. He is considered to be one of the industry's revolutionary actors thanks to his contribution to the craft.
LaTanya has her share of acting credit too. She has starred in several films such as Sleepless in Seattle, Fried Green Tomatoes, and Malcolm X, among others. Samuel married LaTanya in 1980. The couple's only daughter, Zoe was born in 1982. Since then, LaTanya voluntarily avoided taking regular projects to care for their family. Their five-decade-long marriage is worth more than any insurance plan there is on Earth.
10.Sam Elliot & Katharine Ross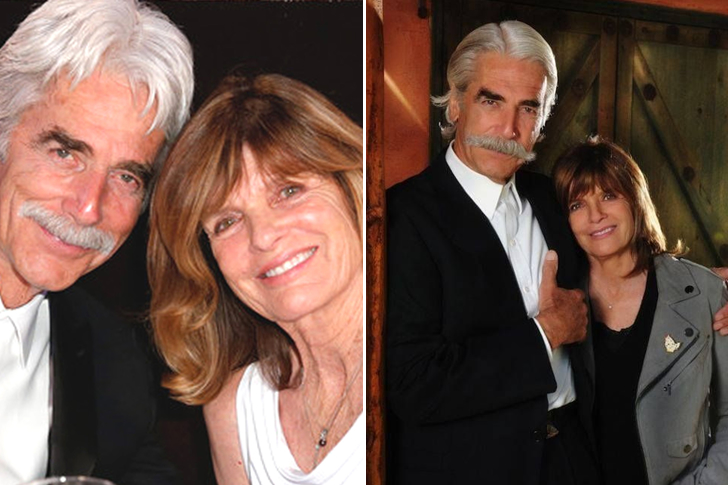 Sam Elliott met fellow actress Katharine Ross on the set of the 1969 movie Butch Cassidy and the Sundance Kid. Sam only had a small role in the film while Katharine portrayed one of the main characters. In 1978, when they starred opposite each other in the movie The Legacy, sparks started to fly. They officially tied the knot in 1984. Sam has been in both TV and film, including Fatal Beauty, The Big Lebowski, and Up in the Air.
Katharine is an award-winning actress who starred in many films including The Stepford Wives, Tell Them Willie Boy Is Here, and The Final Countdown. The celebrity couple have been married for 37 years. They have one daughter together, Cleo Rose. By the 1990s, Katharine has spent lesser screen time. Her latest work was with her husband in the 2017 film The Hero.
11.Reese Witherspoon & Jim Toth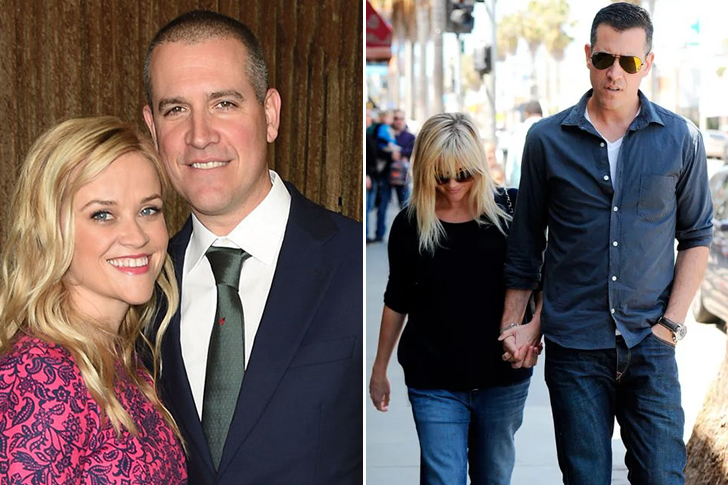 Reese Witherspoon is one of America's darlings. With her infectious smile, blonde hair, and ocean blue eyes, she has dazzled audiences throughout the years. Her breakout role in Cruel Intentions paved the way to international prominence. She was cast as Elle Woods in the 2001 film Legally Blonde and in Sweet Home Alabama. After four years since she and her former husband, Ryan Phillippe parted ways, Reese found her happy ever after.
She reportedly met talent agent Jim Toth at a house party, where drunk guy was harassing Reese. Jim came to her rescue and the rest was history. Reese and Jim got engaged after less than a year of dating and finally tied the knot in 2011. The love between them was more than just sparks—it was full-on electricity. The following year, the couple welcomed their first son together whom they named Tennessee James.
12.Christina Ricci & Owen Benjamin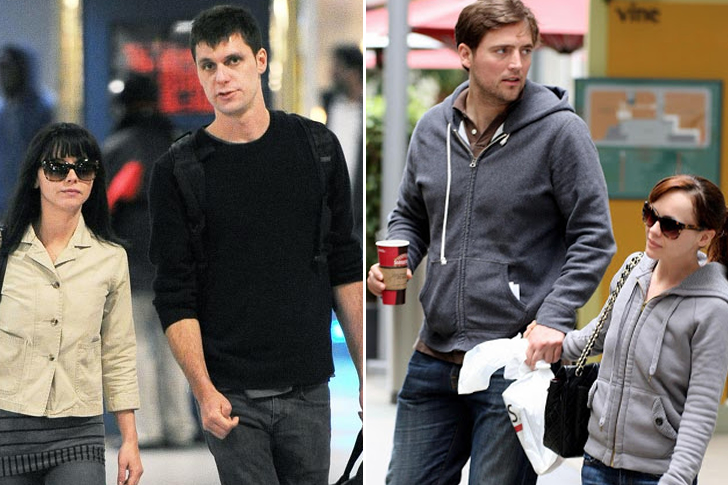 Christina Ricci has been widely credited for the dark characters that she has portrayed in films. So, when she started dating comedian Owen Benjamin, mouths dropped. The couple met during the filming of All's Faire in Love, which they co-starred in. Ricci is best known for her role as Wednesday in the 1991 film The Addams Family and its sequel in 1993 Addams Family Values. Her other acting credit come from her work in Casper, Sleepy Hollow, and Speed Racer.
Owen, on the other hand, has been featured in a supporting roles in the film The House Bunny and the sitcom Sullivan & Son. In 2008, the couple announced their engagement after almost four months of dating. Unfortunately, two months later they have decided to end things for good. They have since lived separate lives and have reportedly remained friends.
13.Fergie & Josh Duhamel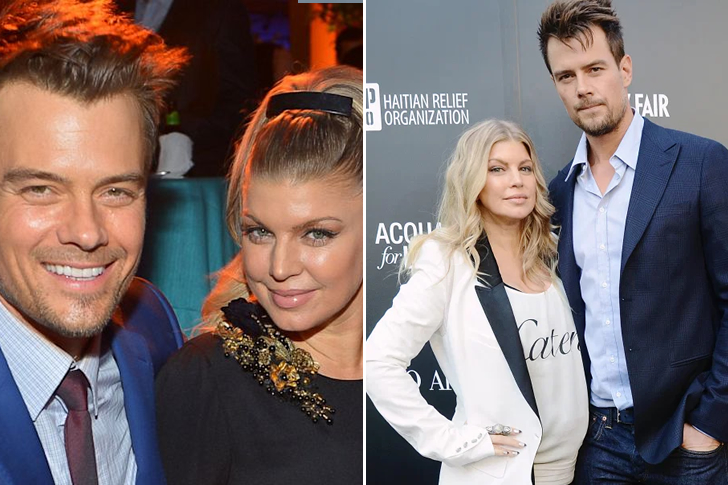 A crossover between the world of music and film is not at all uncommon in Hollywood. This is probably why when the hip-hop group Black Eyed Peas guested on an episode of then hit-show Las Vegas, neither the crew's sultry singer Fergie nor the show's lead-star Josh Duhamel had an inkling that their lives were to change forever. That fateful cameo in 2004 led to them dating and eventually announcing their engagement in 2007. They finally tied the knot in a Catholic wedding in 2009.
During their relationship, both of their careers catapulted to astronomical heights with Fergie earned enormous Billboard success with her first solo album The Duchess, and Josh received serious credit after being handpicked by top-billed director/producer Steven Spielberg to headline in the new Transformers movie franchise. Their marriage officially ended in 2019, but they share custody of their 7-year-old son Axl Jack Duhamel.
14.Sarah Michelle Gellar & Freddie Prinze Jr.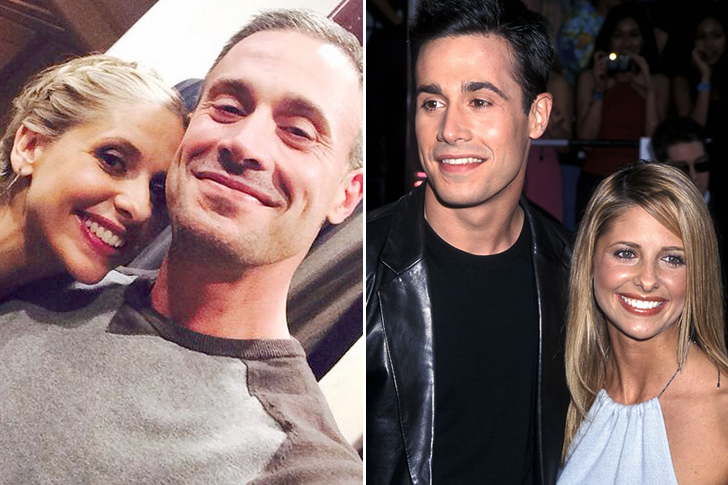 When these two I Know What You Did Last Summer stars started dating at the beginning of the millennium. During the peak of their career, you'll find them on the cover of magazines. Who would've thought that these two would stand the test of time?
Their first date unintentionally happened as they were supposed to go out with a common friend who stood them up that night. Sarah Michelle is best known for her role as Buffy The Vampire Slayer while Freddie kept young girls glued to movies such as She's All That, where he starred opposite Rachel Leigh Cook. The couple ended up sharing the screen again in the live-action movie version of Scooby-Doo in 2002, and in the sequel Scooby-Doo: Monsters Unleashed as Fred and Daphne.  The couple lives in Los Angeles with their two kids Charlotte and Rocky.
15.Mila Kunis & Ashton Kutcher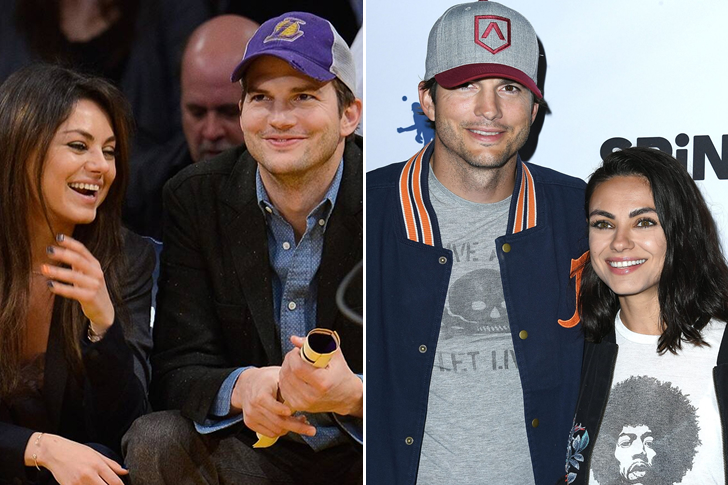 Serendipitous is a word reserved mostly for movie scripts, especially in Tinseltown where romances come and go like the seasons. But for Ashton Kutcher and Mila Kunis, love really has come full circle. From their beginnings in the industry as the beloved on-screen couple Kelso and Jackie in That 70's Show, all the way to their current real-life marriage of five-and-a-half years and counting.
Following nasty rumors of a supposed separation in 2018, Mr. and Mrs. Kutcher sportily dismissed it by posting a hilarious video on Ashton's Instagram page in typical "Punk'd" fashion. Their marriage is reportedly as healthy as ever and is centered on their two children, Wyatt and Dimitri, who are 6 and 4 years old respectively. Mila was recently on The Late Late Show with James Corden to show off their luxurious home which, upon first glance, could easily fetch a six-figure home insurance deal.
16.Mary-Kate Olsen & Olivier Sarkozy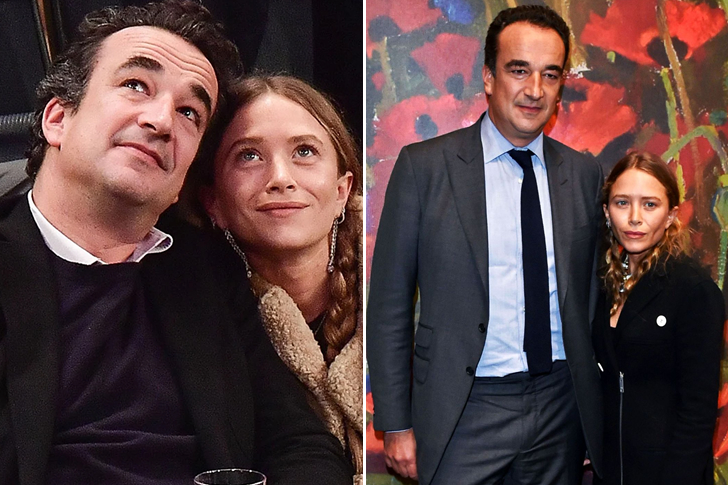 Regardless of the huge height and age difference between American actress Mary-Kate Olsen and French banker Olivier Sarkozy, which was quite a buzz when the public found out, the couple remained unbothered about it and just went on with their relationship. Mary-Kate and Olivier are known to be openly affectionate with each other and though some doubted them at first, the actress-designer's fans eventually grew to appreciate them.
Their height difference only made them cuter. Olsen was only 5 feet and 2 inches and had a partner who was more than a foot taller. They also had a huge age difference, but despite the degree of backlash these two stood strong. The couple were eventually married, but their union ended up in a separation that is still ongoing. Despite the sad ending, we definitely wish both of them much happiness and success.
17.Shakira & Gerard Piqué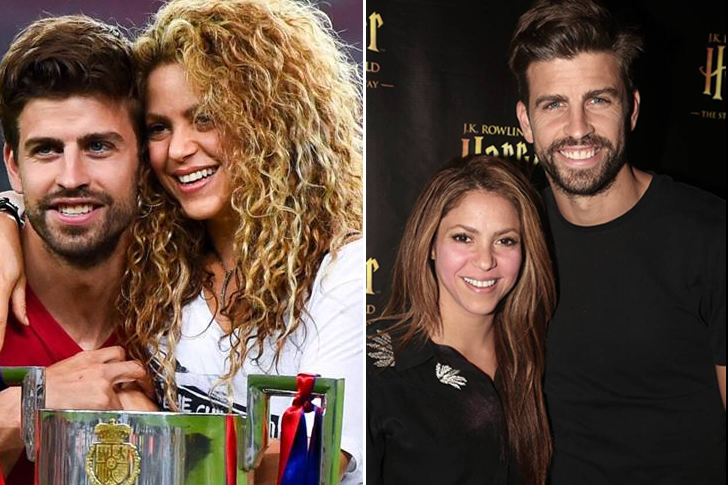 Love knows no boundaries or distance—not even a foot and two inches apart. Shakira Isabel Mebarak Ripoll, a Colombian singer most popularly known as the global superstar, Shakira, looks completely cute standing next to her 6"4 Spanish football star boyfriend, Gerard Piqué. The dynamic duo first met on the Waka Waka and started dating not too long after. They have been inseparable since and now have two children together, Milan and Sasha.
The global superstar, who gave the world Hips Don't Lie and Whenever, Whenever, and former star midfielder now live in Barcelona with their family. With their investments combined, these two have a whopping net worth of $350 million dollars. A hefty number for a very hardworking couple. Not only did they make our list, but these two surely rank when it comes to richest couples as well!
18.Tracy Pollan & Michael J. Fox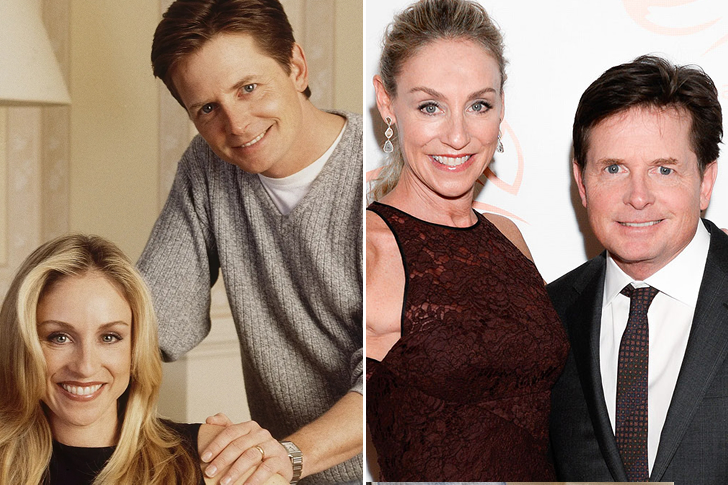 Standing at 5 feet and 4 inches tall, Michael J. Fox is considered to be one of the shortest men in Hollywood, but that never stopped Tracy Pollan from loving him. Tracy Pollan, most notably known for her appearance as Ellen Reed in the sitcom Family Ties has a good two inches on her husband Michael Fox but the couple looks absolutely stunning and perfect whenever they're on the red carpet.
The couple first met back in the 1980s, on the set of Family Ties, the sitcom that allowed Fox to bag three Emmy Awards for his portrayal of Alex P. Keaton. Aside from winning multiple awards, Fox won something more than acting prestige—a lifetime with his future wife Tracy Pollan. The couple has been married for 32 long years and have four children together. Fox might be going through health issues, but his family is all the insurance he needs.
19.Danny DeVito & Rhea Perlman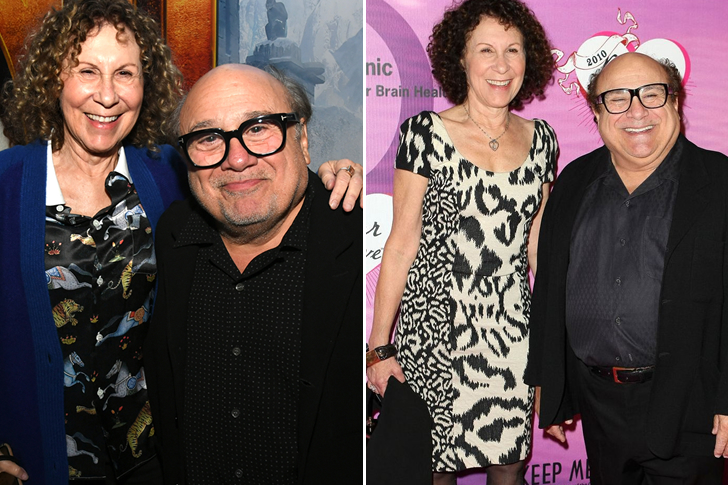 DeVito has multiple epiphyseal dysplasia, a rare genetic disorder that stunts and affects bone growth. This explains DeVito's short stature, which only measures in at 4 feet and 10 inches. However, that didn't stop Rhea Perlman, an American actress and writer known for her amazing performance in the sitcom Cheers, from building a life with him. At present, they have been together for more than 40 years.
The two are notably successful in both their careers, showing a degree of talent that is uniquely theirs. After their marriage in January 1982, the couple had lived a quite unconventional relationship filled with a lot of ups and downs. The comedic duo have broken up so many times and gotten back together in the end. It might seem frustrating to some, but we think it demonstrates a very-real aspect of relationships. These two deserve credit for it.
20.Dax Shepard & Kristen Bell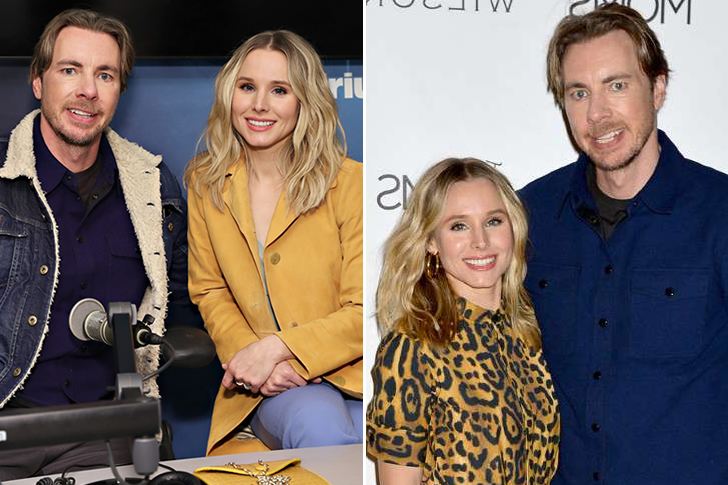 American actors Dax Shepard and Kristen Bell have been tagged as a golden couple in Hollywood. With a stark height difference of more than a foot, we couldn't help but notice how adorable they are as husband and wife. Although they have gone through quite a lot, they have managed to weather through different circumstances that come along their way. Bell admitted in one of her interviews in 2019 that she did not feel any sparks whatsoever the first time she met Shepard in the year 2007. The two met again two weeks later and began dating shortly after.
In 2010, one year after they starred in the romantic comedy When In Rome, they were engaged. Shepard shares that they encountered a great degree of difficulty in the first few months of their marriage. However, as time went by, the two worked on their personal matters and happily made a family of their own. It is comforting to know how their love only continues to grow stronger day by day. As stated by Bell in an interview with Entertainment Tonight, "We earned each other".
21.Chris Bosh & Adrienne Williams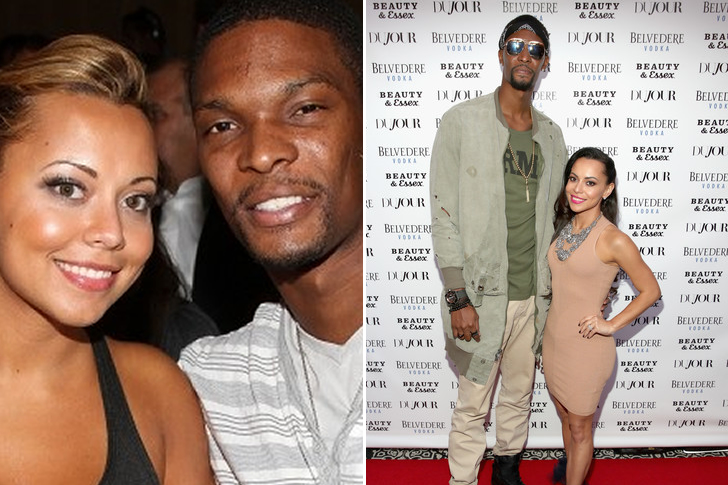 With a whopping 24 inches on his 4'11" wife, it looks like Chris Bosh has to bend more than a little bit to give his lovely wife Adrienne Williams a kiss on the cheek. At 6 feet and 11 inches, Miami Heat's power forward completely towers over the model and businesswoman. Looking at their couple photos, it'll be hard or even near impossible not to smile seeing how adorable the two look standing next to each other. The lovely duo met at a charity event in New York City, where they engaged in conversation and ultimately ended up with the other's number on their phones.
Bosh and Williams seemingly had the same current of electricity flowing through them, considering their three months of courting through the phone felt natural and destined. The couple got married on the July 16, 2011. They have five kids: Phoenix Avery, Lennox Noel, Dylan Syke, Jackson, and then Trinity.
22.Tina Fey & Jeff Richmond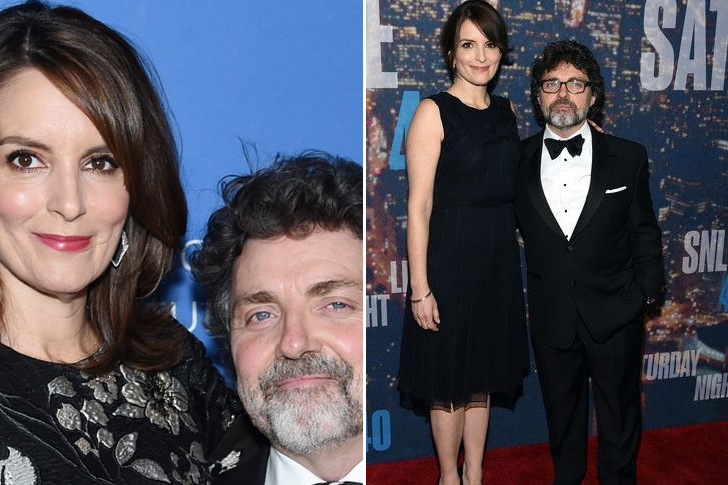 Who knew that hit American actress, producer, and comedian Elizabeth Stamatina "Tina" Fey would make a lovely pair with equally accomplished American composer, actor, and director Jeff Richmond? The actress is best known for her creative genius on NBC's comedy series Saturday Night Live, before she developed her own show called 30 Rock, in which her husband worked as the master composer behind the series' music.
The pair has an exciting and seemingly comedic journey when it comes to their love life, considering both of them had a direct connection to each other's funny bones. In a New York Post interview, Richmond confessed that Fey always made him laugh. After 17 years of marriage, it looks like the cute couple has a lot of gas left in their tank when it comes to their career, and of course, their romance.
23.Zoë Kravitz & Karl Glusman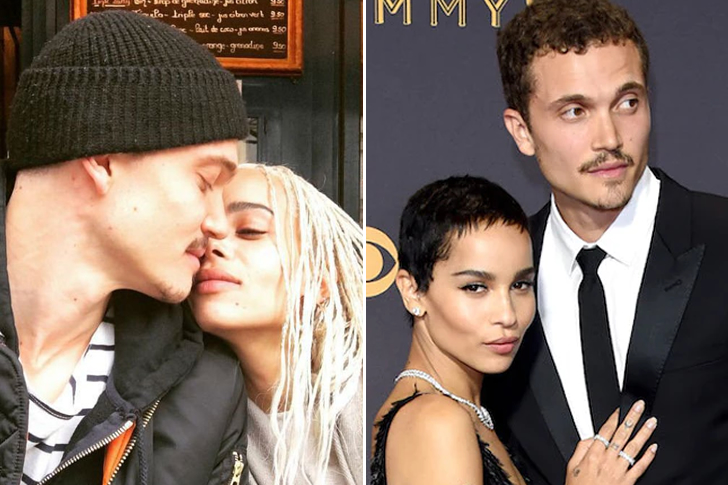 We must give credit to American actress Zoe Kravitz for her iconic performances as Angel Salvadore in the film X-Men: First Class and Christina in the Divergent franchise. On the other hand, American actor Karl Glusman has appeared in numerous films, but found his big break in the drama Love. An unexpected turn of events took place in late 2016 when these celebrities, who happened to be in the same place, hit it off and began their love story.
According to Kravitz in an interview with British Vogue, she liked how it was not a meeting planned through an app or a movie set. She explained how she "instantly felt something" in the first moments that they shared. Soon after, the couple was often seen together in public, and every time the paparazzi would witness such, one would never fail to notice the huge height difference between the two, Glusman being a whole foot taller than his partner. The couple got married in 2019 before splitting up after 18 months of marriage.
24.Julia Louis-Dreyfus & Brad Hall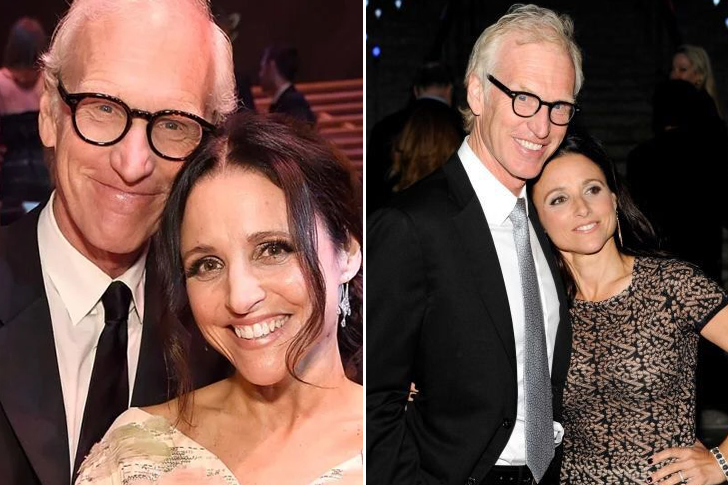 Julia Louis-Dreyfus looks like she has everything going for her in her life—especially a wonderful love life. Known for her amazing work in the comedy series Saturday Night Live and Seinfeld, Julia is married to fellow comedian and SNL alum Brad Hall. As expected from their extensive comedy backgrounds, their relationship is one-of-a-kind and filled with laughter all the way. The couple's love runs deep, despite the huge height difference with over a foot of difference between the two, with Hall being 6'2" and Louis-Dreyfus standing at 5'3".
The duo first met at Northwestern University when the comedienne joined the Practical Theatre Company, which was co-founded by her future husband. Louis-Dreyfus dropped out of college when she was tapped by SNL, but she was eventually awarded with an honorary Doctor of Arts degree by her alma mater in 2007. Since the pair have teamed up romantically, nothing's stopping them from ruling the comedy industry. The two have worked together on SNL and Curb Your Enthusiasm.
25.Chris Hemsworth & Elsa Lafuente Medianu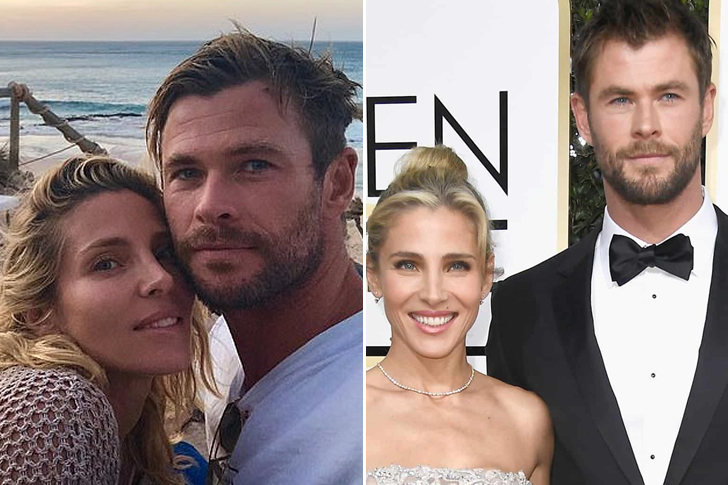 Turns out Chris Hemsworth isn't only known as the God of Thunder; he is also the God of Love when it comes to how adorable he is when it comes to his absolutely stunning model wife, Elsa Lafuente Medianu, known professionally as Elsa Pataky. After almost a decade of being together, the 6 feet and 3 inches actor looks huge when paired up with his 5 feet and 3 inches wife.
Hemsworth and Pataky met through talent agent William Ward in 2010, and after initial introductions, there was a spark between them and they immediately hit it off. Three months into their relationship, they were vacationing in Indonesia and from then on they stepped their foot on the gas. Pataky and Hemsworth got married in December of that year. The couple has a beautiful baby girl, India Rose, and twin sons, Tristan and Sasha.
26.Megan Fox & Brian Austin Green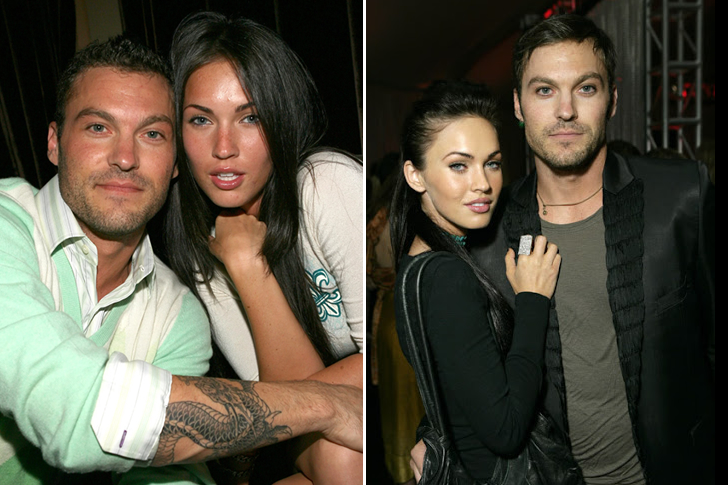 The next couple on this list features both a height and age difference. Brian Austin Green stands at 6 feet tall, while Megan Fox is only 5'4 in height. Despite their differences, the love between these two was once on a different degree and level. Green is most notably known for his roles in Beverly Hills 90210, Terminator, and Don't Blink, to name a few. He has been exposed to the acting industry from a relatively young age, making his acting career stretch for more than 30 years.
On the other hand, the brunette bombshell often comes up in discussions about the pretty faces of Hollywood. The actress made a name for herself through various roles in The Transformers franchise, Jennifer's Body, and 2020's Rogue only to name a few. The power couple started dating in 2004, when Fox was 18 years old and Green was 30. Their relationship was a rocky one, but they eventually married in 2010 and have three kids together. Unfortunately, they separated in 2020.
27.Oprah Winfrey & Stedman Graham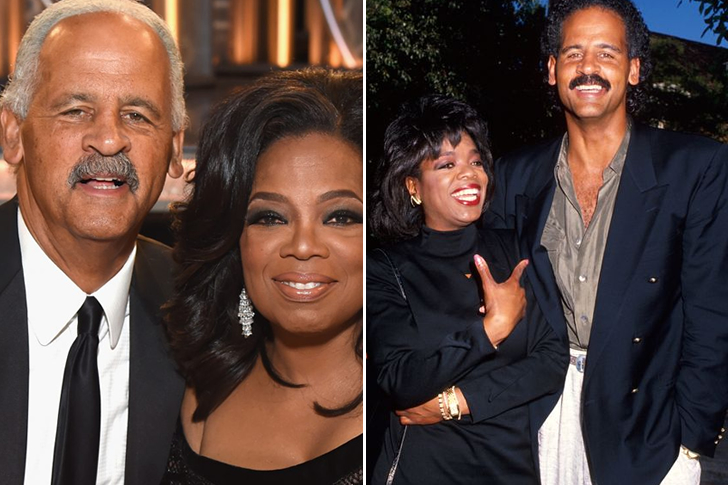 The "Queen of All Media" deserves a fitting king to rule beside her, and for Oprah Winfrey, Stedman Graham is her man. Even before relationship goals were a thing, they have been setting the bar high; whenever they are in the same room together, you can feel the electricity of their relationship. Their 30-year relationship can be traced back to the couple's first meeting in 1986 at a charity event.
As of 2020, the couple still lives under one roof together and has been continually beating the test of time. Despite the height difference of Graham being a little over a foot taller than his partner, you can see that their hearts are closer than any other relationship in the world. With both of them being highly successful in their careers, the couple is also in the list of the richest couples in the world with a combined net worth of $3.5 billion.
28.Daena E. Title & Jason Alexander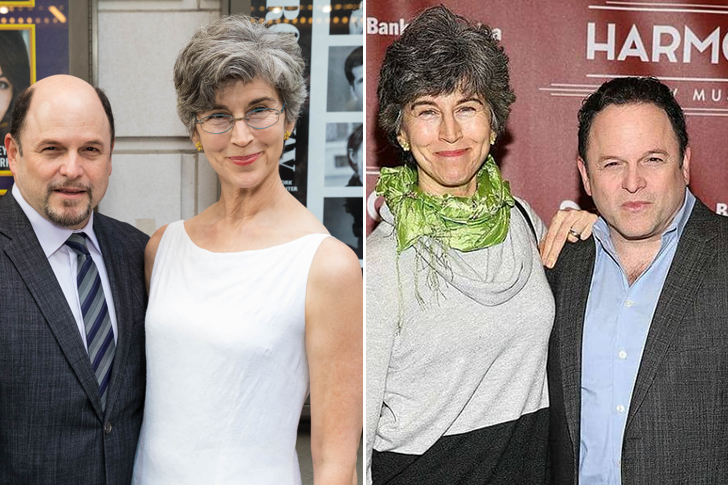 Deana Title is an American actress best known for her outstanding performance in the movie For Better or Worse. She has been married to Broadway star Jason Alexander since 1982. The couple was blessed with two loving children together. They are quite a sight, as Title is way taller than her partner, who is 5'4 ½ ft in height. Nevertheless, this simply goes to show how true love chooses no boundaries.
The love story of the celebrity couple dates back 1982 when Alexander was working as only a casting agent. He was 23 years old when he met his future wife, and this was way before he made some investments after taking up the role of George Costanza in Seinfeld. Luckily for the two, there was an instant spark and connection, and from there things went swiftly in their relationship.
29.Cristiano Ronaldo & Georgina Rodriguez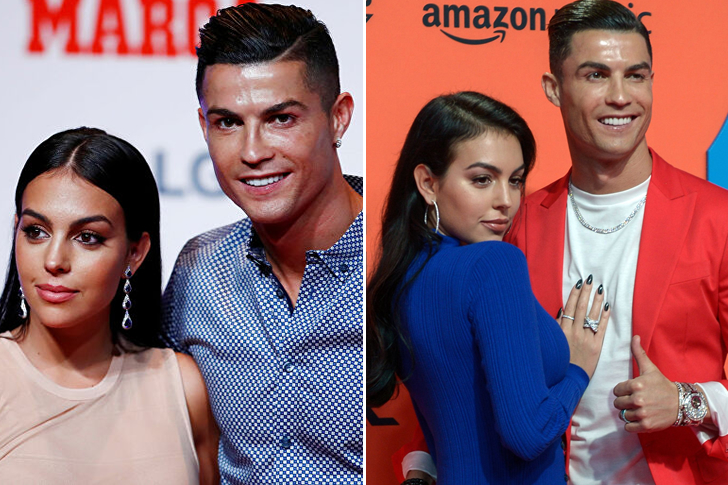 It seems like love at first sight is a complete fairytale that only happens in works of fiction, but if that were the case you could say Cristiano Ronaldo and Georgina Rodriguez's love story is a dream come true then. The 6 feet and 1 inch Portuguese professional football megastar met the love of his life in a Gucci store down in Madrid where she was working as a shop assistant.
In an interview, Rodriguez mentioned that Ronaldo's height, body, and beauty caught her attention and that she was "trembling in front of him" when they met. As a result of the intense electricity flowing between them, they have both stated that there was a spark that ignited. Ever since that fateful day, Rodriguez and Ronaldo have been together and are now engaged—all from that one seemingly normal day down in Madrid.
30.Jessica Simpson & Eric Johnson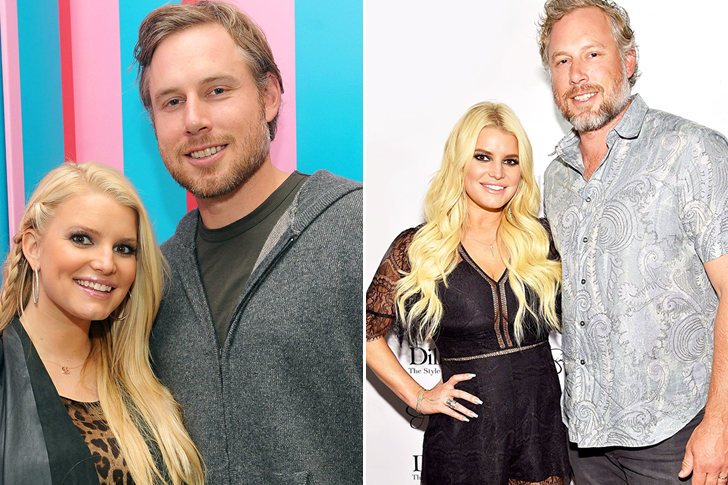 After coming out of their past marriages, American singer Jessica Simpson and former NFL athlete Eric Johnson hit it off in 2010. The two come from extremely different worlds, but they managed to find forever in each other. With Simpson's gorgeous face and Johnson's well-built frame and a towering height of 6 feet and 3 inches, everyone surely turns their heads at the sight of this beautiful couple.
As for their love story, the singer explained that meeting her husband was a love at first sight experience, saying "He knocked on my dreamy cottage door, I let him in and never let him leave." She continued that she "fell head over slippers in love" on that day. They welcomed their first child together in 2011 and baby number two the following year. They finally and officially tied the knot in 2014. As husband and wife, they give credit to all their past experiences for leading them into each other's arms.
31.Scottie Pippen and Larsa Pippen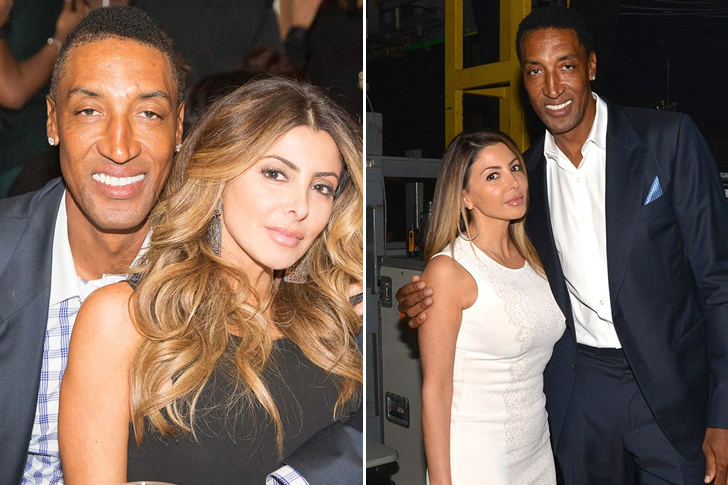 Scottie Pippen is a retired basketball player who has the record of being named NBA All-Star 7 times, first in 1990 and then an unbroken streak from 1992 to 1997. He was also part of the NBA Dream Team. When he retired, his number 33 was also retired. One interesting fact about Pippen is that he is a poor tipper, which he learned from his former financial advisor Robert Lunn.
The basketball legend married Real Housewives of Miami star Larsa Younan in 1997 and they had four children together—Scotty Jr., Preston, Justin and Sophia. The couple enjoyed 21 years together as a married couple before splitting up in 2015, reconciling in 2017, and finally calling it quits in 2018. Fortunately, the two are on good terms as they remain friends and have a healthy co-parenting setup. According to Larsa, "Family always comes first."
32.Peter Dinklage and Erica Schmidt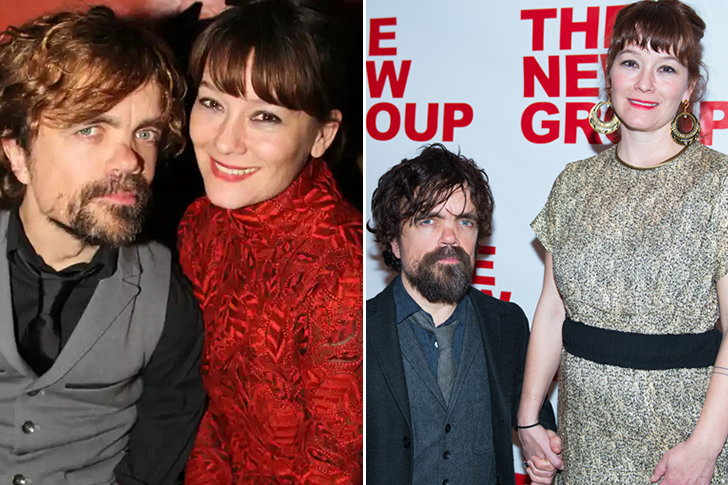 Who could forget Peter Dinklage for his role as Tyrion Lannister in Game of Thrones? The actor studied acting in Bennington College; his investments in his education paid off after receiving a Golden Globe Award and a Screen Actors Guild Award for his role in GOT. He is married to Erica Schmidt, a theater director known for Miles from Nowhere. The couple has two children together: their first child was born in 2011, and their second in 2017.
They did not publicly announce the birth, hoping for privacy, but they were spotted with their then-newborn at a concert. Given that they value their privacy more than anything, it is hard to find out more about their children, but the couple has been seen in public numerous times and they appear to be doing well. We hope that the children grow up to be like their parents and become skillful in their crafts.
33.Jamie Cullum and Sophie Dahl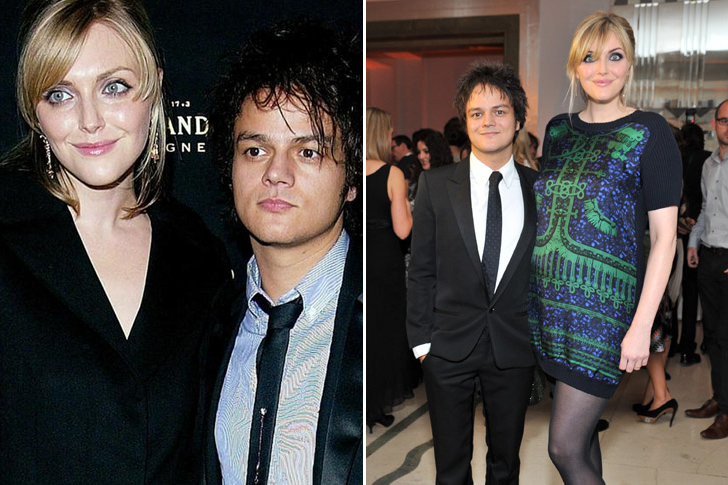 If the name Sophie Dahl rings a bell, it is because she is not only famous for being a famous model, but because her grandfather, Roald Dahl, is also a celebrated author. The model is married to Jamie Cullum, a radio presenter and singer-songwriter. He hosts a jazz show on BBC Radio 2 every Tuesday nights. His first album only sold 500 copies, but that did not make him lose hope, resulting in a platinum for his album Twentysomething, which was released in 2003.
Dahl and Cullum were married in a private ceremony on January 9, 2010. They have two daughters together: Lyra, who was born in 2011, and Margot, who was born in 2013. In an interview, the radio presenter revealed that it was important for couples to grow separately and together for a relationship to last. Being straight with each other was also another key to their lasting marriage. Given the degree of commitment they have for one another, we see this marriage lasting a lifetime.
34.Ariel Winter and Luke Benward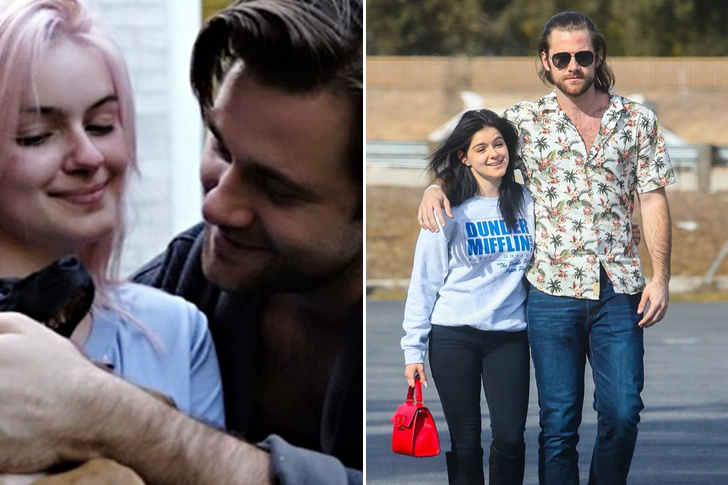 What do you do when your TV show wraps up after more than a decade? Spending a day at the beach sounds good, wouldn't it? This is exactly what Ariel Winter did when Modern Family, where she played Alex Dunphy, ended in April 2020. She was seen with boyfriend Luke Benward in Laguna Beach, sunbathing with friends. Her partner is known for his role as Beau in the series Good Luck Charlie.
Winter has always been interested to become a lawyer, but she is now on an indefinite hiatus from UCLA, focusing instead on acting. She and Benward recently moved out of their Studio City home in California. The actress was spotted carrying boxes to her car, being helped by her boyfriend. It is not clear where they are moving to, but for sure, it would be a place the two of them could call home.
35.LeBron James and Savannah Brinson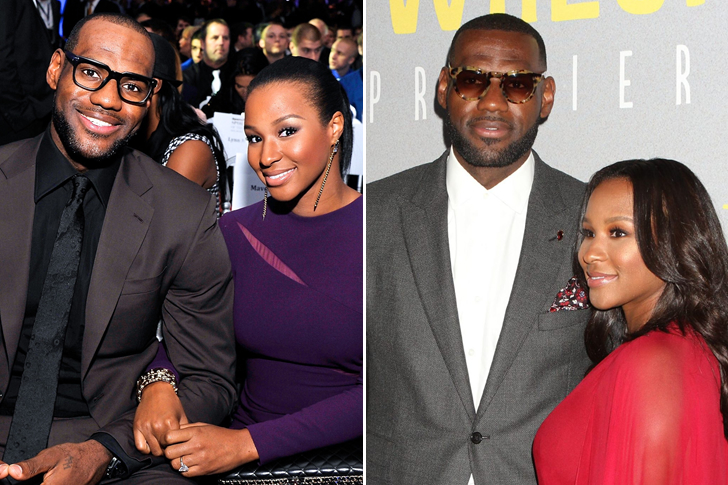 We know who LeBron James as one of the greatest basketball players of all time. He is usually compared to Michael Jordan when debating over who is to be given the credit for being the greatest. If we ask Savannah Brinson though, we already know who her answer would be. The couple has three children together: Bronny, Bryce, and Zhuri. Their love story is inspiring, as they met in their hometown in Ohio. Their high schools were rivals and in true Romeo and Juliet style, the two fell in love.
It was Brinson who showed interest first and asked for James' number from a common friend. The NBA star then asked her out and they had their first date at an Outback Steakhouse. Marrying your high school sweetheart is a dream for many of us, so when the couple married each other on September 14, 2013, it was a reminder that dreams can become a reality, especially when you meet the right person.
36.Peter Hermann and Mariska Hargitay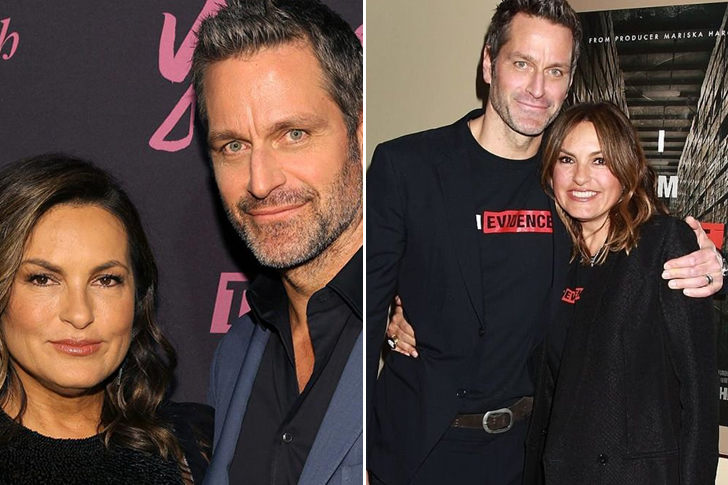 For couple Peter Hermann and Marissa Hargitay, the secret to a long-lasting relationship is to have a God-centered partnership. The two met at the set of Law & Order: SVU and Hermann was instantly smitten by the actress. In an interview, he confessed that he purposely passed by her dressing room just to get a glimpse of her. The two have been married since 2004 and are not showing any signs of letting each other go.
They now have three children together and live in the Hamptons, most likely in a home guarded with the latest home security system for their protection. The couple faced difficulties in their relationship, like when they broke up right before they got married due to differences on major issues. In the end, Hermann won her back with a poignant love letter that sent them marching to the altar. Their kids will for sure grow up well, considering they are in a loving family.
37.Deryck Whibley and Ariana Cooper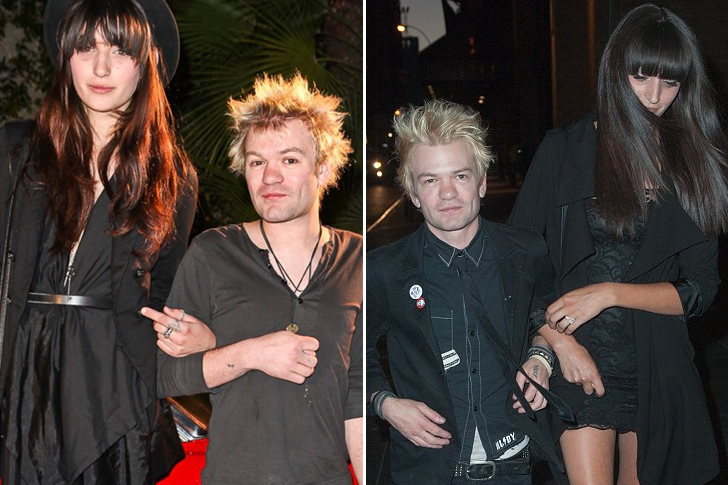 Also known as Bizzy D, Deryck Whibley is a rather popular Canadian singer and musician and a member of the rock band Sum 41. He also went solo producing and managing though Bunk Rock Music. He later sold his shares in the company in early 2005, shortly before he married fellow singer Avril Lavigne. They later parted ways and Bizzy D later married model Ariana Cooper on August 30, 2015.
The couple share a child together, Lydon Igby, who was born on March 1, 2020. Their marriage in Los Angeles was held at the Hotel Bel Air. Whibley gives credit to Cooper for taking care of him when he had health issues in 2014. We can say that she was indeed true to her marriage vows to the singer for going above and beyond. We can see how Whibley became healthier with his doting wife beside him.
38.Jay Cutler and Kristin Cavallari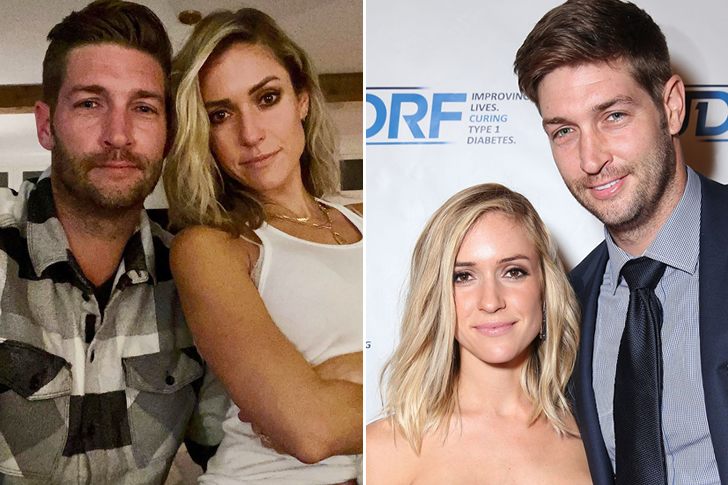 Kristin Cavallari is a known TV personality who has appeared on the MTV series Laguna Beach. She is also a fashion designer with her own line of clothing and jewelry that she dubbed Uncommon James. Cavallari first met Jay Cutler in 2010 after a friend introduced the pair. The two viewed themselves as balancing each other out, and in two months' time, he put a ring on her finger.
The ex-Chicago Bears quarterback and former Hills actress got married in June 2013.
They have three children together: Camden Jack, Jaxon Wyatt and Saylor James. Their relationship was not without its problems. In 2011, before they tied the knot, Cavallari briefly called off the engagement because she did not want to be a stay-at-home mom. The couple unfortunately separated in 2020. Currently, their lawyers are finalizing their settlements. Despite the end of their relationship, we wish for them to be the best parents to their kids still.
39.Eva Mendes and Ryan Gosling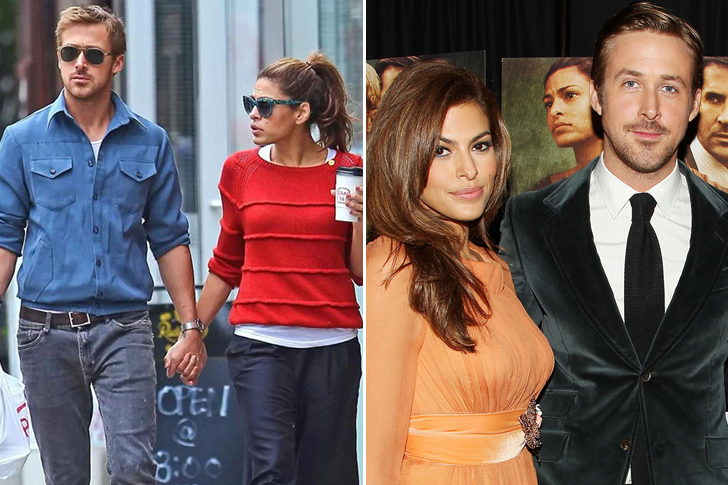 Gaining worldwide fame for playing Noah Calhoun in the romantic movie The Notebook, Ryan Gosling has a solid fanbase of mostly young women who adore the actor. Was fellow actress Eva Mendes one of these women? Well, she eventually hopped into a relationship with Gosling after meeting him on the set of The Place Beyond the Pines, so we can safely assume she is. There were rumors that they secretly wedded in early 2020, but that has not yet been confirmed.
The two seem to be going strong, especially now that they have two daughters together. Their eldest, Esmeralda, was born in 2014, followed by Amada in 2016. They have been a couple now for more than nine years. What is interesting is that their children do not know they are celebrities. This was revealed in an interview where Mendes showed the degree of protection the couple had given their children to shield them from the controversies of Hollywood.
40.Jenna Elfman and Bodhi Elfman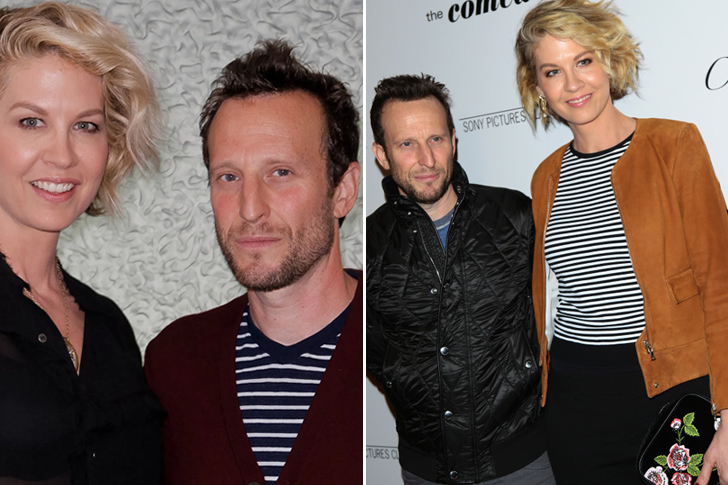 What do Jenna Elfman and Bodhi Elfman have in common apart from being married to each other? They are both stars of popular TV shows, with Jenna starring as Dharma in the sitcom Dharma & Greg, while Bodhi played the part of Peter "Mr. Scratch" Lewis in Criminal Minds. The two met in 1991 while they were auditioning for a Sprite commercial and got married four years later.
The couple bought a 5,000-square-foot home in Hollywood Hills back in 2000.
Showing excellent money management skills, they later sold the house to Katey Sagal for $4.7 million, taking in a profit of $700,000. Their marriage produced two children, Story Elias and Easton Quinn. They claim that open communication is the key to having a good relationship, and of course, staying faithful despite temptation. We admire this couple's devotion to one another.
41.Rod Stewart and Penny Lancaster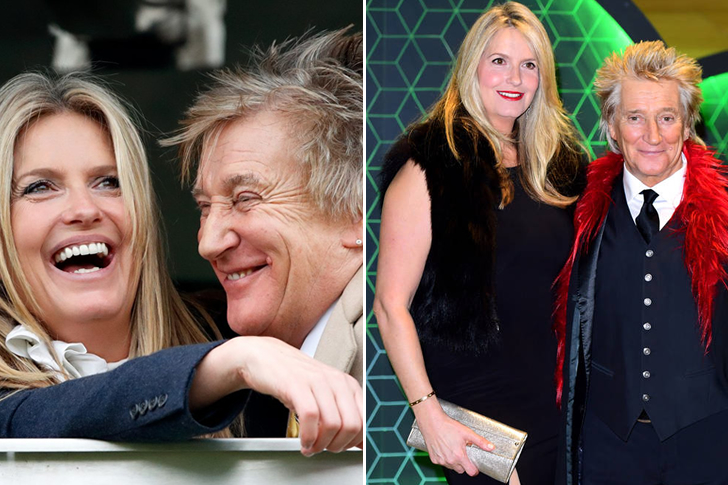 Rod Stewart is one of the bestselling singers of all time, having sold more than 250 million records worldwide. His raspy voice is probably what attracted TV personality Penny Lancaster to him. The two have been married since 2014, though they met way back in 1999. A romance ensued and they began their lengthy relationship. Stewart, quite the romantic, asked for Lancaster's marriage atop the Eiffel Tower—a move worthy of investment.
Shortly after the proposal, the couple had their first child together, Allastair Wallace, who was born on November 27, 2005. The family enjoys holidays together, particularly during Christmas. Lancaster also has an affinity for animals and considers them part of the family, too. In fact, during Christmas 2020, she decorated the goat outbuilding on their property as well. Stewart has had relationships with many women, but it appears he has finally settled down with his one true love.
42.Ted Danson and Mary Steenburgen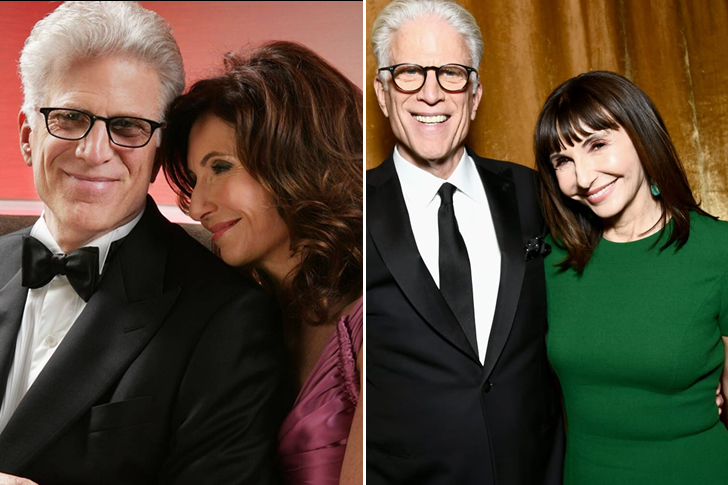 They say that complimenting your wife is one secret for a marriage to last. Ted Danson, no doubt knows this well, and is quite generous with giving praise to his wife of more than 25 years, Mary Steenburgen. He said that if he could be a woman, he would want to be his wife, perhaps the most flattering compliments of all. To be fair, Steenburgen is no ordinary woman, as she was awarded an honorary doctorate degree from both Lyon College and Hendrix College.
The two met on the set of the movie Pontiac Moon in 1993 and, just two short years after, wed in 1995. They have been inseparable since then, even running script lines for each other. Danson is currently starring in Mr. Mayor, where he plays an elected mayor of Los Angeles who has to navigate the complex intricacies of politics. Steenburgen recently appeared in the film Happiest Season and has an upcoming film entitled Nightmare Alley.
43.Hayden Christensen and Rachel Bilson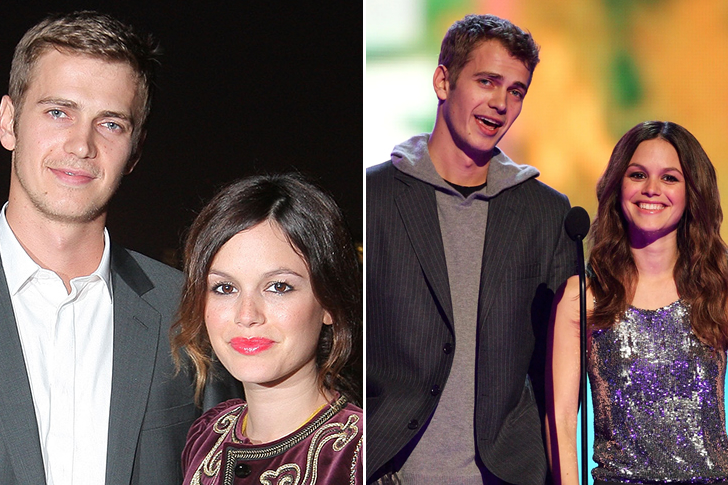 The name Hayden Christensen evokes images of a young Anakin Skywalker frolicking with Queen Amidala in the plains of Tatooine. Was that how life was when Christensen and former girlfriend Rachel Bilson were together? The two met while filming Jumper and became engaged on Christmas in 2008. Bilson then gave birth to Briar Rose on October 29, 2014. Though they are no longer together now, The O.C. actress says that she loves co-parenting with the Star Wars actor.
Their daughter is now six years old and it is unknown yet whether they have plans of setting her up for Hollywood. That scenario though is unlikely given that both of them support the coalition No Kids Policy, which calls on photographers or anyone to refrain from snapping celebrity kids with no consent. This is just a logical move, considering that unwanted exposure might harm a kid. It is also best if they have a home security system installed at home for their protection.
44.Kris Humphries and Kim Kardashian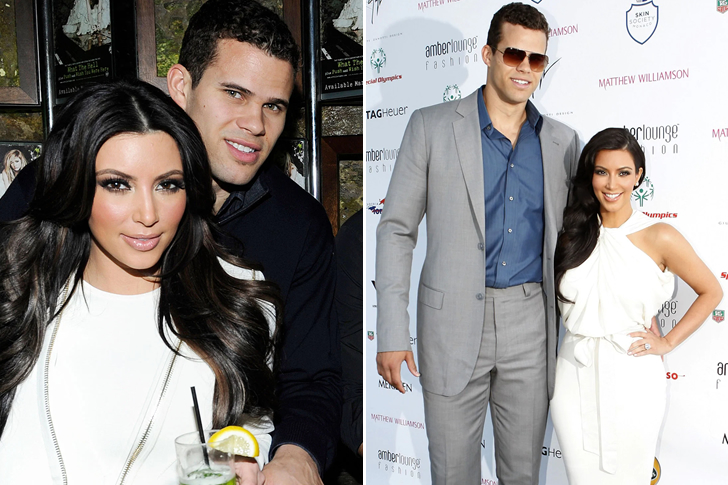 Being married to an athletic, hunky man is the dream of many women, perhaps even including Kim Kardashian. The TV personality married Kris Humphries, after all. She married the then-New Jersey Nets player on August 20, 2011 in Montecito, California after several months of dating. Capitalizing on the anticipation leading to the wedding, Kardashian also released "Kim Kardashian Love", her wedding scent. This move proved to be an excellent money management tactic as sales undoubtedly skyrocketed.
Their marriage was short-lived though, and just 72 days after they tied the knot, Kardashian filed for the termination of their marriage. She later revealed that she was pressured into getting married seeing how many of her peers were already settled down. Kardashian said that at 30 then, she thought of getting her affairs organized. Well, at least the actress has now learned that rushing into a marriage does no good.
45.Ashley Tisdale and Christopher French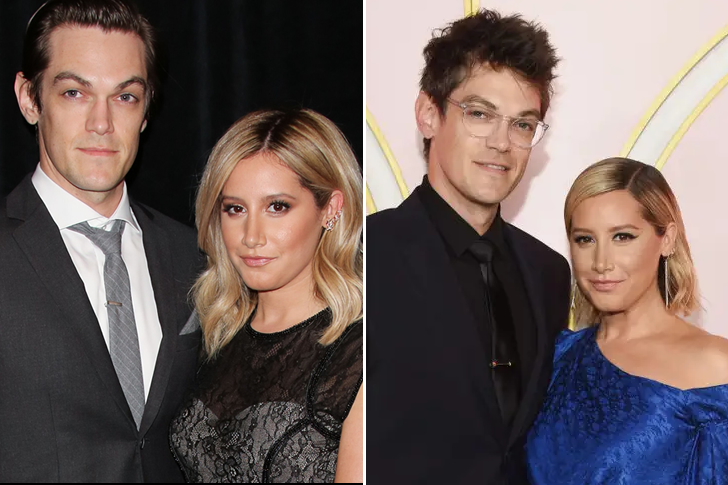 Ashley Tisdale is best known for her role as Sharpay Evans in the High School Musical movie series. She also became a commercially successful singer with her debut solo album Headstrong, which was released in 2007. Tisdale has been married to singer Christopher French in 2013, after they dated for more than one year. French proposed to Tisdale atop the Empire State Building and married her in a private ceremony held in Santa Barbara, California.
The two are now expecting their first child together. They appear very happy, with French showing excitement on Instagram as he was seen cradling Tisdale's baby bump. Their fans are already showing a great degree of anticipation. No one could be more excited though for the couple, who has been planning for this baby for six years.
46.Queen Latifah & Eboni Nichols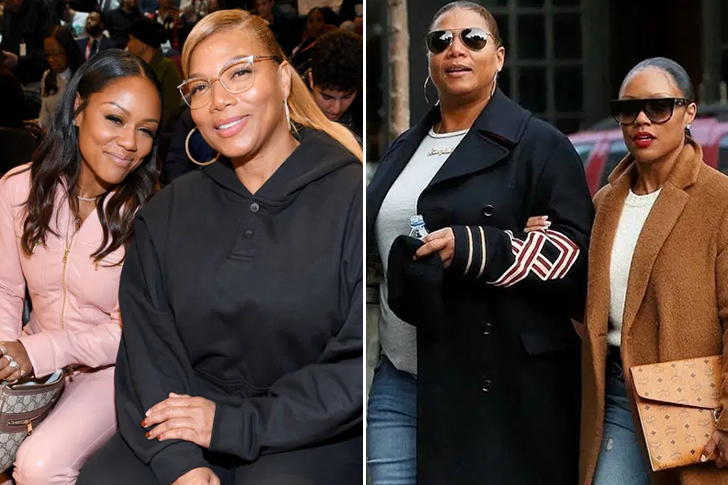 Queen Latifah is one of America's most iconic superstars, yet her love life is a mystery to many. Nonetheless, she is in a long-lasting relationship with her partner Eboni Nichols. Latifah's partner is a professional dancer and choreographer who graduated with a degree in theater and dance from Chapman University in California. The dancer went dancing for major stars like JLo, Usher, and Beyonce.
While she has evident talents in dancing, Latifah is a renowned singer. She signed a contract in 1989 with Tommy Boy Records and released her first album, All Hail the Queen. She has received many accolades for her work, both in singing and acting. She has earned an Emmy Award, Grammy Award, and three Screen Actors Guild Awards. She has now sold more than two million albums worldwide. This couple is beyond talented, that's for sure!
47.Snoop Dogg And Shante Taylor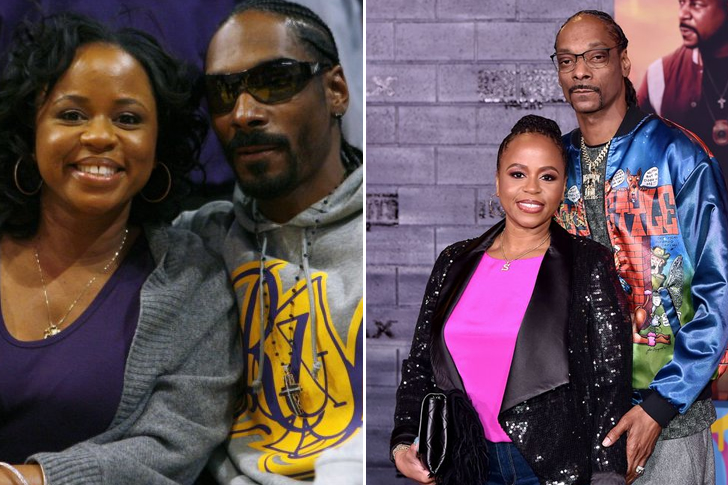 Snoop Dogg and his sweetheart, Shante Taylor, have been married now for 23 years and have three children. Snoop may have a reputation for being a tough guy, but his topmost priority is his family. They have known each other since high school, with Taylor having been there when Snoop was just starting his career. After three decades in the music industry, he is now one of the most iconic rappers.
The rapper has sold more than 35 million records around the world and ventured into other careers such as hosting, acting, and cooking. He constantly proves his sense of humor and versatility. While his career faced many upside downs, his wife never left his side and supported him all throughout. He gives credit to Taylor being always there and saving him. Snoop is such a lucky lad to have a wonderful lady in his life!
48.Pierce Brosnan & Keely Shaye Smith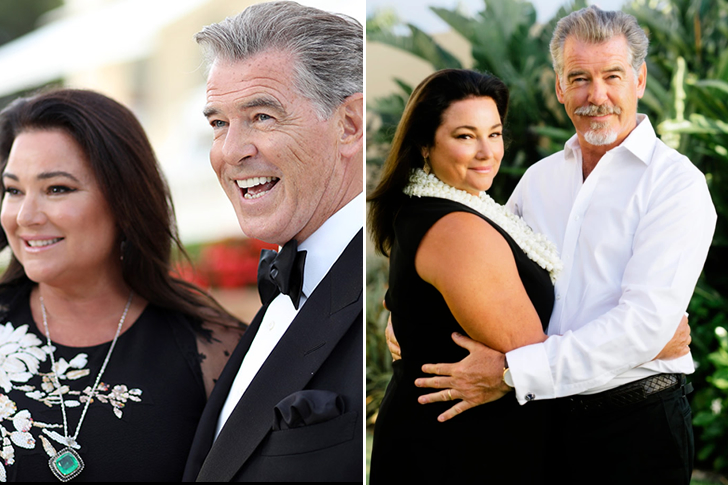 Relationships have their uphill battles. Despite many challenges, former James Bond Pierce Brosnan has been married to his wife for 26 years. His romance with Keely Shaye Smith is something that he has treasured always. Any challenge can bring down couples, but the two continue to hold each other's hand to some degree. They are very much in love until now and seeing their picture together speaks volumes about their commitment to each other.
She was the strength Brosnan relied on during the obstacles he faced in his life. Smith is an author, actress, and TV host. The renowned host was once the correspondent of The Home Show, where she won two Genesis Awards. Brosnan is a supportive husband and proud of what his wife has attained. Like his wife, the Irish actor gathered nominations for his acting and drama work, including but not limited to two Golden Globes.
49.Khloé Kardashian & Lamar Odom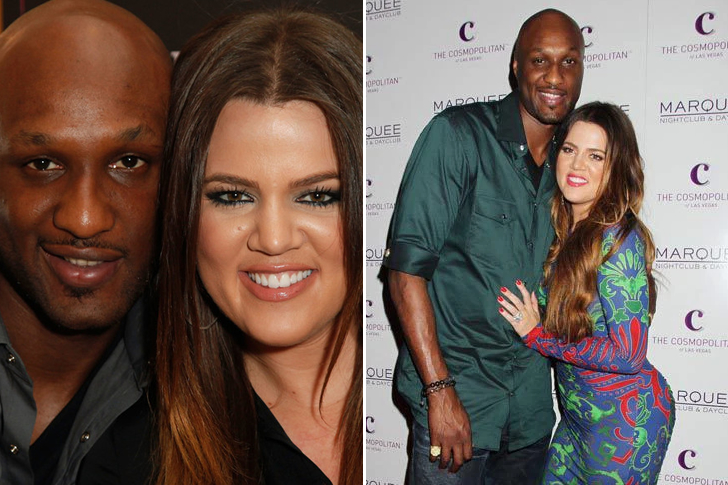 It is known for basketball players to have massive height. Even though Khloe Kardashian is a tall woman herself, Lamar Odom still towers over her. The ex-lovebirds met in August 2009 at a party in Hollywood. After walking to their first red-carpet, they decided to tie the knot after three weeks. It has been a quick decision for them, but their family supported it all the way. The two became completely inseparable. Unfortunately, the couple split up several years later. Their separation was finalized in 2016.
Odom is a former NBA player who earned few titles during his stay. He was a member of the Los Angeles Lakers and was named NBA Sixth Man of the Year and NBA All-Rookie Team. On the other hand, Kardashian stars in a reality series with her family entitled Keeping Up with the Kardashians. She is involved in fashion and has retail investments with her sisters.
50.Pharrell Williams And Helen Lasichanh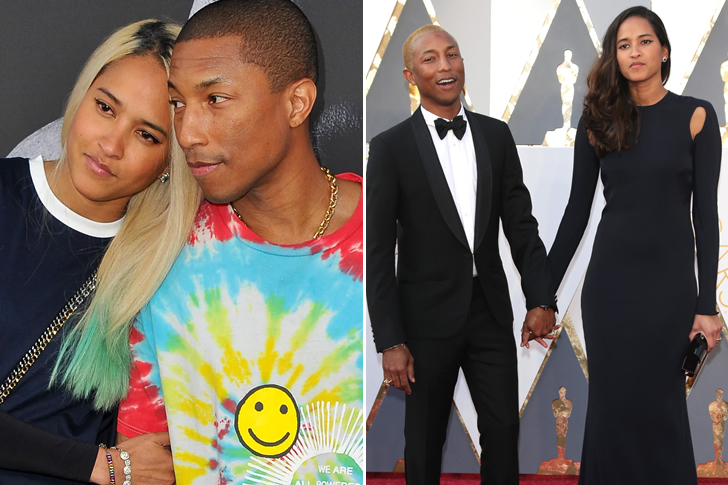 Pharrell Williams is one of the greatest singers in the world. Not only that, but he is also a renowned producer who made songs for several artists like The Neptunes. As a producer, he earned a lot and put it into investments, including a skincare line called Humanrace. Williams released his debut album, In My Mind, in 2006. Since then, his music career has been successful. He is the recipient of 13 Grammy Awards.
The moment the singer-producer laid eyes on model and fashion designer Helen Lasichanh, he was amazed by her beauty. Although she did not feel the same way as him, he continued to pursue her and his patience paid off. The two were married in 2013. While Williams is enjoying life under the limelight, he prefers to keep his kids' life private. With Helen, he can conquer anything, and that is an admirable love!
51.Hayden Lesley Panettiere And Wladimir Klitschko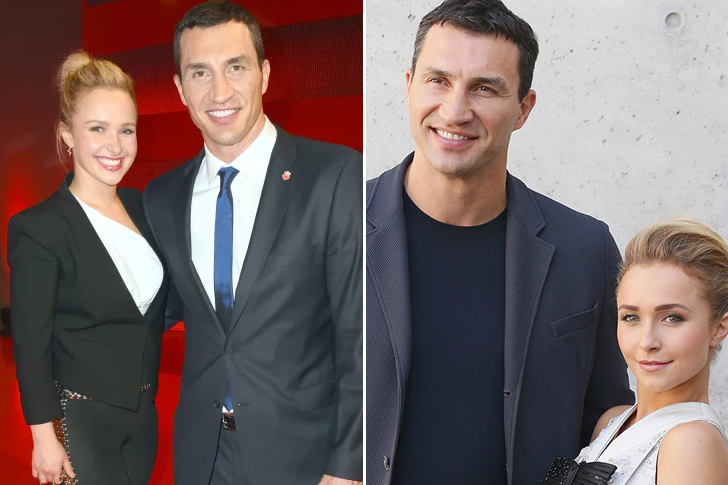 We all know that every relationship goes through challenges to a certain degree. Hayden Lesley Panettiere and Wladimir Klitschko's love story has definitely a test of faith. Although they are no longer together, they are grateful to have known one another as their union resulted in their daughter Kaya. Panettiere is a model, actress, and singer born on August 21, 1989. She is widely known for starring in many films and TV shows such as A Bug's Life, Nashville, and Heroes.
On the other hand. Klitschko is a former Ukrainian boxer and became renowned for having a brother in the boxing field. He retired in 2017 after spending several good years in this industry. The ex-couple met at a book launch party and, after that, started going out. While it's unfortunate that they are no longer together, they are on good terms. Panettiere has even publicly called him "the best father ever".
52.Liam Hemsworth & Miley Ray Cyrus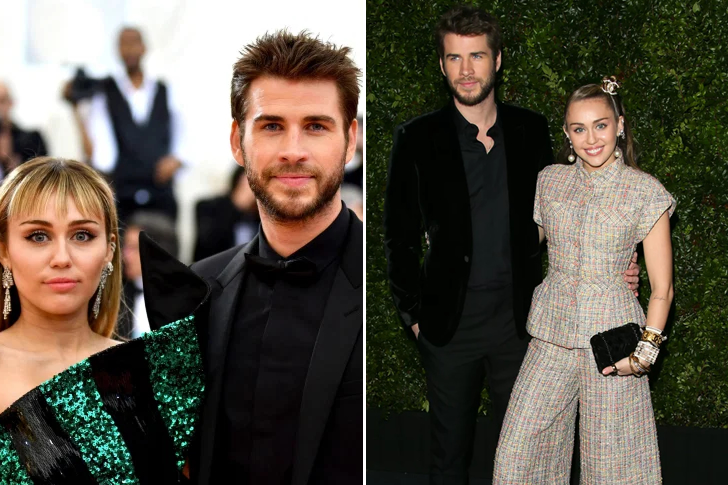 Miley Cyrus, daughter of country singer Billy Ray Cyrus, rose to fame after she starred in the Disney show Hannah Montana. Since then, she has gone on to have a victorious acting and singing career. Her debut album Meet Miley Cyrus earned four-time platinum status. She became the 2013 Artist of the Year of MTV, and five of her albums reached number one in the Billboard charts. Cyrus' former flame, Liam Hemsworth is the brother of Chris Hemsworth and is known for portraying Gale in The Hunger Games film series.
Moreover, he has various film credits like Empire State, Knowing, and The Last Song, the latter film being where the ex-couple met. They started an on-and-off relationship for a few years. Despite their struggles, they managed to keep their relationship and married in 2018. However, the two separated just one year later.
53.Jenna Dewan & Channing Tatum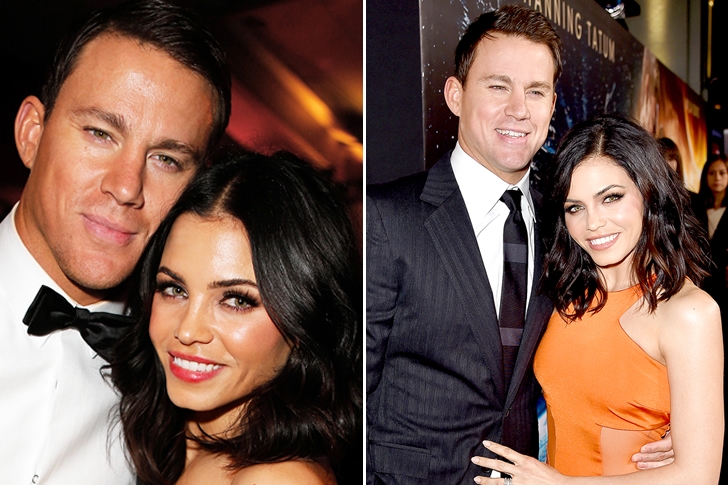 Channing Tatum and Jenna Dewan's love story started after meeting on a movie set. In 2006, while filming Step Up, the two hit it off and got together. They continued to appear publicly together, and many could see the height difference in photos and even in person. Tatum became the highest-paid actor after his film Magic Mike became viral. The actor has been featured in many films like G.I. Joe: The Rise of Cobra, G.I. Joe: Retaliation, The Vow, The Hateful Eight, and Dear John.
His former wife Dewan is an excellent dancer; she was a backup dance for Janet Jackson. Since then, she has worked with big celebrities like Christina Aguilera and Pink. In spite of their flaws and issues, they remained steadfast and blessed with a daughter. However, in 2018, the couple announced they were no longer together. It is unfortunate, but with the help of a lawyer, they peacefully separated.
54.G-Eazy & Ashley Benson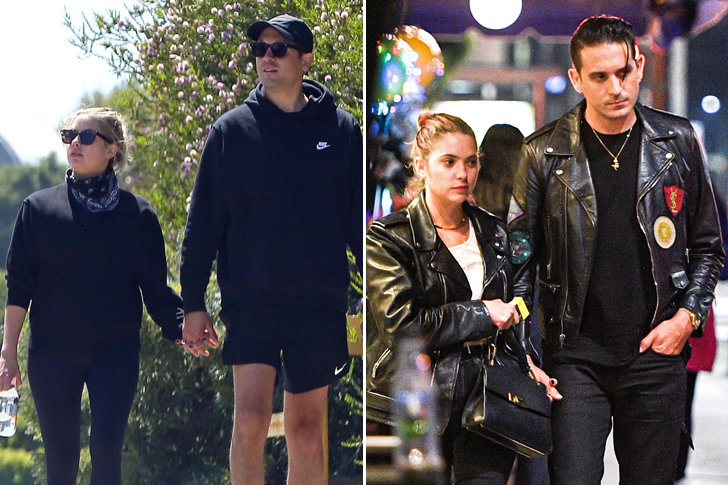 Love is such a beautiful thing when it develops out of nowhere and in the most unexpected situations. For example, G-Eazy and Ashley Benson began as collaborators in music and became lovers. While the difference in height is obvious, they look amazing together. G-Eazy is an American rapper and producer who made his name known after working as a record producer while he was a student. While earning his degree from Loyola University, he found his passion in music and dropped out of school shortly thereafter.
Currently, he is signed to RCA Records, but his music was impacted by Lil Wayne. On the other hand, his ex-partner Benson gained recognition after her role as Hanna Marin on the TV series Pretty Little Liars. Not only can Ashely act; she can also sing and is a former model. She was featured in many films like Her Smell, Bring It On: In It to Win It, Spring Breakers, and Christmas Cupid.
55.Vanessa Hudgens And Austin Butler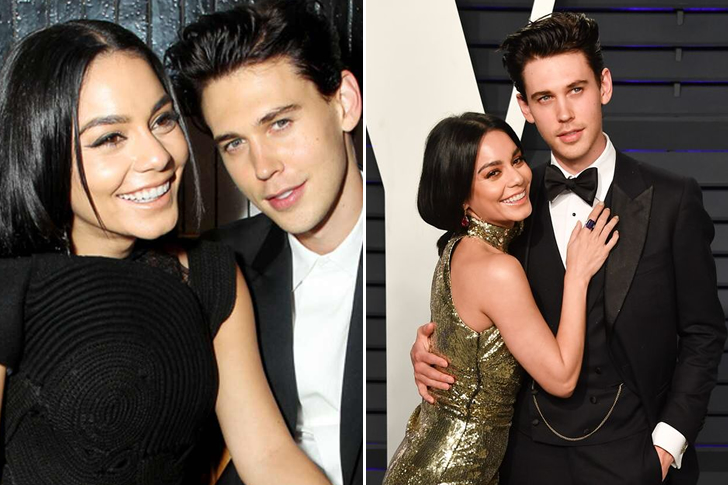 Austin Butler and Vanessa Hudgen's relationship is one for the books. A true Hollywood love story, their romance was a dream when they began dating in 2011. The couple began as friends on the set of High School Musical before dating years later. They met back in 2005 in the movie set, although Austin was not included in the film's actual set. He continues to appear in small cameos, and to a point, their mutual friend, Ashley Tisdale, introduced them.
We give credit to her for being the bridge between the two. Butler is an amazing actor and singer known for his roles in The Carrie Diaries, Once Upon a Time in Hollywood, Switched at Birth, and The Shannara Chronicles. On the other side, Hudgens has appeared in various films like Sucker Punch, Beastly, Bandslam, and Bad Boys for Life.
56.Benji Madden And Cameron Diaz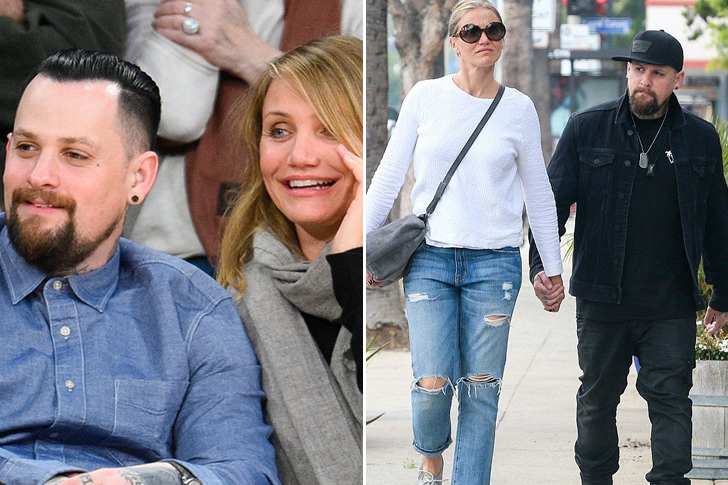 Benji Madden and Cameron Diaz are one of the most private couples of Hollywood. Although they let us take a look at some of their milestones, we respect their privacy. The two got married in 2015, and Diaz said that it is the best decision she has ever made. Madden is the best partner for her, supporting her in every way. She is among the top-paid actresses in the world, not to mention an award-winning one.
She has received a New York Film Critics Award, three nominations at the Screen Actors Guild Awards, and four nominations at the Golden Globe Awards. Her husband, Madden, is the backing vocalist and lead guitarist of the band Good Charlotte. He has a twin brother, Joel, with whom he was a former judge on The Voice Australia. They have secured home security for themselves, which came in handy when they welcomed their baby girl Raddix at the beginning of 2020.
57.Kevin Hart And Eniko Parrish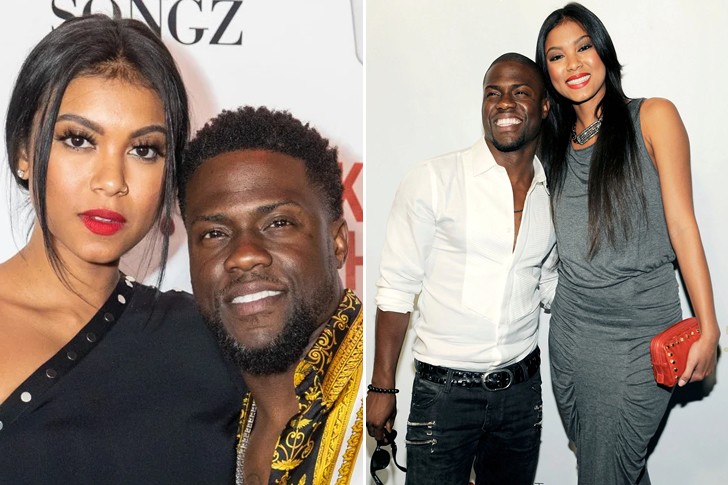 It is unusual for a lady to be taller than men. However, for Kevin Hart and Eniko Parrish, she is much taller, yet it hardly matters. The lovers have been married since 2014, and like in other romances, they shared some struggles too. Despite his short stature, Hart is one of the biggest names in Hollywood and has always been a proud father for four kids. Recently, they announced that they were expecting their second child together.
In his Netflix documentary, Kevin Hart: Don't F**k This Up, he shared his life. It is clear in the documentary that he gives so much credit to his wife for making him a better man. She has been there no matter what, through the ups and downs. While their relationship has been tested, it is good to see them still together, never giving up. This is a relationship that we are jealous of!
58.Lady Gaga And Christian Carino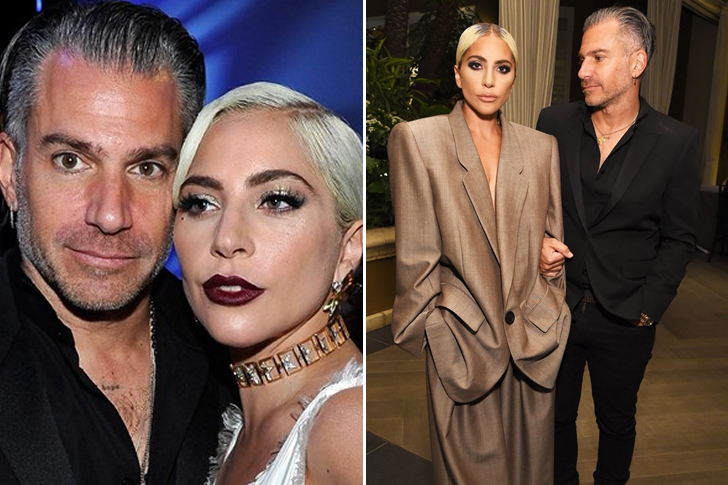 Lady Gaga is one of the greatest singers in the world. She is known for her versatility and image reinventions. To date, she has sold over 124 million records and is one of the highest-paid female musicians in history. Gaga has many investments, including a vegan cosmetic brand called Haus Labs. She has achieved a lot in her career, including 11 Grammy Awards, Billboard's Artist of the Year and Woman of the Year, and several Guinness World Records. Her now ex-fiance, Christian Carino, works for the talent agency that represents the singer.
Gaga and Carino began dating in early 2017. Their romance became known after being seen getting cozy during the Super Bowl weekend. While they kept their engagement private initially, the singer later confirmed it during her speech in October 2018. The duo appeared in many events together when Gaga was promoting A Star Is Born. Unfortunately, the two ended their relationship in 2019.
59.Alec And Hilaria Baldwin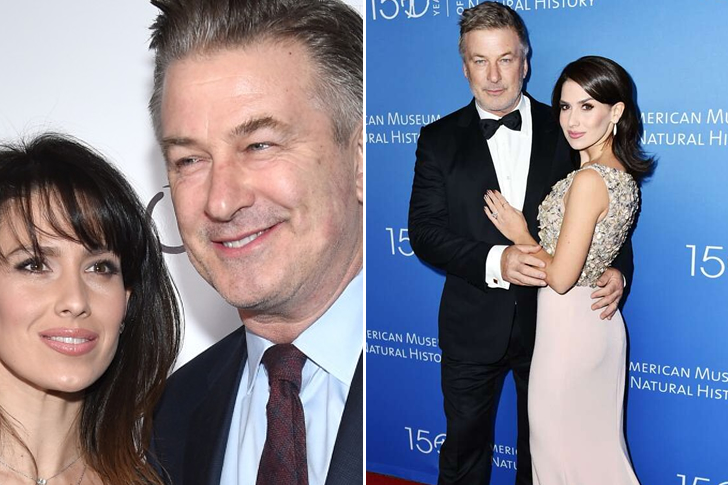 Alec and Hilaria Baldwin's relationship is going on eight years strong. The duo first met in 2011 and they now have four kids, two dogs, and a happy life. Their meeting in Manhattan was fate and one of the best moments in their lives. Alec comes from a family of actors and is the eldest of six children, three of whom are also actors. He first attained recognition after starring in the soap opera Knots Landing. His work in the film 30 Rock earned him two Primetime Emmy Awards, seven Screen Actors Guild Awards, and three Golden Globe Awards.
In addition, he is the only male actor with most SAG Awards. His wife, Hilaria, is a yoga instructor, podcaster, and author. While her husband is an actor, she chose to have investments in businesses. She is the co-founder of Yoga Vida in New York and released a wellness book.
60.Sacha Baron Cohen Isla Fisher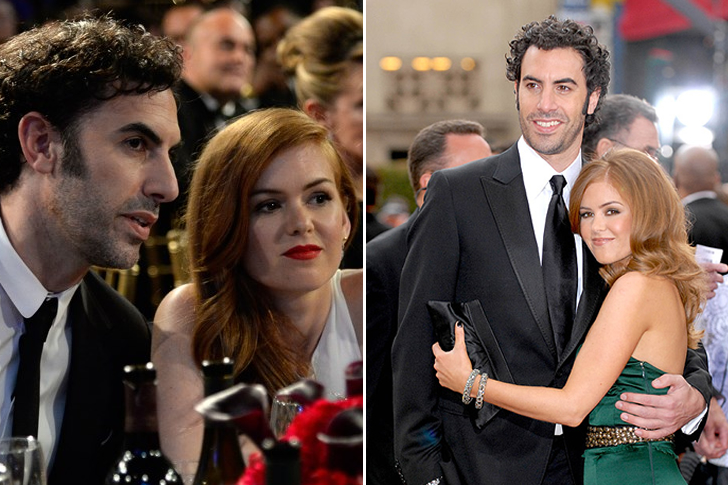 One of the most iconic couples in the industry is Sacha Baron Cohen and Isla Fisher. They met at a party in Australia in 2002 and have been married since 2010. The actress often jokes about their height difference, but it did not hinder their marriage from becoming successful after all these years. The lovebirds also have three children. Cohen and Fisher are extremely private and protective of their kids, so it's no surprise that they secured home security for their young children.
The comedian became famous for playing and creating numerous comedy characters who often do and say controversial things while being hilarious. Some of his successful films are Borat, Dictator, and Bruno. Cohen has been nominated for various award-giving bodies for his fantastic performances. Fisher, on the other hand, rose to fame after starring in various films like Confessions of a Shopaholic, Definitely, Maybe, The Great Gatsby, Now You See Me, and Wedding Crashers.
61.Kelsey Henson And Hafthor Julius Bjornsson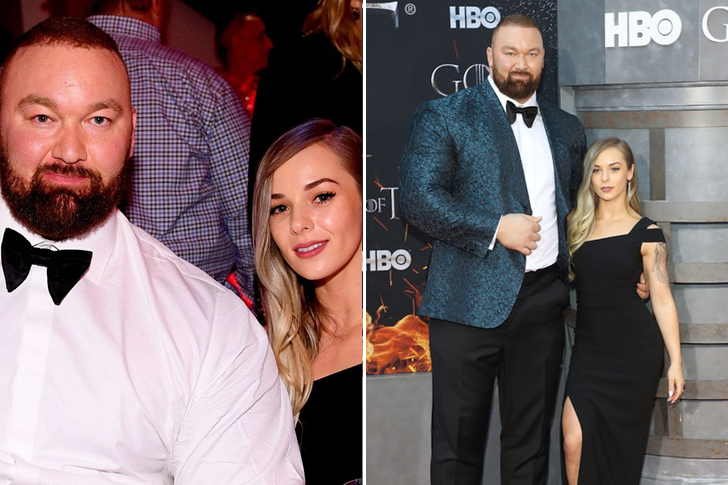 Former waitress Kelsey Henson and celebrity husband Hafthor Julius Bjornsson have been married since 2018. Bjornsson is a renowned Icelandic actor and known for his strong body. He is the first person to win the World Strongest Man, Arnold Strongman Classic, and European Strongest Man all in the same year. The popular Game of Thrones actor was praised for starring as The Mountain in the series for five seasons. His wife, Henson, is a blogger, model, and social media influencer. She came into the spotlight after marrying her husband.
While their height and weight difference are obvious, it did not stop their love from blossoming. The lovers met in a restaurant in Canada. After Kelsey finished her degree at the University of Alberta, she worked as a waitress in a restaurant where they met. Since then, they became inseparable. It seems that the two are always together and are frequently seen attending red-carpet events.
62.Scott Disick And Kourtney Kardashian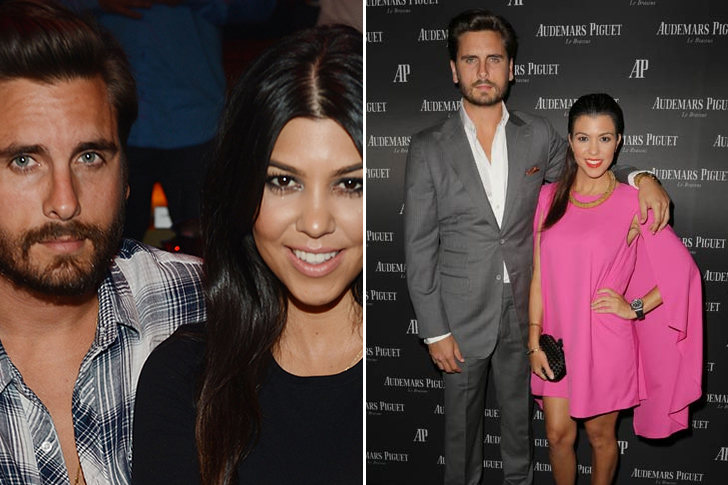 Celebrity relationships have ups and downs, with some couples meant to be with each other forever, regardless of their past and differences. Scott Disick and Kourtney Kardashian's on-and-off relationship is not a secret. Many witnessed how their love started on reality series, Keeping Up With The Kardashians. The pair met back in 2006 in Mexico. Their paths cross after seeing each other in the house of a mutual friend. Soon after, they began dating and now have three kids. Despite separating in 2015, the couple remain close and consider each other family.
Kourtney is the oldest sibling among the Kardashian sisters. She established her name in Hollywood following her mother's advice. Aside from their reality show, the influencer has many investments in businesses and often collaborates with her sisters' makeup lines. On the other hand, Disick is a model, actor, and entrepreneur.
63.Zendaya And Tom Holland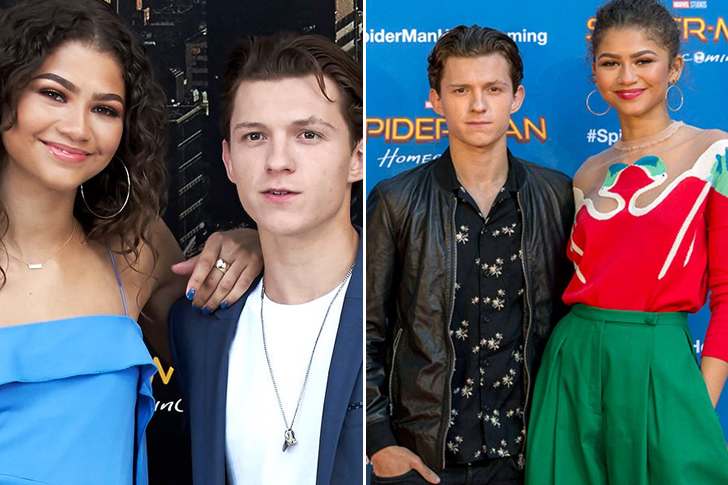 Zendaya and Tom Holland first met in the set of Spider-Man: Homecoming in the Marvel Cinematic Universe. Since then, their connection became special, making them close. Holland is an English dancer and actor. In 2017, he won a BAFTA Rising Star Award. After being cast as Peter Parker, his life turned upside down. He even earned a Guinness World of Records for his outstanding performance.
From there, he appeared in many MCU films, including Spider-Man: Far From Home, Avengers: Infinity War, and Avengers: Endgame. His rumored girlfriend, Zendaya, is a singer, dancer, and actress. She first successfully started her career as a child actress on Disney  and is now a prosperous movie star. They have been both flourishing in their career, and it is evident that they have their investments. While they did not confirm that they are dating, people are eager to know them as a couple.
64.Carmelo Anthony And La La Anthony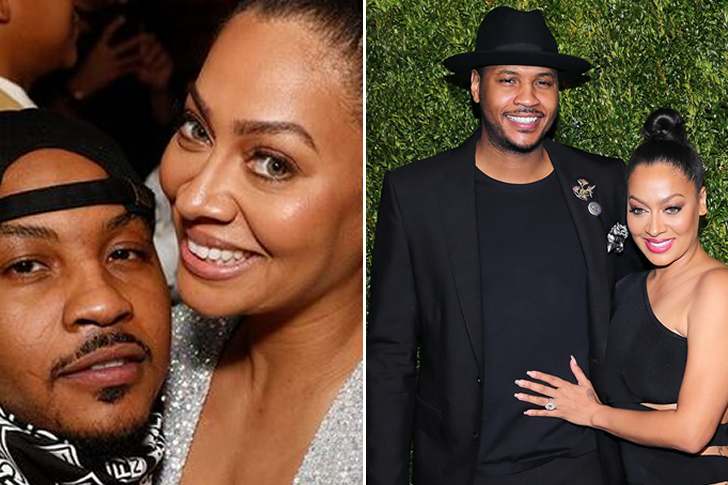 We can't help but include the swoon-worthy couple, Carmelo Anthony and La La Anthony, on our list. In typical Hollywood fashion, the pair met and were introduced by a mutual friend. Indeed, most love stories start in friendship, and theirs is not different. Carmelo was attracted to La La's eyes and even sent her a Moet & Chandon bottle to impress her. One thing led to another, and the lovers ended up getting engaged on Christmas Day. How sweet is that, right? In 2007, they welcomed their son, but it was not until July 2010 when the couple got married.
Carmelo is a professional NBA player, playing for New York Knicks. He has been named as six times All-NBA Team member and ten times NBA All-Star. The basketball player has an amassed net worth of $160 million, which means he has enough investment money to provide for his growing happy family. His wife, La La, has supported his career and has always been there for every game.
65.Michael Caine And Shakira Baksh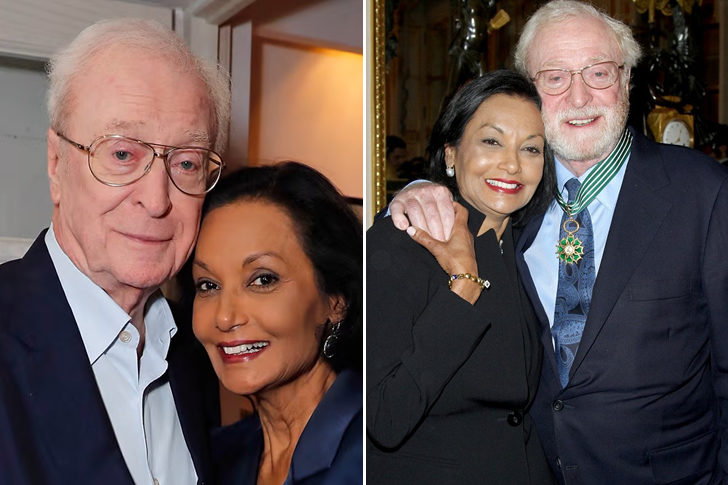 One of the greatest actors of all time is Michael Caine. He is married to his beautiful wife, Shakira Baksh. The couple shared only one daughter, and she must have been lucky to be in a home filled with love. To a certain degree, Michael is among the most successful stars in television. He holds the title of being nominated for an Academy Award in each decade from the 1960s to the 2000s.
The iconic actor never imagined that his life would turn out to be this way. He was just a file clerk and messenger once, but now is a renowned celebrity who has made history. On top of his career success, he has also found the love of his life within the same Hollywood circle. The The Man Who Would Be King actor became obsessed looking for a woman whom he saw in an advertisement. It turns out that one day, he will exchange vows with that same woman in Las Vegas in 1973. Fate surely works out in the end.
66.Chris Bosh And Adrienne Williams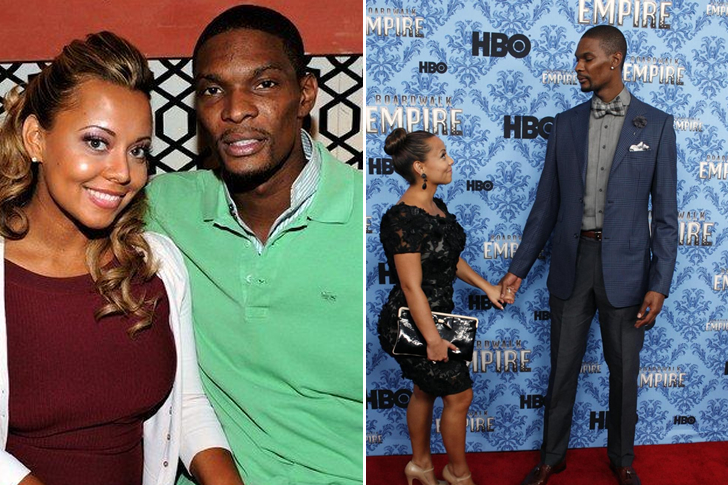 NBA player Chris Bosh has a drastic height difference from his wife, Adrienne Williams. While the gap is measured at a whopping 24 inches, the couple does not mind it and just continues to live the best of their lives. Chris and Adrienne tied the knot in 2001 in an extravagant wedding ceremony in Miami Beach. The outfits were designed by famed fashion designer of the stars, Oscar de la Renta, and clearly, they both deserve it.
Adrienne's professional career is modeling. She has been modeling since she was 12 but also worked as an actress. She appeared in movies like How To Throw A Party and Martin Luther King Day. The professional basketball player, on the other hand, has been earning so much and has wisely put it aside for investments in case their kids need it in the future. The couple has five kids, and only time can tell whether they will take after their father or mother's height.
67.Tiffani Thiessen And Brady Smith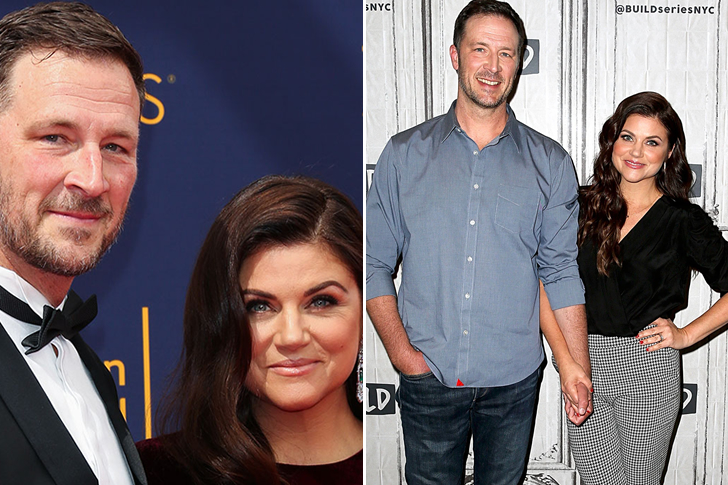 It feels like it's only yesterday when couple Brady Smith and Tiffani Thiessen decided to get hitched. Now, they have been together for 15 years and are continuing to share a steadfast relationship, now with the addition of two lovely kids. While Brady is much taller than Tiffani, it was never an issue that stopped them from loving each other. The actress credits her fame for starring on the sitcom Saved by the Bell.
The actress was also a regular star on Beverly Hills, 90210, and co-starred on the hit show, White Collar. Meanwhile, Brady is an American actor and notable for featuring in many TV series such as Judging Amy, Alexa and Katie, and Criminal Minds. The couple recently recreated their wedding day for their 15th wedding anniversary, and it was the sweetest! Finding your other half and being able to spend the rest of your lives with each other is truly bliss.
68.Channing Tatum And Jenna Dewan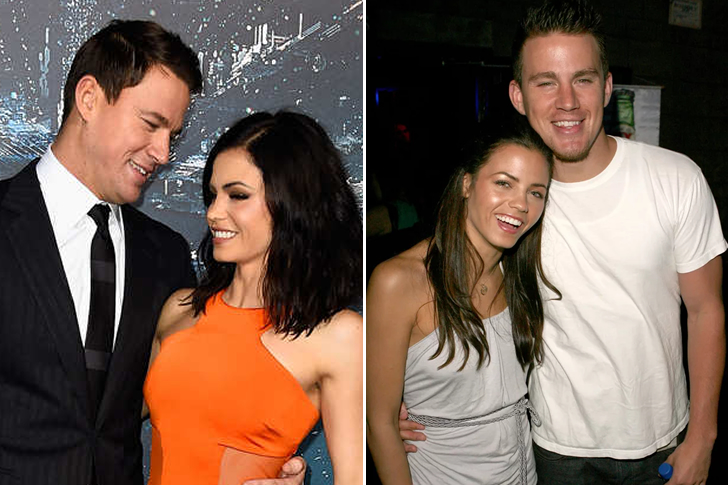 Channing Tatum and Jenna Dewan first met while filming the film Step Up in 2006. The two portrayed characters who fell in love, and right there, the fictional relationship eventually became a reality. After three years, they got married and welcomed a lovely daughter, Everly. At one point, Channing became the highest-paid actor across the world after his film series Magic Mike became successful. From the two films, he earned about $90 million, and it was certainly enough to make various investments.
The actor began his career in the music video of She Bangs. From there, his on-screen potential was seen. Cut to today, and the stud now belongs among the greatest actors of our generation. On the other side, his-ex wife Jenna is a model, actress, dancer, producer, and businesswoman who rose to fame with her show-stopping dance moves. While they have shared a moment in the past, they are happy now with their respective lives.
69.David Hasselhoff & Hayley Roberts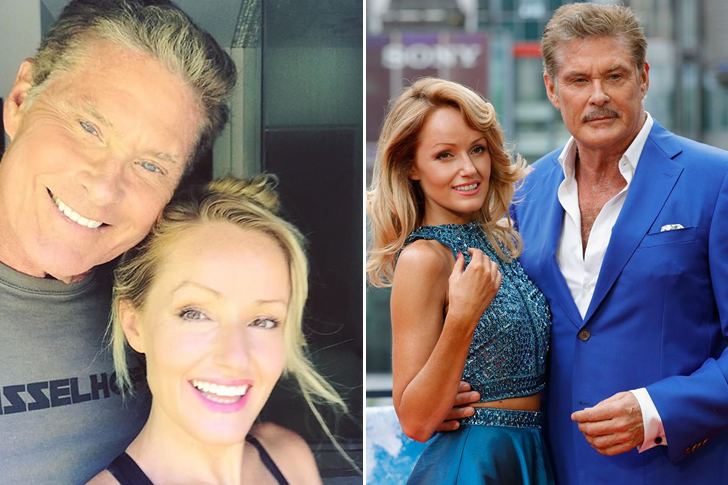 The TV icon David Hasselhoff has been married for two years to his wife, Hayley Roberts. They had a romantic ceremony in Italy, and even though they have many differences, the pair maintains a steadfast relationship. The love birds have been dating for seven years and looking back to where they started, it was indeed magical. In 2011, Hayley caught the eyes of David. He was a judge on Britain's Got Talent then, and while the auditions were in progress, he could not stop himself from admiring Hayley.
From that moment on, his gaze never changed. The pair loves to visit Wales often. During their time there, the couple likes to show their support for the Welsh rugby team and hang out with Hayley's family. The Knight Rider star is often called The Hoff and earned a Guinness World Record as the most-watched man on TV history. He does need any personal loans at this stage of his life because of his flourishing career. With his Hollywood success and enduring romance, it seems like David has it all!
70.Daena E. Title And Jason Alexander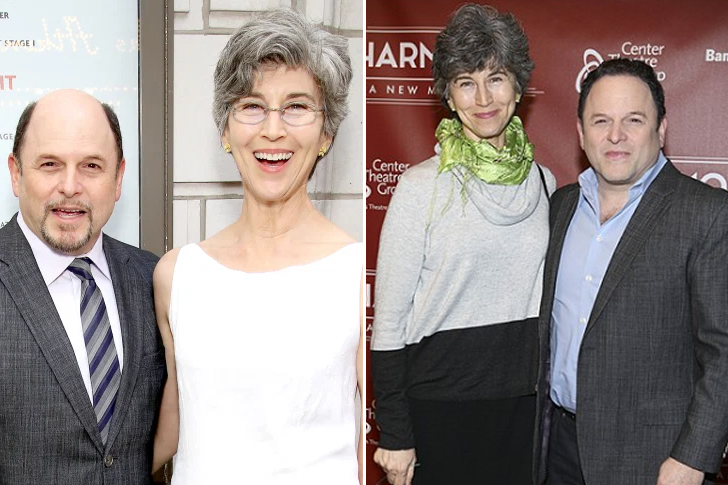 Daena E. Title was well-known for being the wife of singer and actor Jason Alexander. She is an actress who has appeared in a few well-known projects like Just Looking, Seinfeld, and For Better or Worse. Meanwhile, her husband is a producer and actor famous for being George Costanza in the cult classic comedy show Seinfeld. He is a very versatile actor who can make the best out of his portrayals, regardless of how small or significant his roles are in films.
The Pretty Woman actor has earned his success through the years, enough to pay his expenses, such as real estate and electricity. Not to mention, Jason is also a Broadway actor and has won a notable Tony Award for his outstanding performance. While his wife did only a few movies, she has been there to support Jason. The couple is blessed with two sons, and Jason has been dedicated ever since to philanthropist work. By the looks of it, both Daena and Jason are living the best of their lives with kids!
71.Kevin Costner & Christine Baumgartner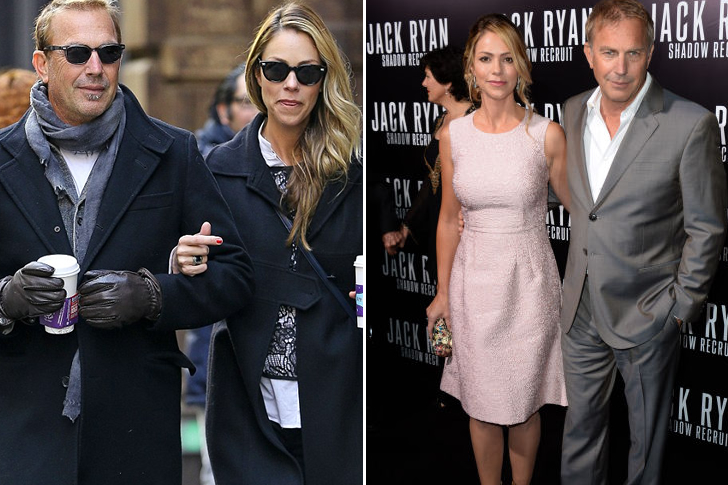 Kevin Costner has many things to be grateful for in his life. With a beautiful wife, Christine Baumgartner, and seven children, he could not ask for more. The Yellowstone star is proud of the family he built on and off-screen. While it is not quite love at first sight for them, the budding romance between the two developed into something more powerful. The duo met on a golf course but did not begin dating until 1998.
In 2002, they shortly split but not long until they come back for each other. They did not need an attorney to help them got back, just pure love. They exchange their vows in 2004 on a ranch. When Kevin was given a Lifetime Achievement Award, he thanked his family during his speech. Through it all, Kevin and Cristine made their relationship work. Their secret is to go with the flow and work things out whatever the days may bring.
72.Courtney Mazza And Mario Lopez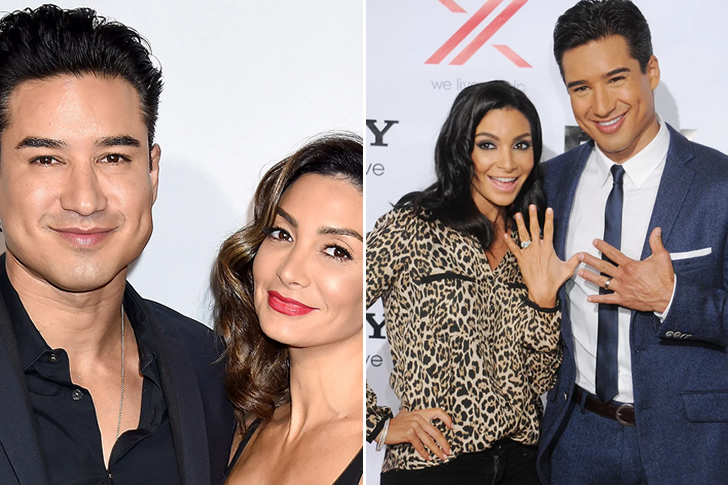 Mario Lopez is thankful for his life, especially for his family. Above all, he is grateful to have his wife, Courtney Mazza. They have been together for quite some time now, and in showbiz, where most relationships are fleeting, they are the epitome of commitment as well as a remarkable love story set in Hollywood. The couple met in 2008, and two years later, they got married. Mario and Courtney credit their successful marriage to being patient and never forgetting to surprise each other from time to time.
The Saved By the Bell alumnus now has three kids with Courtney. Even when they are busy taking care of the children, the husband and wife make it a point to find time for each other. Mario loves his role as a dad, and fatherhood changed his point of view in life. The lovers have a prosperous career together, and they continue to do their passions. Mario and Courtney have worked together in the past, so we have seen their on and off-screen chemistry. With that, we're very excited to see them work together again.
73.Sofia Vergara And Joe Manganiello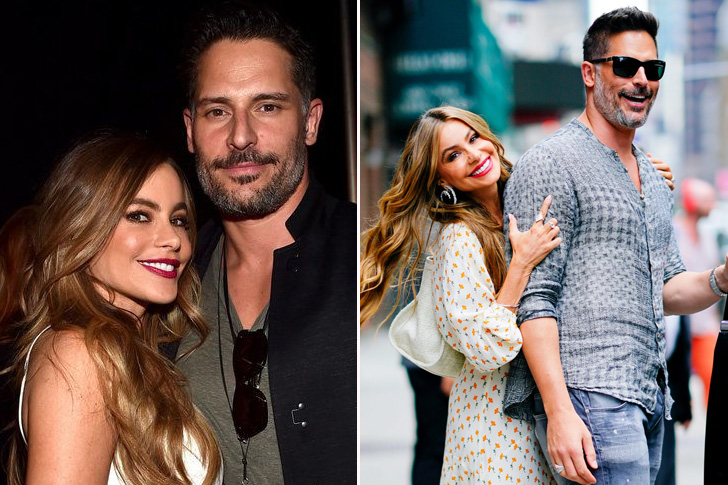 Joe Manganiello and Sofia Vergara's love story is one for the books. The love birds began dating in 2014, and since then, it has been a whirlwind romance. The True Blood stud and the Modern Family star got engaged after dating for six months. They exchanged their vows in 2015, and have been happily living in wedded bliss ever since. Proving that love can last in the entertainment industry, they are now celebrating their fifth anniversary.
Looking back at where they started, many have known from the start that the pair were meant to be. Perhaps, people could tell by the way sparks fly, and how electricity is seen in both the stars' eyes when they gaze at each other. In fact, Joe fought for Sofia and won her over. The Colombian beauty became the most treasured love of Joe— and we're 100 percent sure she feels exactly the same way.
74.Victoria Beckham And David Beckham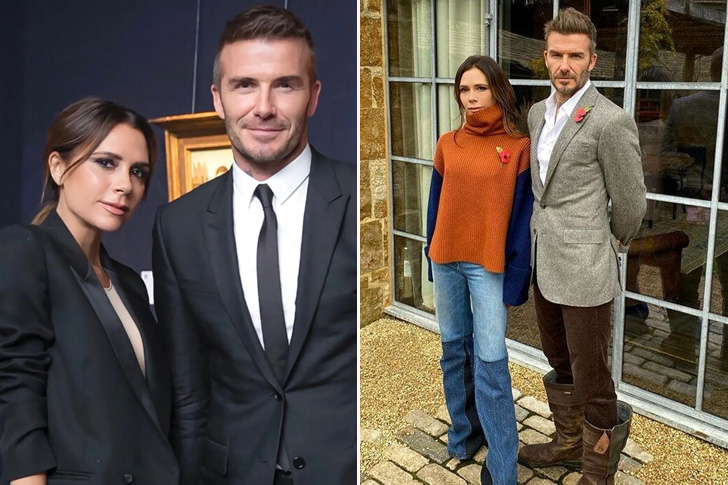 As one of the richest power duos across the world, Victoria and David Beckham have been open about their marriage to the public. Of course, they keep some personal matters to themselves, yet we cannot help but admire their long-lasting relationship. They have tied the knot since 1999 and now have four kids. David is a former famed soccer player who now co-owns Inter Miami CF and Salford City. Of course, we all know Victoria as a former Spice Girl member. Posh Spice is happy to be wed to a handsome man— and she does not bat an eye over their 7-inch height difference.
Compared to other measurements on this list, this gap is surely not a big deal. Through thick and thin, the couple remained to be each other's support. No matter what struggle they need to face, each one of them always helps the other out. Along with their children, the Beckhams are a wealthy and happy bunch. Given their shared multi-million net worth, David and Victoria's kids will surely never need to make any student loans for their future!
75.Candace Cameron Bure & Valeri Bure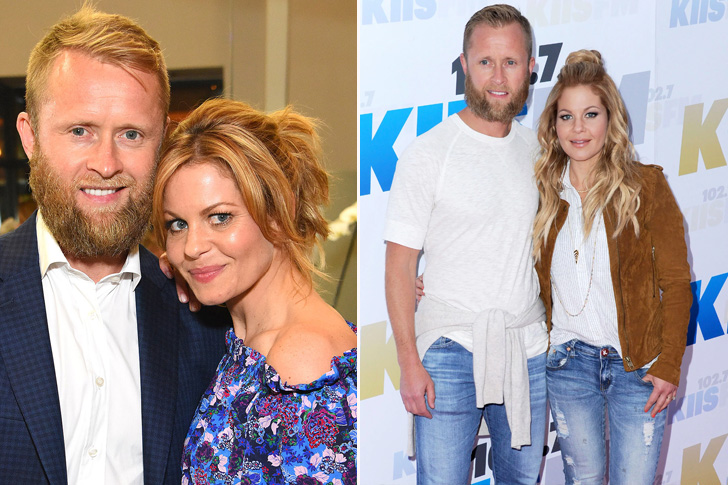 You may remember Candace Cameron as D.J. Tanner in Full House and as Hallmark's queen, but for her husband, Valeri Bure, she is a partner and a wife for life. The couple showed great partnership when they alternately took the back seat as support. This year, 2021, the Bures will be celebrating their 25th anniversary. Valeri Bure is a former professional ice hockey player who is born in Russia. He transferred to the US to play for the NHL. He went on to play for different teams from 1994 to 2004 before retiring in 2005.
Ultimately, the star hockey player's decision to quit was so that he can focus on his family. He mentioned that he can recover from his injury but would like to give his wife a chance to work again and return to the screen. Valeri used his investment money to build several businesses, like the family winery in Napa Valley. Together, he and Cameron have three children who seem to take a lot from them. Natasha, their firstborn, is into acting like her mom while the two boys, Lev and Maksim, are playing ice hockey like their dad.
76. Demi Moore & Bruce Willis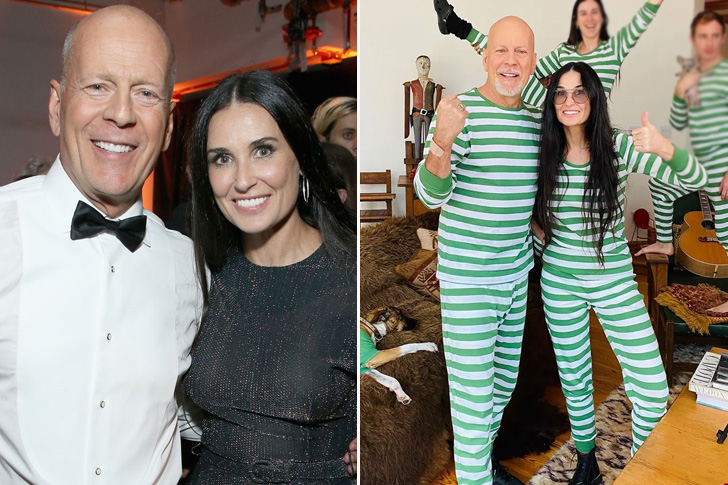 Demi Moore and Bruce Willis are among the "it" couple during the '90s. Individually, they are well-accomplished actors. Moore, a sexy actress, is known for playing daring roles such as Indecent Proposal and Ghost. Willis, on the other hand, gained recognition as John McLane in his long-running Die Hard films. The couple wed in 1987 and has three girls together. Sadly, their high-profile relationship ended in 2000 with a phone call to their lawyers.
Moore and Willis's ages have a seven-year difference, but that did not stop them from creating a great connection. Even after their marriage, the two remained connected and developed a strong friendship. They even showed support for each other when they both remarried. Now, their kids are all grown up, Moore and Willis are said to be each other's confidant. They even spent exlcusive time alone with their children at Moore's residences in 2020.
77. Denzel & Pauletta Washington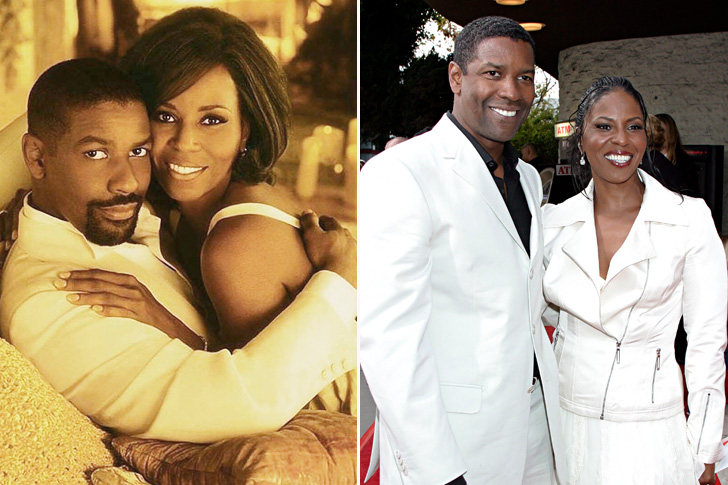 Denzel Washington may be famous for his acting skills and achievements as an actor, but he is better admired as a husband and a family man. Denzel Washington and Pauletta have been married for more than 40 years, and calling their lawyers due to split is highly doubted to happen ever. It was said that their successful marriage is attributed to their loyalty to one another. Likewise, Denzel has given credit to his wife for making their marriage alive. He says that she is the one holding up their family, especially in times of hardships.
As for Pauletta, she thanked and praised Dezel for his loyalty as he veered from temptations that come with being a movie star. Now, their children are all grown-up and have finished college. Continuing his legacy as an actor is his son, John David Washington, a former football player turned actor.
78.Pete Davidson & Ariana Grande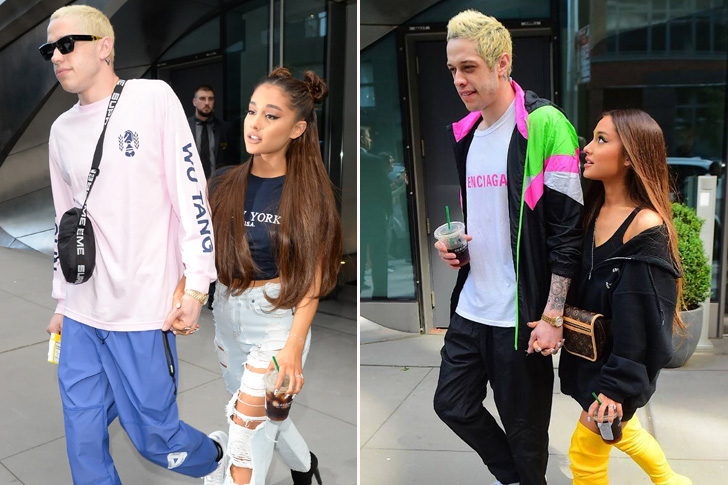 Pete Davidson and Ariana Grande were one of Hollywood's steamed couples who attracted most of the media's attention due to their fast-budding romance. Davidson and Grande started dating shortly after ending their long-term relationships; Davidson with Cazzie David, and Grande with Mac Miller. Pete and Ariana have shown their adoration to one another relentlessly in many ways. The couple wears matching tattoos, as well as inks dedicated to one another.
It is also noticeable that they looked adorable in photos— Pete is incredibly tall, while Ariana appears excellent with her slim and petite appearance. They must have complemented each other in a degree that Davidson must have taken it as a sign for them to seal the deal. As it turned out, however, their quick-start-fire ended in the same abrupt way, too. They soon realized that it was all a rush but thanked one another for a well-regarded relationship. This was even hinted at in Grande's song thank u, next.
79.Blake Shelton & Gwen Stefani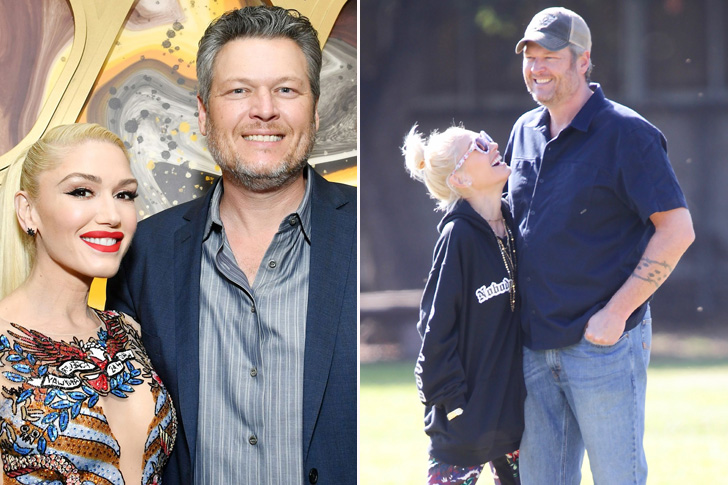 From being friends to being high-profile couples of Hollywood, Blake Shelton and Gwen Stefani are among the strongest couples today. We can all remember how it all started in their show The Voice in 2014, where they first met. The two got along well together and became good friends. It must be their phase in life that brought them together as they were said to be going through a rough road in their marriages at that time. What turned to be the end could also signal a new beginning.
In 2015, Shelton ended his marriage with his wife of 12 years while Stefani called her lawyer to have their papers filed the following months. It was in 2016 that their feelings developed romantically. Fast forward today, the couple are said to name a date for their wedding. Stefani was in total awe of Shelton's ability to gain his son's approval. Shelton is also thankful and loving the company of her broods.
80. Jennifer Lopez & Ben Affleck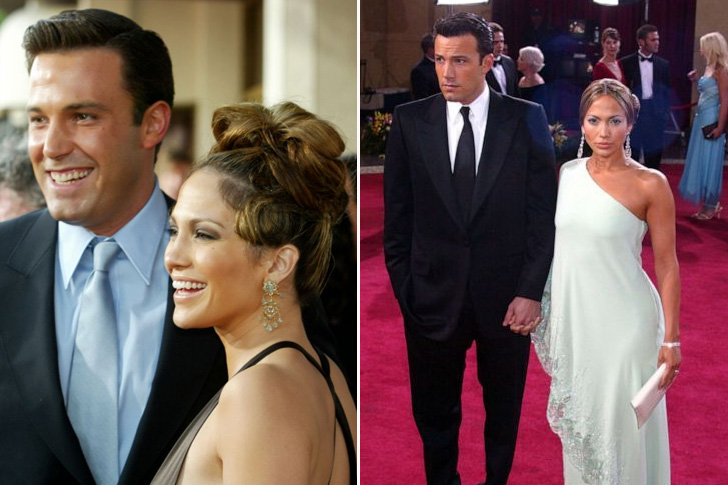 Looking back at the Benifleck relationship that took place in 2002, they were the most watched relationship during that time. A lot has wondered where did all go wrong. While some want to know the sour part of their relationships, we dig into their sweetest moments and why we all get into the frenzy of Jennifer Lopez and Ben Affleck's romance. Lope and Affleck have two movies together, Gigli and Jersey Girl. The two started liking each other while filming Gigli. They made their relationship public after Lopez's attorney filed her papers to finalize her split with her former husband, Cris Judd.
What made their relationship interesting was their stark difference. Lopez is known to be stylish and flashy at times and follows a strict schedule. On the other hand, Affleck's style is more casual and spontaneous. It seems their difference makes them attracted together, but it wasn't enough for them to last a lifetime. Despite that, Affleck and Lopez remained friends to this day. Affleck even praised Lopez for her performance in her recent movie.
81.RuPaul & Georges Lebar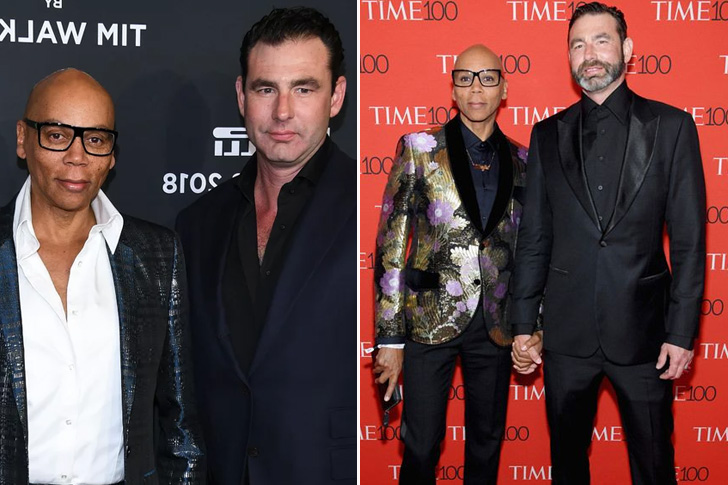 Who says you cannot find love on the dance floor? RuPaul met Georges LeBar at a disco pub in 1994 at Lebar's 21st birthday. RuPaul, who is garnering several degrees of fame at that time, finds LeBar's height attractive. RuPaul admitted it was kind of rare to find someone taller than him, so the moment he saw LeBar, he knew it was a match.
Amazingly, the couple managed to have a private relationship while RuPaul is a celebrity who runs his show RuPaul's Drag Race while LeBar is a private citizen who owns a ranch to pay for his gas. The couple got married in 2017 despite RuPaul's initial statement against the need to be married. To add, the long-time love birds say that their decision to get married is to suffice the need for legal purposes. Now the couple is celebrating their 26th year together and has proven that love knows no gender.
82.Stacy Keibler & Jared Pobre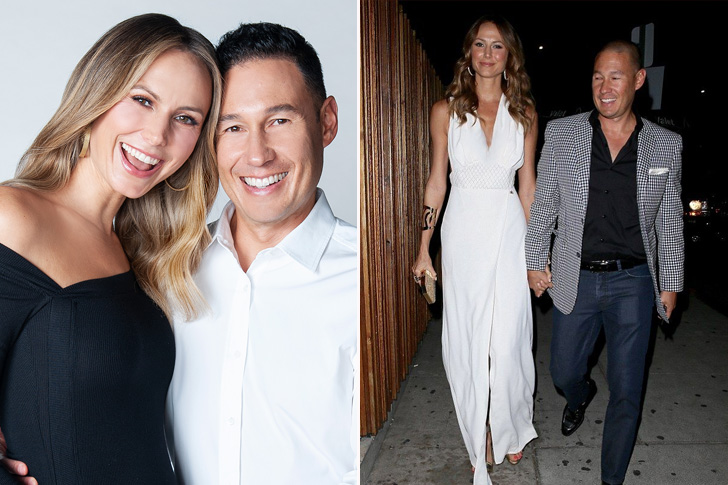 The beautiful Stacy Keibler met her match with the CEO, Jared Pobre. No, it is not a wrestling match, but a love match. She finally found her true love with the Futur Ads founder and is now living a private life. A little backstory for Keibler. She was once a cheerleader for Baltimore Ravens. Over time, the wrestling celebrity got into the WWE as a diva (female wrestler) in 1999. Outside the ring, she also guest in MTV's Punk'd. Above all, she is the former beau of George Clooney before dating and marrying the lawyer, Amal Clooney.
Keibler also had her happy ending with Jared Pobre. The two known each other and were friends for years before they became romantic with each other. Keibler, 34 at that time, wants to have a steady family life, the reason why she ended her relationship with Clooney and ended up with Pobre, who seems to fancy the same thing. In 2014, the couple tied the knot and now has three beautiful children together.
83.Melissa Mccarthy & Ben Falcone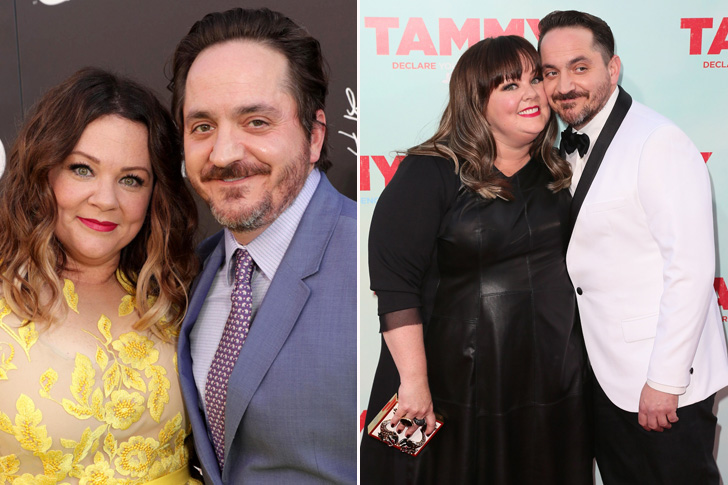 We bet that Melissa McCarthy and Ben Falcone's household is full of laughter. How could it not be when the two best comedians in the industry joined forces and tied the knot. Melissa and Ben have known each other since 1998. It was like love at first laugh for Melissa. She found Ben's humor interesting as it was more demure and steady. Ben felt the same way, amused by her striking comedy and witty humor. In 2005, they exchanged vows while both of their careers were peaking.
Melissa rose to fame with her character in Gilmore Girls, and her iconic stint in the film Bridesmaids made her an instant comedy icon of our century. The couple made their first business investment, a film production company that staged Ben's directorial debut. Melissa's acting skills were proven beyond comedy when she starred in Can You Ever Forgive Me? where she got a nomination for Best Actress. Though she didn't bag the award, it was still a win for Melissa as she has the best prize— marrying Ben.
84.Philip Rivers & Tiffany Rivers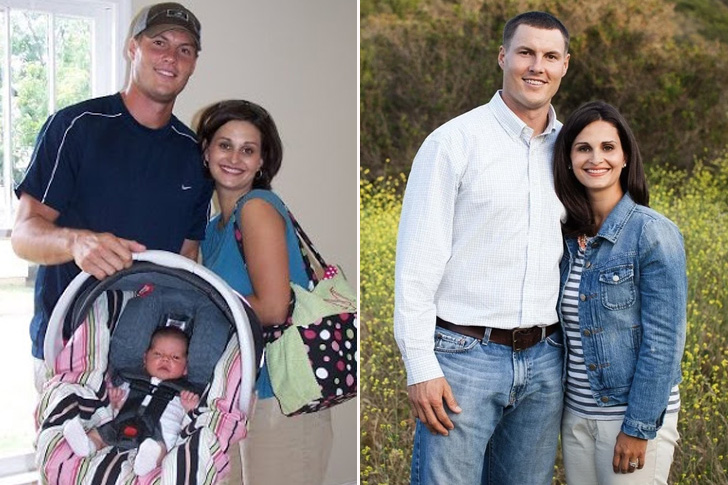 It seems that Philip Rivers and Tiffany Rivers have a lot of love for one another now that they have nine children together. Philip is known for living a simple life despite her huge paycheck that amounts to $200 million at some point. He made a huge fortune for playing quarterback in NFL and winning several awards such as cornerback of the year and player of the year.
Philip, just like any other football player, has a big built. He stands six foot five inches and weighs a hundred and three kilograms. While his wife, Tiffany, has a medium built. The two are high school sweethearts. They got married in 2001, even before he made it to the professional league. Philip is well invested in his family life as much as in his career in football. He retired from playing football in 2015. Knowing that he has lived a frugal life, he must have made few investments that will keep them afloat in the coming years.
85.J.J. Watt & Kealia Ohai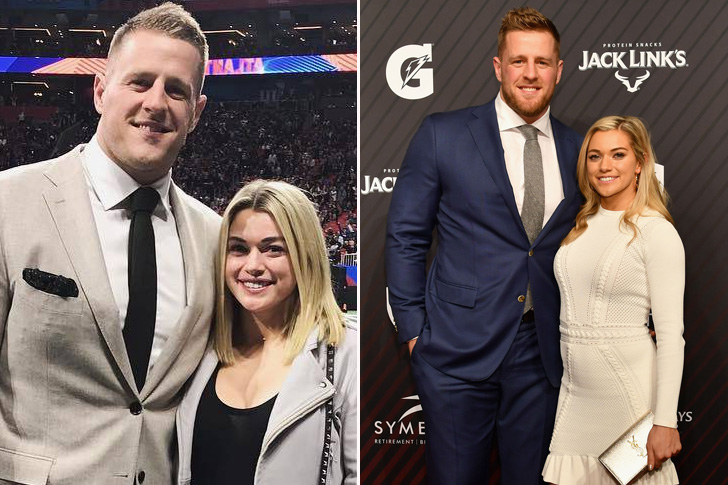 It was a match made in heaven for the football star J.J Watt and Kealia Ohai, a professional soccer player. The two athlete lovers seem to be a perfect match despite their height difference. As a matter of fact, that is what makes them look cute together. Ohai and Watt met through Watt's teammate and Ohai's brother-in-law, Brian Cushing. Their passion for sports and competitive nature makes them click together. It was just in 2020 when they finally signed the deal after dating for almost a decade.
The two athlete lovers are still active in their field, and we are quite sure that they are making huge investments together for their future kids and their education. While they are still young (Kealia is 29 and J.J is 31) and just starting off, we are sure that they are in cloud nine right now and spending a lot of time together.
86.Andy Dalton & Jordan Dalton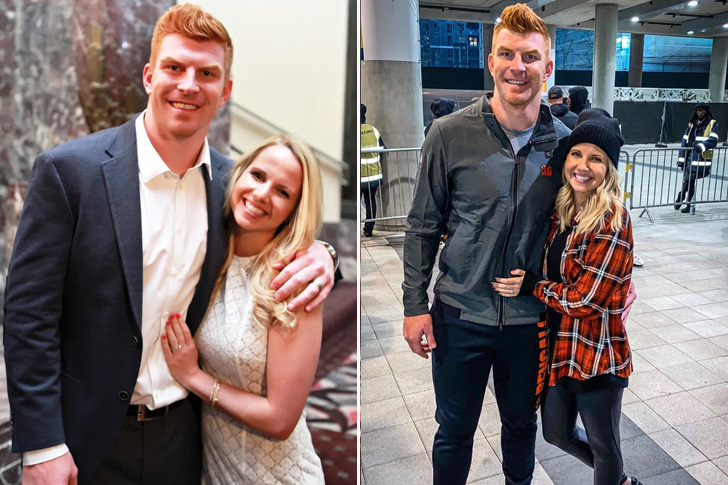 It is quite common for football players to be muscular and have a strong build. Because of that, they look like someone gigantic next to their girlfriend or wife. This has also been the case for Andy Dalton and his wife, Jordan Dalton. The couple might not be as famous as other NFL couples, but they have some sort of a story to be admired of. The couple wed in 2011. The pair who are Christians by faith did not forget to share their blessings with the less fortunate.
For this reason, they build the Andy and JJ Dalton Foundation, to which they spend a lot of time and effort. After three years of being married, they welcomed their first child in 2014. Now, they have three kids already and are still active with their charity works. Despite their dedication to helping those in need, they must have spared some investment money for their children's future.
87.John Elway & Paige Green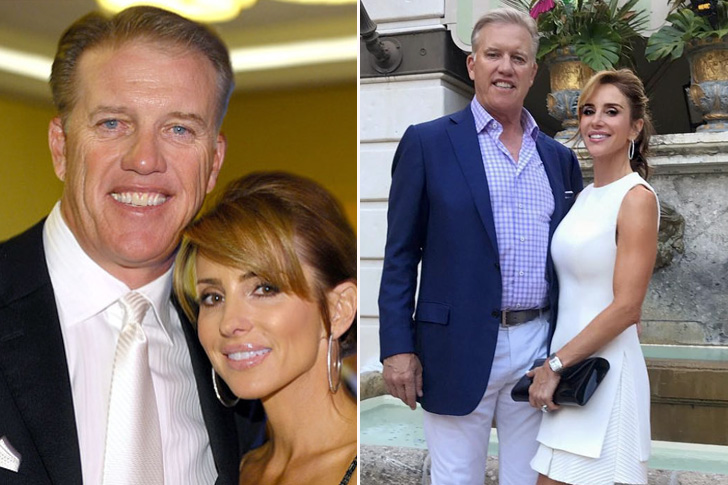 It was a match made in the field for John Elway and Paige Green. The former NFL player and former cheer dancer found love doing their athletic passions. When Elway retired from playing, he then worked as Denver Broncos' general manager and executive vice president. Paige, on the other hand, became a product endorser and eventually went on to become a TV personality. Though they are aware of each other's existence in the same industry, the two have not made a connection until 2005.
It was noted that John Elway was previously married to his wife of 19 years, Janet Elway, before calling it off with the help of their lawyers in 2003. Not long since then, he and Green crossed paths again in a golf tournament in 2005. They grew an affection for one another after some time and started dating. Realizing that what they had was a one-in-a-million feeling, they tied the knot in a solemn ceremony in 2009. Though the couple does not have a child of their own, Elway's children from his first marriage serve as their bundles of joy.
88. Matt Ryan & Sarah Marshall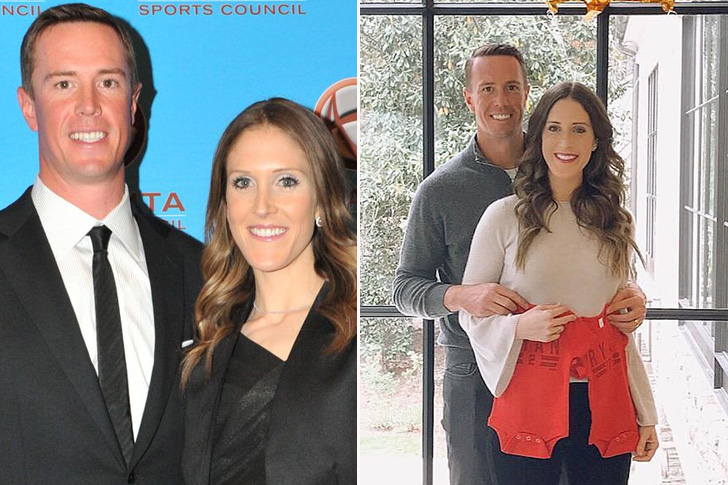 It was sports that brought Matt Ryan and Sarah Marshall together. Sarah Marshall is a former basketball player who played for Boston University and has created a quite impressive record. Matt Ryan, on the other hand, played professional football and was a star player at Boston College. Ryan made it big in the NFL while Marshall pursued a different career track in sports— being a sponsorship consultant for Atlanta Dream WNBA.
The couple met back in college while pursuing their degrees. Ryan and Marshall met while they were in their freshman year as they were both members of the basketball team. They started dating afterward, as Ryan shifted to playing football. The couple got married in 2011, and it was just recently that they announced welcoming twins. It must be the couple's decision to delay raising kids as they are fond of traveling together before they decided to settle down permanently.
89.Dashon Goldson & Ashley North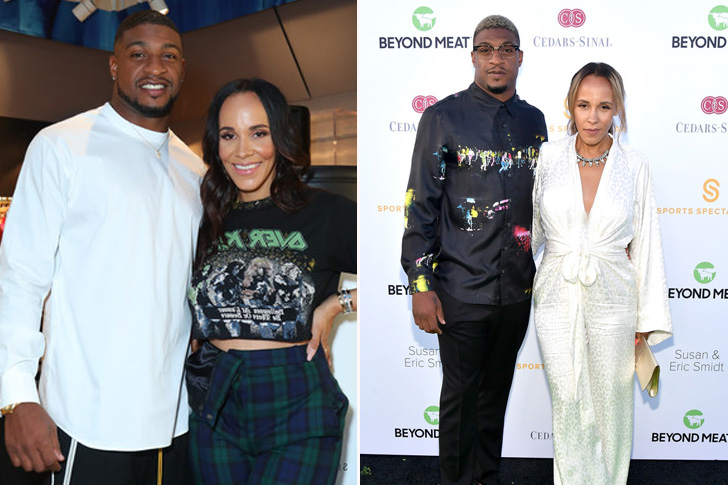 Dashon Goldson and Ashley North have been together for the past decade, yet they have not yet tied the knot. For whatever reason, it is holding Goldson for saying I do, is not enough reason for North to give up on their relationship. In fact, the couple is about to welcome their third child together. Dashon Goldson is a former football player, while Ashley North stars in WAGs (Wives and Girlfriends of Sportsperson).
Apparently, being a reality star is not the only work that she has. She is also a celebrity stylist and a mother to three children. Other than that, the celebrity is known and lauded for her lengthy patience with Goldson, who seems to be ducting and delaying their marriage. Though North has questioned their family being a family to a degree in the past, she must have come to her senses now that being a family does not require marriage.
90.Troy Aikman & Catherine Mooty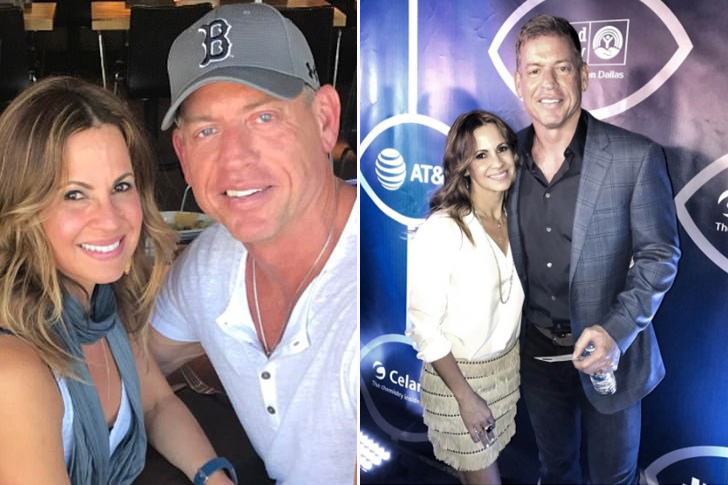 Former American football quarterback of the NFL Troy Kenneth Aikman played for the Dallas Cowboys for 12 seasons from 1989 to 2000. He won numerous awards during his time with the Cowboys, including a recipient of the Super Bowl XXVII MVP award and a six-time Pro Bowl selection. The pro athlete was also the number one overall draft pick back in 1989 and is a Football Hall of Famer since 2006. Today, Aikman is currently working for Fox Network as a sportscaster. With good money management skills, he was able to acquire $50 million to his name.
He is currently married to high-end fashion retailer Catherine "Capa" Mooty since 2017 in Biltmore Four Seasons in Montecito, California. Prior to tying the knot with Mooty, Aikman was a single dad when he and his first wife split back in 2011. Now, they share a beautiful blended family consisting of his two children from his previous marriage as well as Mooty's two sons.
91.AARON RODGERS & DANICA PATRICK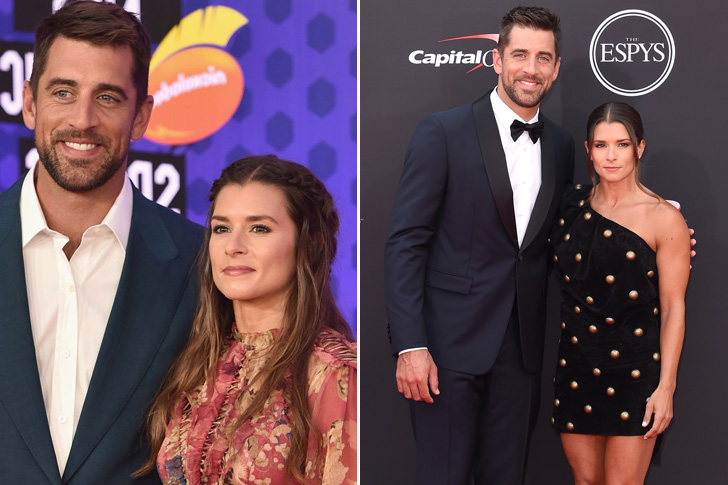 NFL quarterback who is currently playing for the Green Bay Packers, Aaron Charles Rodgers, and former professional racing driver Danica Sue Patrick were recently in a relationship from 2018, but they both decided to call it quits in 2020. Fans of both star athletes were left wondering what went wrong after dating for two years, as they were hoping that wedding bells would be ringing some time in the near future.
In the past, Patrick has been given credit as the most successful woman in American open-wheel racing history because of her victory in the 2008 Indy Japan 300. She has a total net worth of $80 million. On the other hand, Rodgers has set numerous career passing records, including career and single-season career interception rates. Throughout his career, he has acquired a total net worth of $120 million and an annual salary of $20 million.
92.Brett Favre & Deanna Favre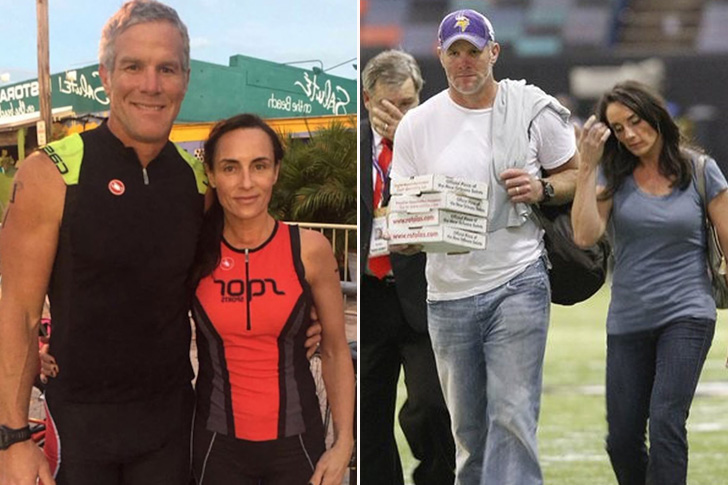 CEO and founder of the Deanna Favre Hope Foundation, Deanna Tynes Favre, is an advocate in the fight against cancer after she was diagnosed with complications on the breast back in 2004. She is currently married since 1996 to Brett Favre, an American former professional football player who played most of his career with the Green Bay Packers of the NFL. They both have two daughters, Brittany and Breleigh.
Brett, who has a record of one win in the Super Bowl, has a total net worth of $100 million. He had total earnings from his career of $140 million and had a single-season salary of $12 million and an additional $4.4 million signing bonus back in 2010. In the previous year, in 2009, he signed a two-year contract for $25 million with the Vikings. With all the money that he was able to earn in his career, we are pretty sure that he had a reliable financial advisor in helping him manage his finances.
93.Cam Newton & Kia Proctor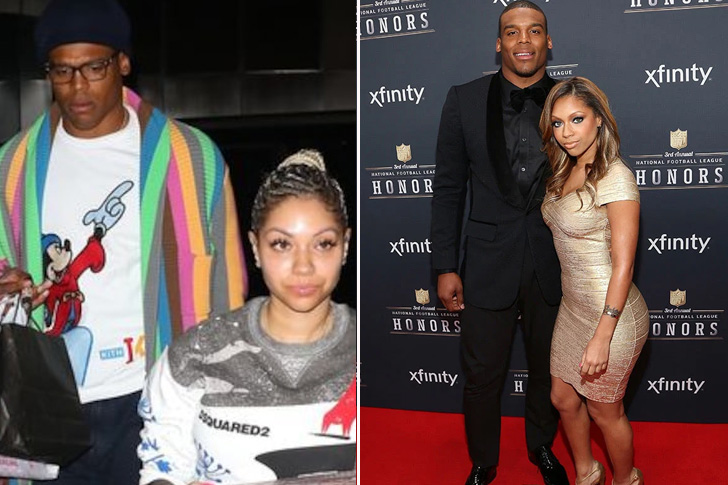 American football quarterback who is currently a free agent in the National Football League Cameron "Cam" Jerrell Newton has played for the Carolina Panthers for a total of nine seasons. He was chosen as the first overall pick during the NFL Draft in 2011. Known as the Superman, Newton proved his worth at every degree, playing in the Super Bowl and winning the NFL MVP in 2015. In 2014 alone, he earned a whopping $5.5 million, which is thanks to his $22 million contract for four years with Carolina, giving him a total net worth of $75 million.
He previously had a relationship with Kia Proctor, who bore the four children of Newton, and is currently in the middle of a battle for custody over the kids. In retrospect, it all boils down to who has the better lawyer. Though, all Newton ever wants is to have joint custody over the children and for the court to determine the amount for the child support.
94.Eli Manning & Abby Mcgrew-Manning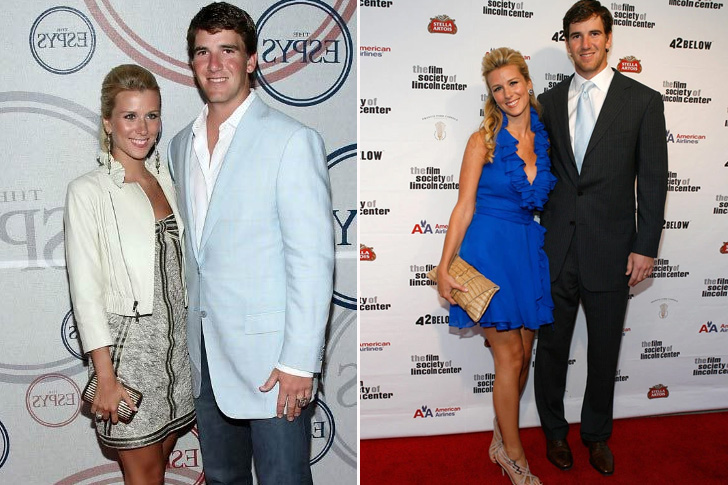 36-year-old Abby McGrew Manning is the wife of American former football quarterback Elisha Nelson Manning IV, who played for the New York Giants for 16 seasons. They first met in college when Abby was a freshman and Eli was a junior at Ole Miss back in 2002. She has a degree in family and consumer science from the University of Mississippi. They got married on April 19, 2008, in One & Only Palmilla resort in Los Cabos, Mexico, after the New York Giants won the Super Bowl XLII.
Now, the couple has four children together, Ava, Lucy, Caroline, and Charles. Eli has a total net worth of $150 million and has recently retired on January 22, 2020. During the time of his retirement, Eli was given credit for being the highest-earning player in the history of the NFL with $252 million earnings from his salary alone.
95.Tim Tebow & Demi Tebow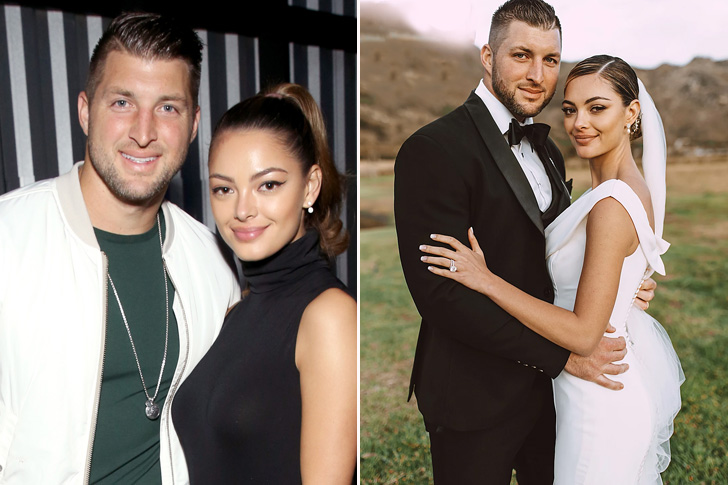 Tim Tebow, a former professional football quarterback, now a professional baseball player for the New York Mets, and the second South African winner of Miss Universe who was crowned Miss Universe in 2017, Demi-Leigh Tebow, started their relationship in 2017 during her reign as the Miss Universe. On January 10, 2019, Demi and Tim announced their engagement and tied the knot on January 20, 2020, in a 30-minute ceremony in South Africa.
During the couple's first wedding anniversary, they invited ET inside their home in Jacksonville, Florida, for a discussion on how they celebrated their first anniversary together and whether they are planning to have children. If they ever plan on having children, they don't have to worry about any student loans since Tim has a total net worth of $5 million to his name, while Demi also has $5 million to her name.
96.Tony Romo and Candice Crawford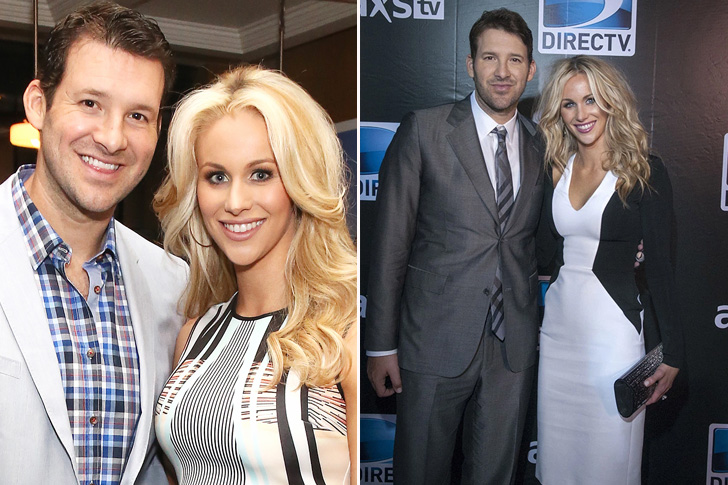 Candice Crawford, an American beauty queen and former reporter who gives credit to her work in TV stations such as KDAF and her marriage with the retired professional football player Tony Romo, her $10 million net worth. Her husband has a total net worth of $70 million and is regarded for his work in the broadcasting world as a "genius commentator." Before he started his career as the starting quarterback for the Cowboys in 2007, he initially started off as a holder.
After that, Romo became the backbone of the team, leading them to a streak of solid results for the following years. After suffering a back injury, the athlete decided that it was time to hang up the towel and retire after the 2016 season. They decided to get married on May 28, 2011, after dating for two years since the summer of 2009. Over the course of their marriage, they were blessed with three sons together, Hawkins, Rivers, and Jones McCoy.
97. Golden Tate & Elise Tate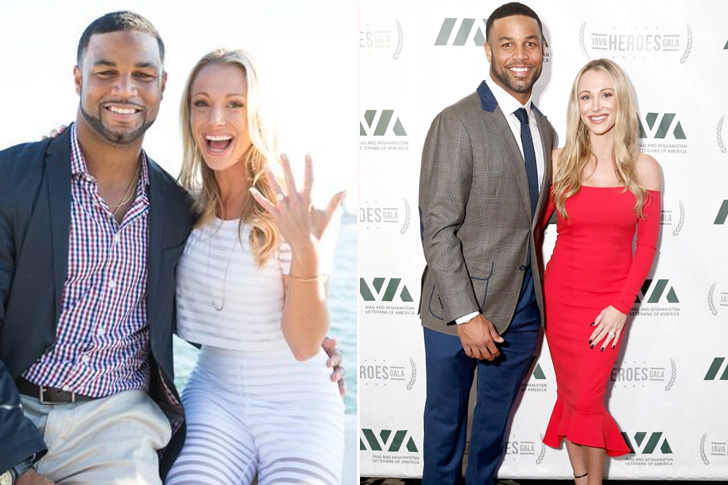 American football player Golden Herman Tate III, who was the wide receiver for the New York Giants of the NFL, was recognized as an All-American during his college football career at Notre Dame, where he also won Fred Biletnikoff Award for Outstanding Receiver at any Position back in 2009. He was drafted by the Seattle Seahawks with the 60th second-round pick for the NFL Draft in 2010. The pro athlete is also the son of a former wide receiver from Tennessee State who was drafted by the Indianapolis Colts in the 1984 NFL Draft, Golden Tate Jr.
Currently, Tate has a total net worth of $9.4 million and had a 4-year contract with the New York Giants for $37.5 million and an additional $10 million signing bonus. In terms of his personal life, the football star married Elise Pollard back in March 2017. The couple must have considered the start of their journey as husband and wife as an investment, seeing as they enjoyed a luxurious destination wedding in Cabo San Lucas, Mexico, together with 250 of their closest friends and family. Now, they are basking in wedded bliss with two kids.
98. Reggie Bush & Lilit Avagyan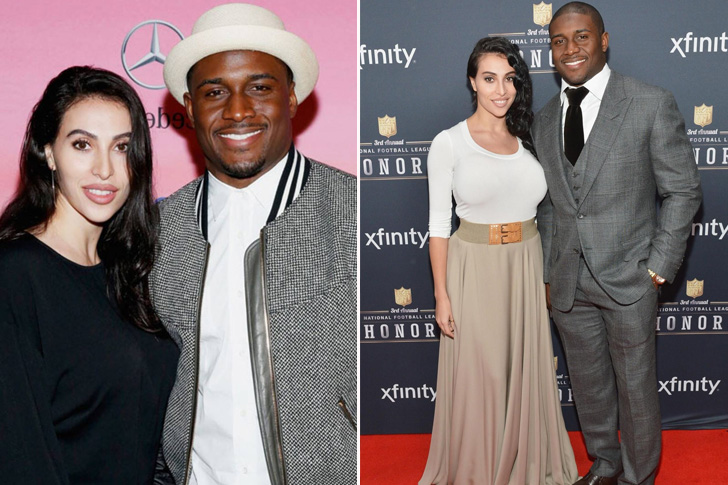 Reginald Alfred Bush Jr., who earned consensus All-American honors twice, and a Heisman Trophy, is regarded as the most outstanding player in the nation while playing for USC during his college football career. He was drafted in the 2006 NFL Draft by New Orleans for second overall. While playing for the Saints, Bush was named an All-Pro punt returner back in 2008 and triumphantly won the Super Bowl XLIV against the Indianapolis Colts in 2010. During his NFL career, the athlete has earned $60 million in salary alone, which he used as investment money to build his $25 million net worth.
Reggie started dating back Armenian dancer (who won the Rising Star Open dance competition in 2010), Lilit Avagyan in 2011. This was shortly after Keeping up with the Kardashians star Kim Kardashian and Reggie ended their three-year-long relationship. Three years into their relationship, they finally tied the knot on July 12, 2014. The couple now has three children, Agyemang, Uriah, and Briseis.
99. Peyton Manning & Ashley Thompson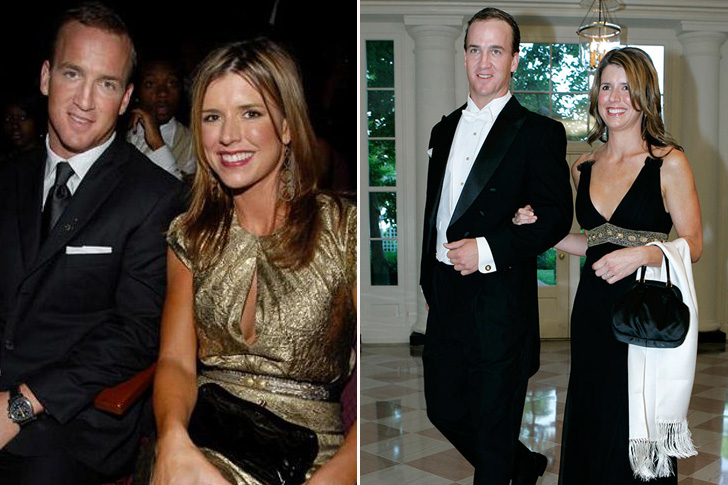 Professional American football player Peyton Williams Manning, who played for the Indianapolis Colts for 14 seasons, is widely considered by many as one of the greatest quarterbacks of all time. During the peak of his football career, he was one of the highest-paid celebrities in the world, endorsing major brands left and right and appearing in TV commercials for brands, including DirecTV, Papa Johns, and Buick. Now, the football star has accumulated a total net worth of $250 million for his time in the NFL and some other business investments.
Peyton is currently married to Ashley Thompson, an American businesswoman who has a net worth of $20 million. They got married on St. Patrick's Day in 2001. Regarding their first encounter, the pair met after she was introduced to him by her parents' next-door neighbor the summer before Peyton went on to his freshman year in college. Even though Thompson is active in the community, very little information can be found about her due to the fact that she prefers to stay out of the spotlight.
100.Josh Allen & Brittany Williams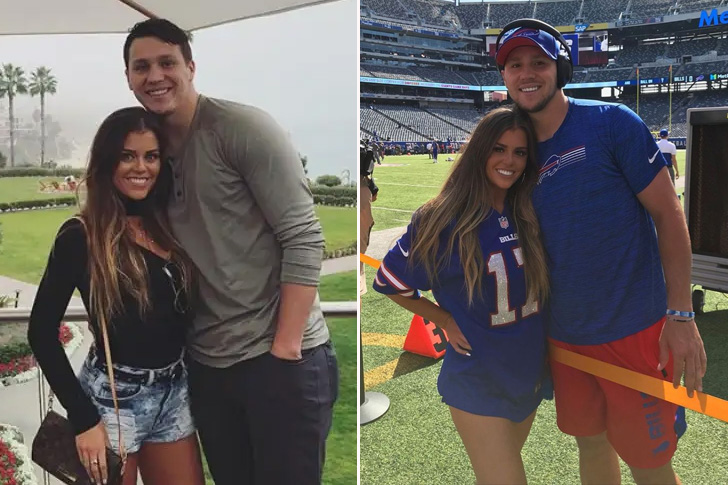 Prior to becoming the quarterback for the Buffalo Bills of the NFL, American football player Joshua Patrick Allen played for the University of Wyoming and led the team to two bowl games and a Mountain West Conference division title. He was drafted into the NFL back in 2018 as the seventh overall pick by the Buffalo Bills, making him the highest-drafted NFL player from the state of Wyoming. From the start of his career up until now, he has accumulated a total net worth of $14 million. He signed a four-year contract with the Bills for $21 million.
We're pretty sure that this is just the start of his career, and we'll be seeing his net worth skyrocket pretty soon with some help from his financial advisor. His success in the sport garnered him a huge following, but none more than his beautiful girlfriend, Brittany Williams, a former cheerleader at Fresno State. It has been reported that the couple has been dating for some time now and was first seen with her man during the 2018 NFL Draft. Now, Brittany is working as a Pilates instructor.
101. Mike Fisher & Carrie Underwood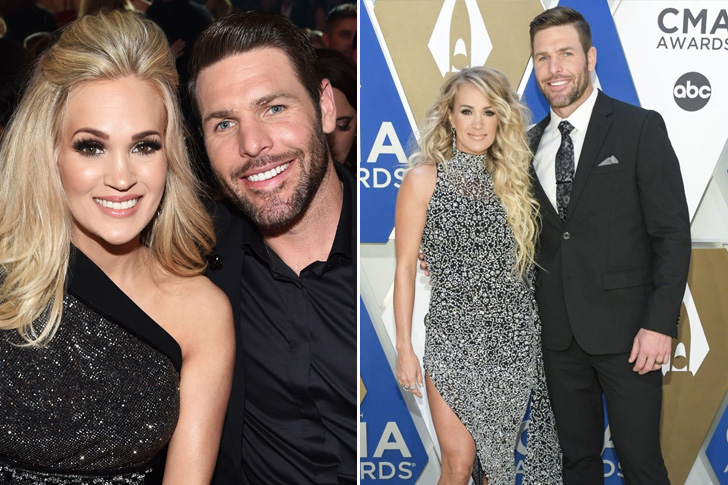 Canadian-American former professional ice hockey player Michael Andrew Fisher plays the position of center in Ottawa Senators and Nashville Predators in the NHL. He was drafted during the 1998 NHL Entry Draft as the 44th overall pick by the Senators. Since 2010, the hockey superstar has been married to American singer-songwriter Carrie Marie Underwood. She rose to prominence after she won the fourth season of American Idol back in 2005. Upon the release of her debut single, she was given credit as the only country artist to debut at the number one spot on the Billboard Hot 100.
Even after being married for more than a decade and becoming parents to two sons – Jacob Bryan and Isaiah Michael – the former hockey player and the country superstar are still going stronger than ever. During the start of their relationship, Mike and Carrie had a physical distance of 1,070 miles, and demanding careers that kept them apart, but they regularly talked through the phone. Fast forward to today, and the couple has worked their way around balancing family life and their time in the spotlight.
102. Kyle Van Noy & Marissa Powell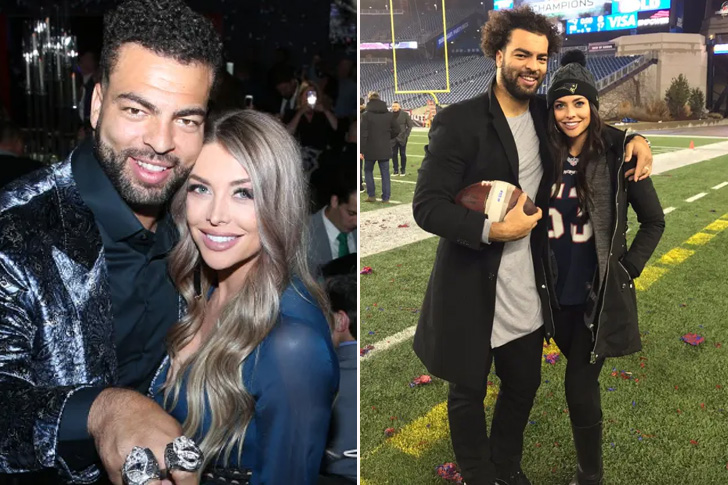 American football player Kyle Van Noy, who played as a linebacker for the Miami Dolphins of the NFL, was drafted in the second round of the NFL Draft in 2014 by the Detroit Lions. During his football career, the pro athlete played at Brigham Young University, where he was given credit as a third-team All-American. He is reportedly going to earn $30 million for a four-year contract with the Dolphins.
Kyle got married to her on-again, off-again girlfriend, who was the former Miss Utah USA winner, Marissa Powell, in 2014 after proposing in December 2013. He met the beauty queen while he was in Utah. The couple shared life experiences that only strengthened their relationship, and in 2014, they started a charitable joint venture called the Van Noy Valor Foundation.
103.Antonio Gates & Sasha Dindayal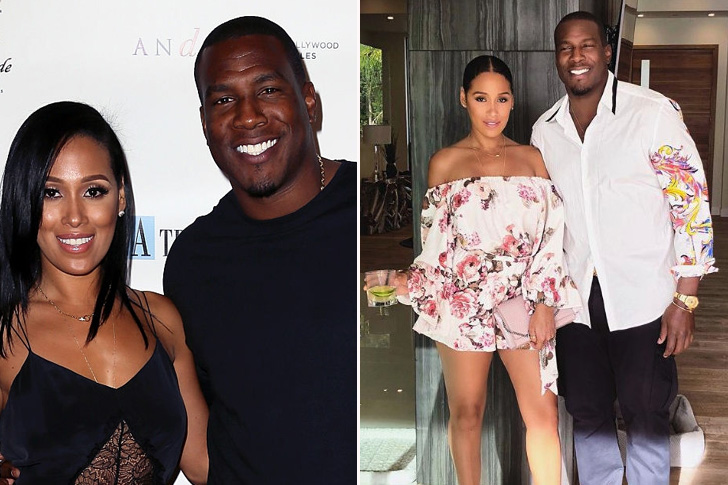 American former professional football player Antonio Ethan Gates Jr. had a tight end for the Los Angeles Charges throughout his entire career in the NFL. He was named All-Pro selection five times and Pro Bowl eight times. After having a successful 16-year-long career with the Chargers, the football superstar decided to retire on January 14, 2020. After playing college basketball in Kent State University, he was initially signed as an undrafted free agent in 2003. He was the career leader in receiving touchdowns, receiving yards, and receptions for the Chargers.
Antonio is currently married to his long-time girlfriend, model Sasha Dindayal on July 9, 2011. Three years into their marriage, the couple moved into their house in Encino, California. The couple has kept a perfect relationship between them, and not a single news article showed that either of them had any marital affair, disputes, or any need for a lawyer.
104.Justin Tucker & Amanda Bass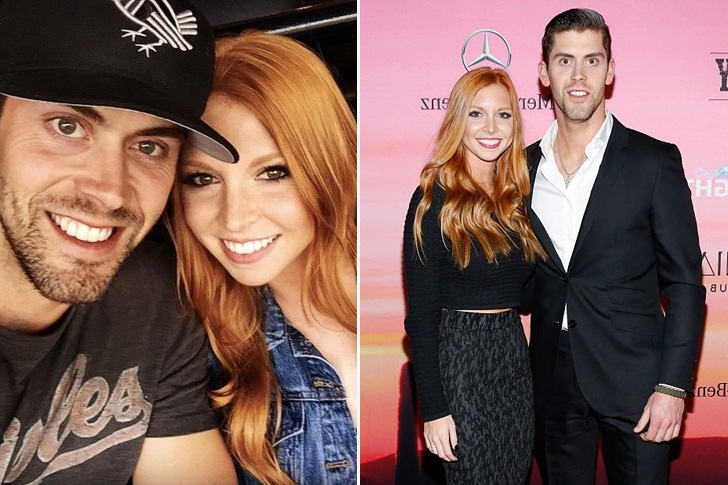 American football placekicker Justin Paul Tucker is currently playing for the Baltimore Ravens and is regarded as the most accurate placekicker in the history of the NFL. Even though he wasn't chosen by any of the 32 teams in the league during the 2012 NFL Draft, he still has $5 million to his name, which is a lot considering that it hasn't been a long time since he started in the NFL. Astoundingly, the footballer signed a four-year contract extension on April 24, 2019, for $23.05 million with $12 million guaranteed.
He got married to Amanda Bass back in March 2015 and had their first child, Easton, on May 10, 2016. The couple is currently residing in Maryland. With a net worth reaching millions of dollars, we are pretty confident that he didn't worry about any mortgage for his house and is guaranteed that he is able to provide everything that their son needs.
105.Trevor Lawrence & Marissa Mowry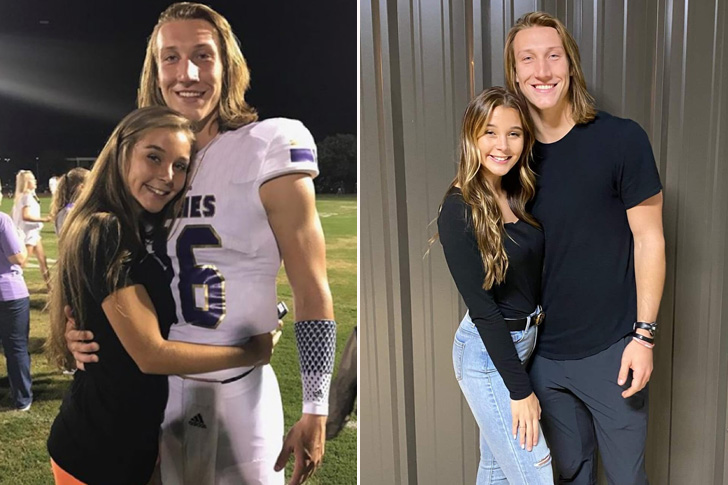 Trevor Lawrence recently proposed to his high school sweetheart, Marissa Mowry, in July 2020. The two started dating during their high school days in Cartersville, Georgia. Their relationship and love for each other certainly carried over to their college days, despite choosing to go to different schools. Trevor Lawrence decided to go to Clemson, where he's currently the quarterback for the Clemson Tigers, while Mowry chose to earn her college degree at Anderson University.
At first glance, you would really notice the height difference between Mowry and Lawrence. Trevor Lawrence stands at a towering 6 foot 4 inches, while Marissa Mowry is 5-feet tall. The two certainly didn't allow the height difference to dictate their relationship. Despite their height difference, both are active in sports! Lawrence currently is the starting quarterback for the Tigers while Mowry stars in Anderson University's soccer team!
106.Paul Rhoads & Vickie Rhoads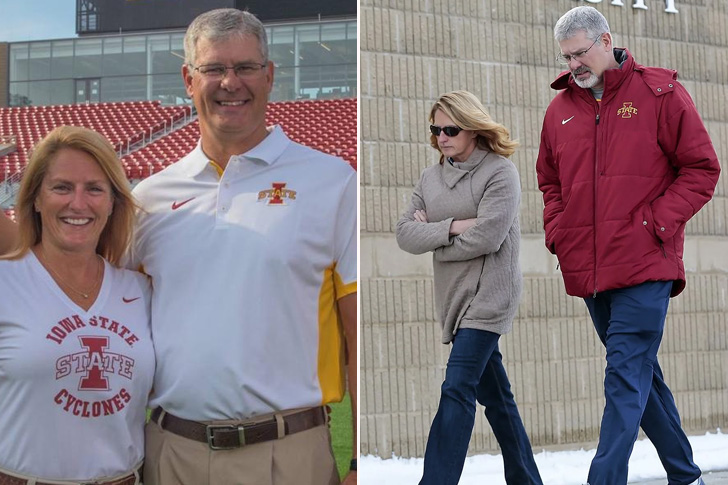 Paul Rhoads is the current defensive coordinator for the Arizona Wildcat's football program. He began coaching under Chuck Shelton during his time as an assistant at Utah State. Paul eventually bounced around different college football programs throughout his college football coaching career. His most successful coaching stint came in Iowa State Cyclones, where he served as a secondary coach for almost five seasons. During Paul's five seasons at Iowa State, he would be a key part of the team's exceptional degree of success.
Paul Rhoads married his wife, Vickie Rhoads, and they have two sons, Jake and Wyatt. Vickie is definitely a bubbly figure as she often would demand Paul to have fun while coaching. Paul is also an avid fan of Vickie's homemade fudge, and he would even use his wife's homemade fudge as an incentive for his football players. If a player blocked a kick, then there were to get a plate full of Vickie Rhoads' homemade fudge!
107.Jim Harbaugh & Sarah Feuerborn Harbaugh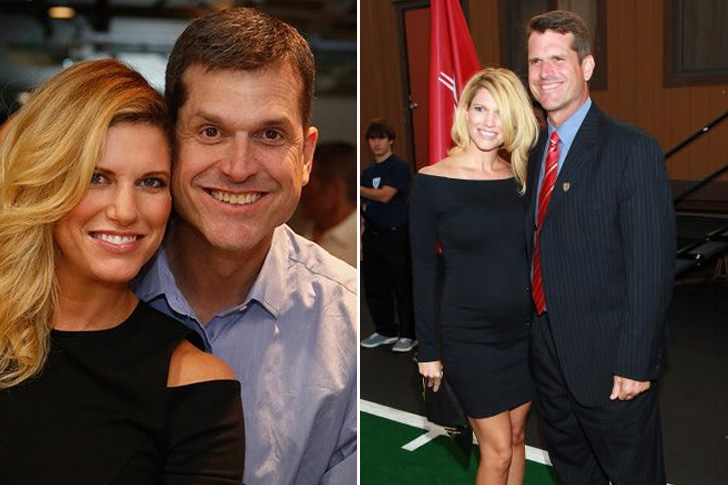 Sarah Feuerborn Harbaugh has always stood by her husband, Jim Harbaugh. She has always been an avid supporter of Jim, who's the current Michigan football coach. Sarah has always made it a point to support Jim on the sidelines, whether during high school football games, the NFL, or college football games. She's definitely Jim's number one cheerleader, and they have been married for almost 13 years now!
One notable difference between Jim and Sarah is their age difference. Jim Harbaugh, who's currently 57, is fifteen years older than Sarah, who's 42. They certainly stood by the phrase "age doesn't matter" as they have been happily married, showing no signs of the need for any lawyer intervention. The couple has also welcomed four children in their thirteen years of marriage. Jim and Sarah undoubtedly hit the trifecta of having a good college football coaching job, a loving family, and blissful marriage.
108. Eric Decker & Jessie James Decker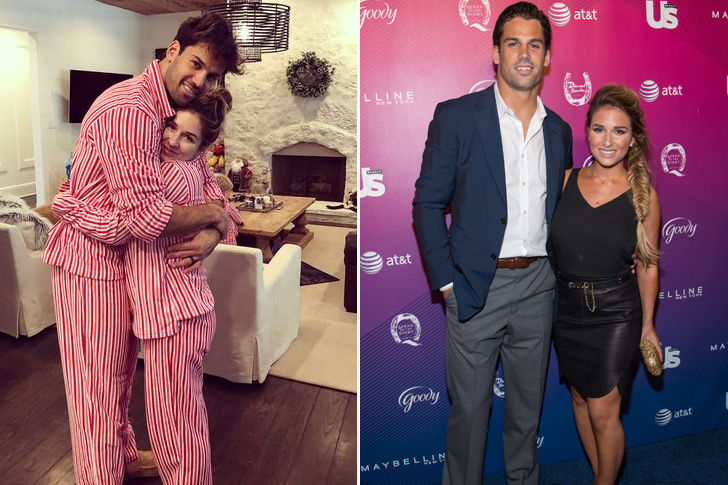 Eric Decker and Jessie James Decker are some of those celebrity couples you'd always see on Instagram. Eric Decker is a former NFL star, and Jessie James Decker is a well-known country singer, and their mutual friends deserve the credit for introducing them to each other. Eric saw how good-looking Jessie was and immediately texted her. The pair have been married since 2013 and has welcomed three kids in their seven years of marriage. They currently live with their three kids in their Nashville residence.
However, this NFL star and country icon duo share one significant difference — their height. You certainly notice the difference in Jessie and Eric's size when you look at them side by side. Eric towers in at 6 feet and two inches, while Jessie comes in at a petite height of 5 feet. Their height difference is merely a number as they have been happier than ever, as seen on their Instagram accounts.
109. Earl Thomas & Nina Heisser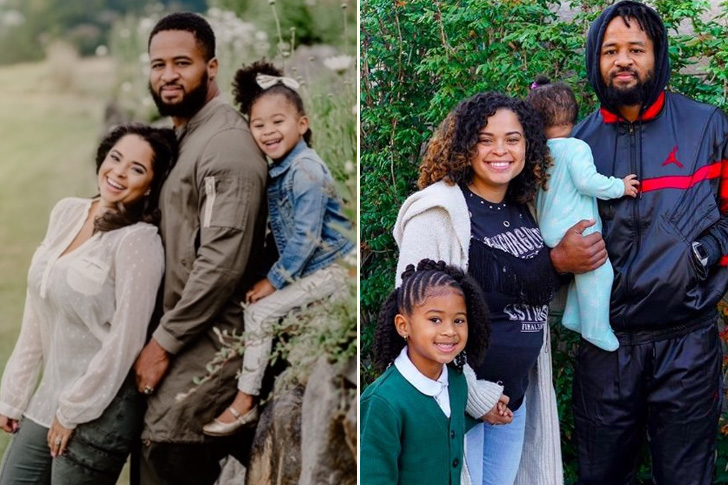 Earl Thomas currently plays free safety for the Baltimore Ravens. Off the field, Earl is in a picture-perfect relationship with his wife, Nina Heisser. The pair met when during their first-period Spanish class during their junior year in high school. Interestingly, Nina said that Earl was a bit scared and hesitant to ask her on a date. However, the pair eventually went on a couple of dates before Earl asked Nina to be his girlfriend. Fast forward a couple of years later, and Earl is an NFL safety, and Nina is his loving wife.
When you look at them side by side, Earl and Nina certainly have a notable height difference. Earl Thomas stands at 5 feet, and 8 inches, fit for an NFL safety, and Nina comes in at 5 feet and 2 inches. However, that's all the difference present in their relationship as they have been married for almost four years. We'll undoubtedly have to give Earl some credit for making sure that he balances his NFL career with family time!
110. Navorro Bowman & Mikale Ferguson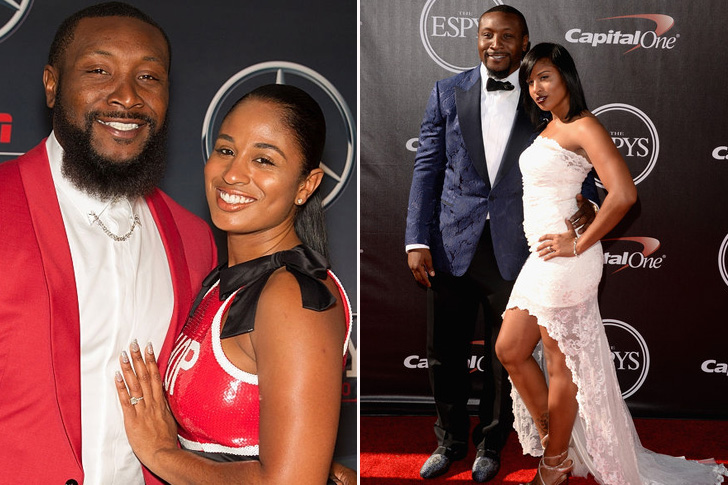 Navorro Bowman is a former NFL player who played eight seasons for most of his career with the San Francisco 49ers. Bowman recently called it quits and decided to walk away from the NFL and football permanently. However, there's no need to be sad about Navorro's decision as he'll be able to spend more time with his loving wife and family. Bowman married Mikale Ferguson in 2017 after only a year of engagement. They currently live together with their three kids and their adorable dog named Gino.
Navorro Bowman and Mikale Ferguson have been spotted together in various NFL events. There isn't much height difference, but you could clearly tell that Bowman has a significant weight advantage over Ferguson. Of course, you'd expect that an NFL linebacker would be strong enough to hold down and anchor an entire defense! His wife, on the other hand, always looked fit, slim, and petite. Ferguson is quite the opposite of Bowman as she's a savvy businesswoman that makes sure her husband's money always goes into a couple of money-making investments!
111. Matt Forte & Danielle Daniels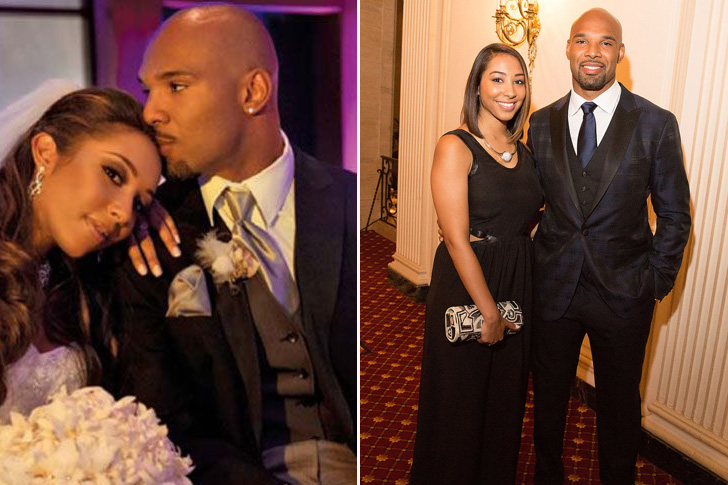 If you're a Chicago Bears or New York Jets fan, you probably know Matt Forte, the electric running back from Tulane. Off the field, Forte married his girlfriend named Danielle Daniels back in 2011. The couple met when Danielle was getting her college degree at Columbia University. Matt and Danielle dated for three years before they decided to tie the knot formally. Matt and Danielle currently live together with their three kids in a five-acre property located in Mettawa, Chicago.
Danielle has been by Matt's side throughout his NFL career. Of course, you'd expect Matt Forte, an NFL running back, to have a bulky and strong build. On the other hand, Danielle is the complete opposite of bulky and strong as she's more of a petite and finesse lady. Weight is definitely the only difference in their nine-year marriage as it seems that they are incredibly happy together!
112. Carson Palmer & Shaeylyn Palmer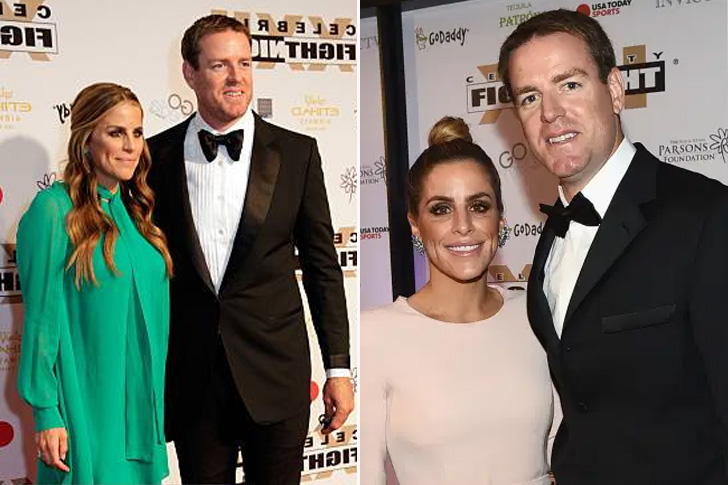 You probably remember Carson Palmer as the Heisman Trophy winner in his college days and a former No. 1 overall pick in the NFL draft. The former college and NFL standout now live his post-football life together with his wife, Shaelyn Palmer. Carson and Shaelyn met when Shaelyn was the starting goalkeeper for the USC Trojans, the same college wherein Carson took home the Heisman award. You could say that it was their status as athletes that brought them together! The pair have been married since 2003 and have welcomed four kids together.
There's not much information about Shaelyn's wife, but you could see that she's significantly shorter when she stands by his 6 foot 4-husband. Size isn't such a big deal, though, since they seem to be in a loving and blissful marriage together. Shaelyn and Carson definitely deserve credit for holding their marriage together through their USC days and Carson's NFL days!
113. Colin Kaepernick & Nessa Diab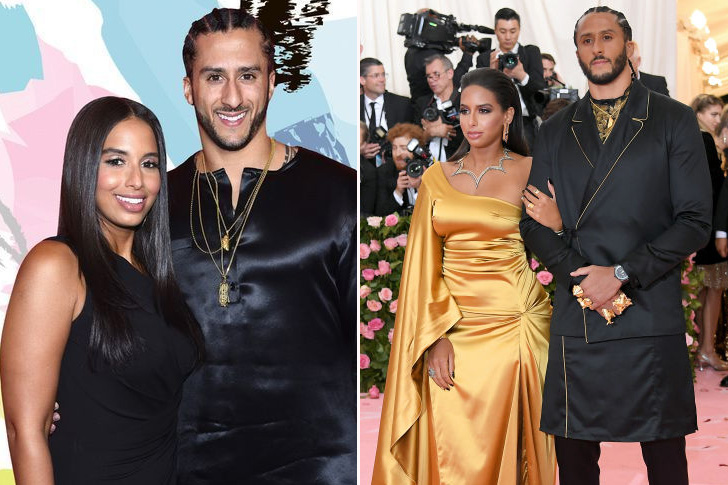 If there's one thing that a well-known and celebrated NFL star could wish for, it's a loving woman that always has his back. Good thing; that's what Colin Kaepernick got when he started dating Nessa Diab in 2015. His partner was by his side when Colin's career took a tumble after voicing out his sentiments against the NFL and America's social justice situation. Teams eventually grew hesitant to give Kaepernick a chance to play for their teams. However, Nessa stood by her man's side and supported Colin's decision.
Nessa undoubtedly deserves credit for being a selfless girlfriend in such trying times for Kaepernick! The couple has been seen together in numerous red carpet events, and it's noticeable that Colin is significantly taller than Nessa. Despite the height difference, Nessa makes sure that she supports her boyfriend's career and activism. Nessa has been publicly vocal on the ideas and advocacies that Colin stood up for in her social media accounts. She's also been active in putting together workouts for Colin with NFL teams.
114. Kurt Warner & Brenda Warner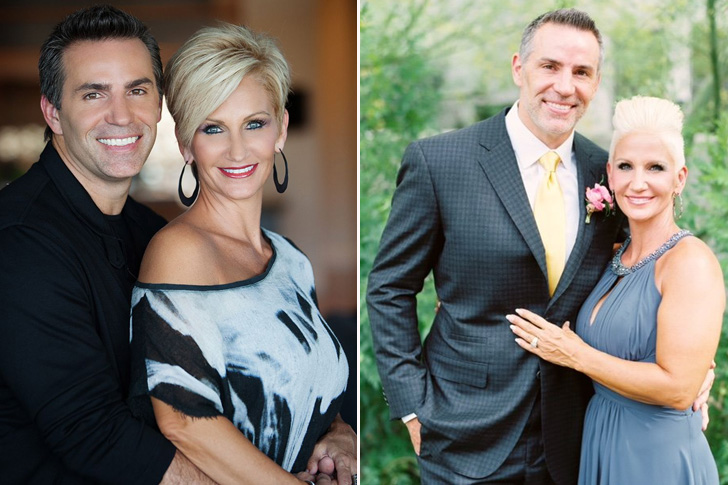 Kurt Warner, the quarterback from Iowa with a degree in communications, is undoubtedly one of the greatest stories in NFL history. Warner played for 12 seasons in the National Football League, primarily with the Arizona Cardinals and the St. Louis Rams. He was an undrafted agent who eventually became a two-time Most Valuable Player and a Super Bowl MVP. His career-defining moment came when he led the Arizona Cardinals to the Super Bowl in 2009.
Kurt met his current wife, Brenda Warner, when they were in college and immediately decided to marry her in 1997. Brenda certainly wasn't the ordinary college girl. She was a former Marine Corps corporal and was already married once when she and Warner met. Brenda stood by Kurt's side when Kurt didn't get a single call on the night of the NFL draft. She was also there when Kurt managed to put together one of the best NFL careers of all time. It's safe to say that Kurt always had Brenda's support through his career's ups and downs.
115. Demarcus Ware & Angela Daniels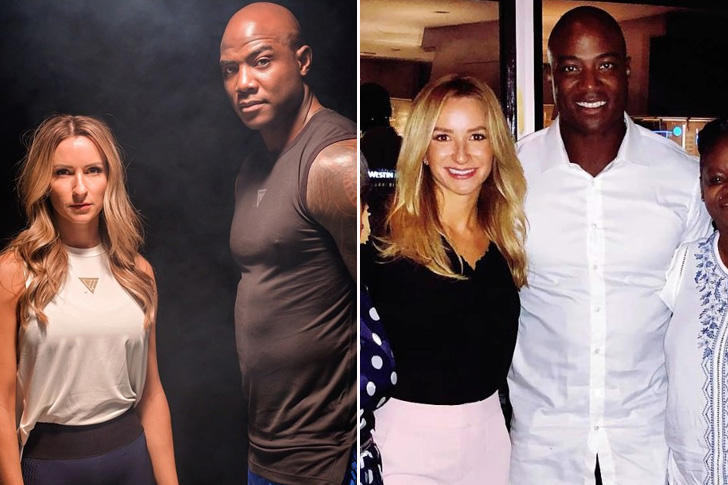 You can't mention the phrase "greatest defensive players ever" without saying Demarcus Ware's name. Demarcus Ware made his mark as a polarizing defensive player for the Dallas Cowboys. He's also a proven-winner as he anchored the Denver Broncos' defense in Super Bowl 50 back in 2014. Interestingly, his on-field life was just as blissful as his off-field relationship. Just as he retired in 2016, Demarcus broke out the news of a new woman he was reportedly dating. Demarcus' new girl is Angela Daniel, and he has been together for almost four years now.
Demarcus first introduced Angela as his new girl when he posted a picture of them on his Instagram. Four years later and she's still often seen in Demarcus' Instagram posts. Interestingly, the pair shared the same love for fitness and decided to spend their investment money in the industry! Demarcus and Angela recently opened a fitness center called 3 Volt Fitness. It's certainly not every day that an ex-NFL player shares the same passion for fitness with his girlfriend!
116. Tom Brady & Gisele Bundchen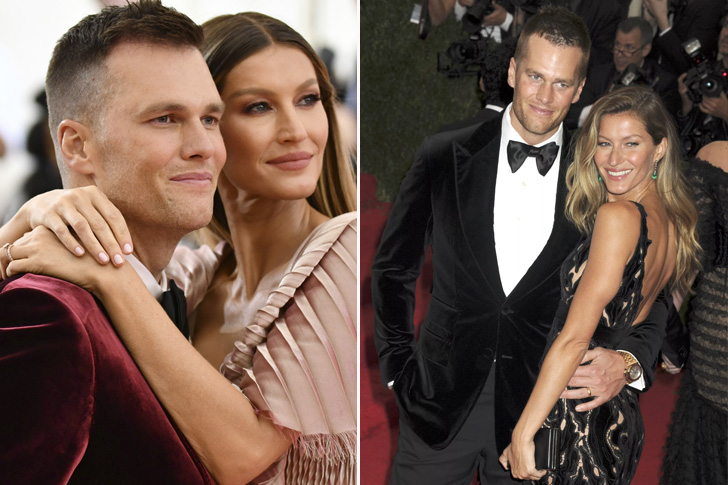 It was undoubtedly love at first sight for Gisele Bundchen and her NFL quarterback husband, Tom Brady. They met back in December 2006, and a few months later, in 2007, Tom and Gisele started dating. The two must have had a blissful two-year relationship as they eventually formally tied the knot in 2009. Fast forward eleven years later, and Tom is one of the greatest quarterbacks in NFL history, and Gisele owns a billion-dollar empire along with numerous investments.
Together, Gisele and Tom share a combined net worth of $650 million! Gisele and Tom's relationship definitely worked out well for them. You certainly don't often see a wife of an NFL player that's richer than him. Besides their financial success, the couple has also welcomed two children in their eleven years of marriage. Fans recently spotted the two in Tom Brady's championship parade in Florida, and they are as happy as ever!
117. David Johnson & Meghan Brock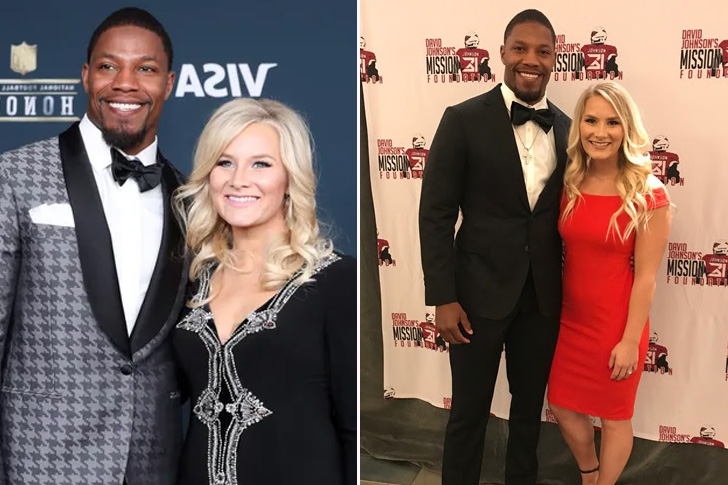 Love certainly knows no boundaries, and the phrase couldn't be more accurate for David Johnson and his wife, Meghan Brock. David Johnson, an NFL running back, met his wife back at the University of Iowa. David instantly fell for Meghan's charming personality, and the pair eventually started dating. David was a football standout in Iowa, which ultimately allowed him to carve a path into the NFL. On the other hand, Meghan went and studied nursing after getting her degree at the University of Iowa.
After years of dating, Meghan and David decided to tie the knot in April of 2016. They welcomed their first child shortly in 2017. Meghan and David also founded a foundation named Mission 31 Foundation shortly after their son's birth. This NFL couple's love surely extends to their community as they often volunteer at children's hospitals together. David and Meghan's son is indeed lucky to have such selfless and loving parents!
118. Jordy Nelson & Emily Nelson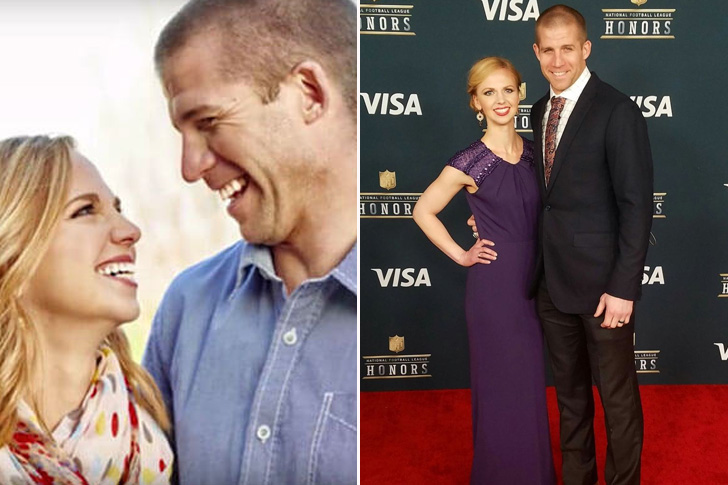 Without a doubt, Jordy Nelson and his wife Emily have one of the most adorable love stories in the NFL. Jordy and Emily have already known each other since Kindergarten. You could say that they've known each other for pretty much their entire lives. The pair started dating during high school and throughout college. Jordy eventually decided to propose to Emily after college with a cheesy "will you marry me?" drawn in the sand of a beach. Of course, Emily gave Jordy her resounding "yes."
Jordy and Emily gave birth to their first child in 2010. The couple had trouble getting pregnant again, so they decided to adopt. Jordy and Emily definitely deserve credit for trying an alternative route to build their family. Jordy was able to put together quite a career in the NFL. He recently decided to call it quits and retired in 2019. Now, he'll be able to help Emily attend to the needs of their adorable kids!
119.Greg Olsen & Kara Dooley
Kara Dooley was attending the University of Miami when she met a well-built football player named Greg Olsen. Kara may not have known it at the time, but she already met her future husband. The adorable and happy couple decided to marry each other in 2009, and they currently have three kids together. Today, they're residing and raising their kids in Charlotte, North Carolina.
Kara Dooley and Greg Olsen have been married for eleven years now. Olsen announced his retirement from football in January 2021. As for Kara, she's a realtor and has a good idea of the best real estate investments in North Carolina. You can catch a glimpse of the Olsen family life on Greg's Instagram. He makes sure to post often photos of his lovely wife as well as his three kids. They are a lovely couple indeed.
120. Derek Carr & Heather Neel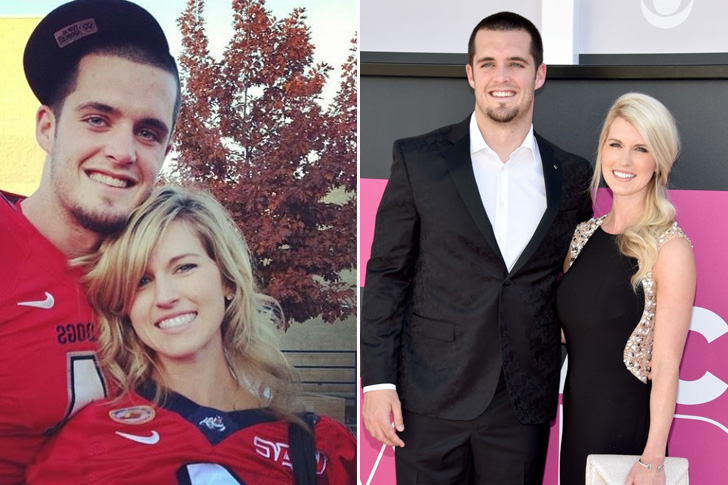 Derek Carr, the current quarterback for the Las Vegas Raiders, married his wife, Heather Neel, back in 2012. The pair met in 2009, and you could say that it was quite a blissful three-year relationship. Derek and Heather have welcomed three kids together, with their most recent baby coming in December of 2020. You could peek at their dreamy personal lives on Heather's Instagram as she makes sure to share adorable photos of their family from time to time.
Heather was working as a part-time waitress while she was trying to get her college degree. She met Derek during a shift, and you could say that they immediately fell for each other. Interestingly, Derek Carr was more of a party-goer when he was in college. Things certainly took a complete turnaround when he met Heather. Heather definitely deserves credit for helping Derek change his habits. It's truly amazing what a good woman does to you!
121. Charles Tillman & Jackie Tillman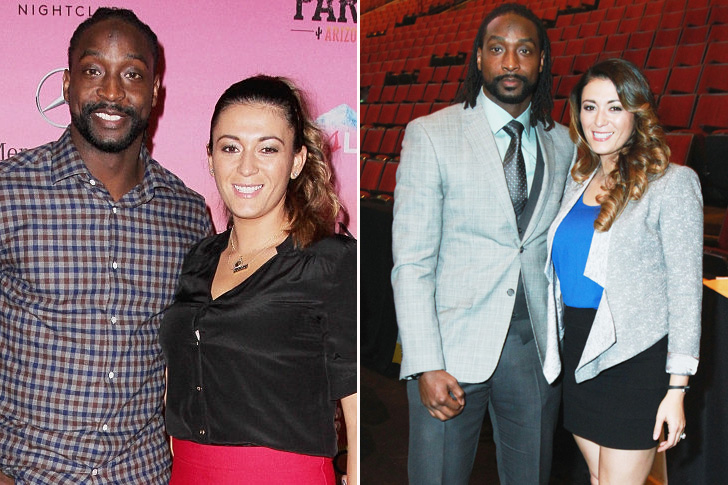 Charles and Jackie Tillman is another inspiring couple on the list, although for a reason different from what you might think. They are known to be active in philanthropy, including their own Cornerstone Foundation, where they work with ill children in the Chicago area. One of their children suffers from cardiomyopathy, which inspired them to start an organization that helps others in their hometown.
It isn't so surprising, though, since Charles is one of the most successful football players in the NFL. We're just happy to know that he's sharing his blessings. Charles and Jackie have known each other since they were in 7th grade, which might explain why they have such a strong and healthy relationship. We hope that they have made smart investments as well because we don't want their rock-solid love to get shaken by unexpected financial problems.
122. Michael Strahan and Kayla Quick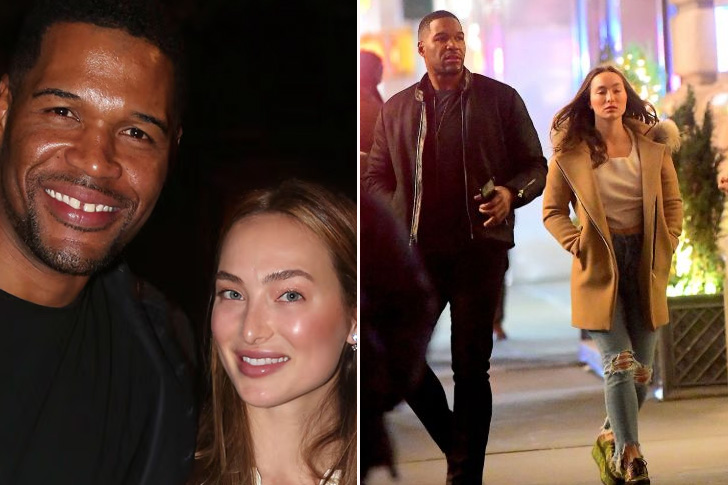 You might know Michael Strahan for being one of the top players in the NFL and as a host in the talk show Good Morning America. On the other hand, his wife, Kayla Quick, rose to fame for being a social media personality. They met in 2015 and have been together since. Although it's been a while since fans saw the pair in public together, it is unlikely that they have gone their separate ways. That might just be a sign that the athlete wants to keep his relationship private.
He certainly has learned from his experience with having a series of very publicized relationships. It seems that Strahan has made the right decision as he looks very happy and contented. It's a good thing that he has no financial problems, as that might get in the way of their blossoming love for one another. Besides his height, we're also sure that Michael's credit score also towers over most people.
123.Brian Quick & Michelle Quick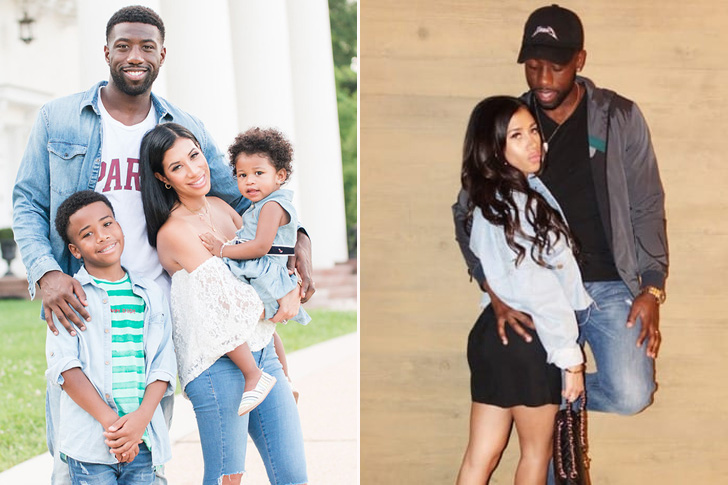 Brian Quick is best known as a former American football player who played as a wide receiver for the NFL team St. Louis Rams. On the other hand, Michelle Quick is a reality television star who became famous for credit role in the hit TV show Wags. The couple got engaged in 2015, and it was only three months later that they finally tied the knot. The couple is also proud parents to two beautiful children, their daughter Cali Brielle and their son Jaiden.
Since Brian has a net worth of over $3 million and Michelle has significant earning as an actress, it's safe to assume that they live a pretty comfortable life. However, it would always be a good idea to take a piece of advice from a financial advisor so that they could manage their finances accordingly and plan for their children's future properly.
124.Anthony Davis & Marlen P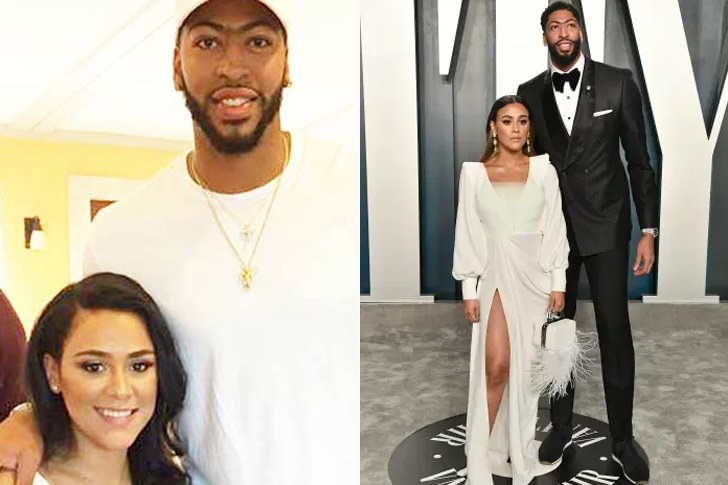 Marlen P is Anthony Davis' longtime girlfriend. Anthony is a basketball sensation who recently won the 2020 NBA championship together with Lebron James and the Los Angeles Lakers. Although not much information is available about their relationship, the couple shares a daughter— Nala, born in 2018. Additionally, reports also said that the pair were on the hunt for an investment property in Los Angeles back in 2019.
With a net worth of over $60 million, they surely did not have a hard time finding a lavish mansion in the heart of the city. Indeed, they were able to purchase a 16,000-square-foot mansion in Los Angeles for $7.5 million. Anthony has a long way to go in terms of his career, so we assume that his net worth will continue to grow. If he's careful, he can continue to enjoy his wealth until after retirement.
125.Giannis Antetokounmpo & Mariah Danae Riddlesprigger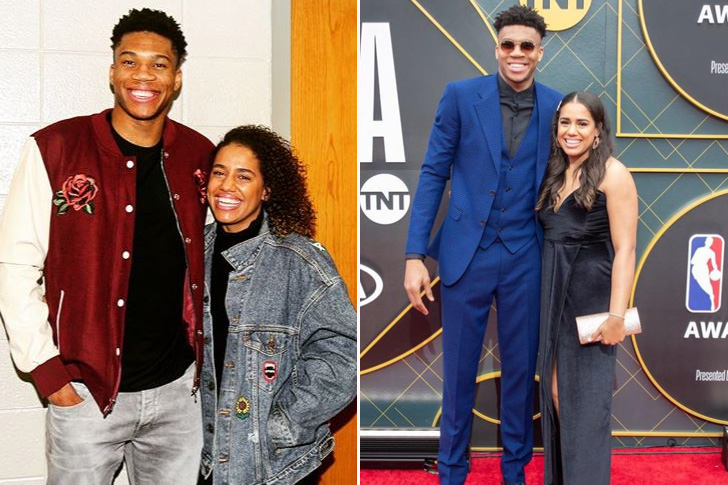 Giannis Antetokounmpo, also known as "The Greek Freak," is one of the NBA's highest-paid players, with a net worth of over $70 million. He is currently one of the most dominant centers in the league who has the agility that is unusual for a 7-foot player. He also recently signed a five-year $228 million contract extension with the Milwaukee Bucks, which is the largest contract in NBA history in terms of dollars per season.
With his storied and highly lucrative basketball career, his girlfriend Mariah Danae Riddlesprigger will surely enjoy a comfortable and lavish life once they decide to get married. Moreover, Giannis is still relatively young, and he will continue to earn more from his salaries and endorsements. However, we still advise him to hire a financial advisor so that he and Mariah could still enjoy their wealth well into their retirement.
126.Luka Doncic & Anamaria Goltes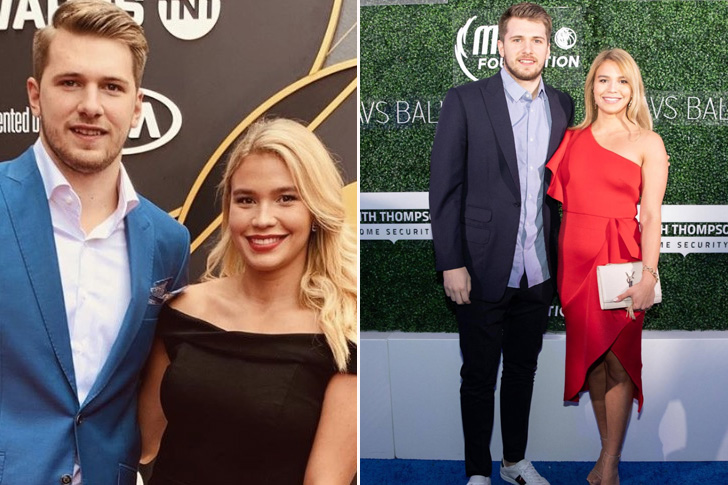 Luka Doncic is another rising star in the NBA who plays for the Dallas Mavericks and has already shown potential to be a future world champion. At the same time, Anamaria Goltes is a prominent Slovenian model. They have been dating together since 2016, and rumors are they may be tying the knot soon. Although their relationship only started a few years ago, Doncic and Goltes had known each other since they were children, which is good because they already had a solid relationship before becoming lovers.
We can't wait to see them finally getting married and hear about their lavish investments as a high-earning couple. Indeed, with their millions of dollars, they can easily afford the most luxurious goods they can find. However, a little caution is still necessary for them to maintain their wealth and protect their would-be children's future.
127.Kawhi Leonard & Kishele Shipley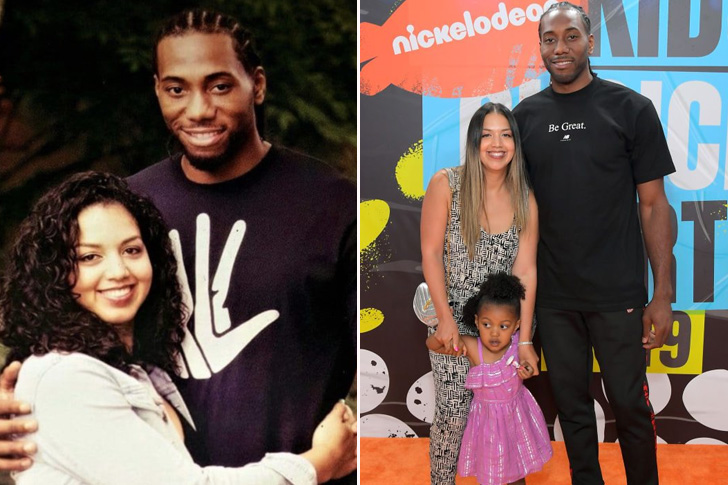 Kawhi Leonard is one of the most valuable players in the NBA who has been winning championships since the early 2010s. His most recent title was back in 2019 when he led the Toronto Raptors into their very first NBA title. He is best known for his impenetrable defense and is currently playing for the Los Angeles Clippers. However, what makes him even more special is that he is quite a simple and humble man — a somewhat unusual trait among NBA superstars.
Perhaps that's what his girlfriend Kishele Shipley liked about him. They have been together since 2014. Shipley, like Leonard, is an alumnus of San Diego State University. Fans believe that the couple met during their time at the university. Nothing else is known about the couple as they are both private about their personal lives. Nevertheless, we think they would be an awesome husband-and-wife duo in the future, impressing us with a modest investment property instead of a lavish one.
128.Kevin Durant & Monica Wright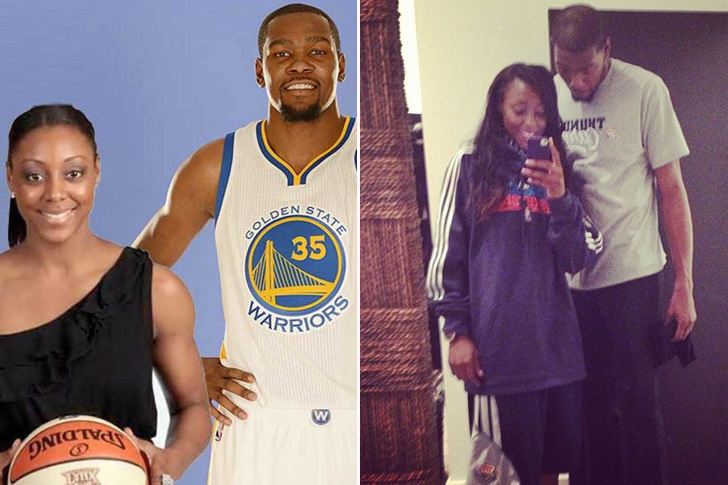 Kevin Durant is one of the most recognizable basketball superstars in the world. At the same time, Monica Wright is a basketball coach and a former WNBA star who played for the Minnesota Lynx. They were previously engaged in 2013 but have recently called it quits. It is really unfortunate to see them going their separate ways, but maybe it's for the best. Nevertheless, we are confident that they will each find what's best for them.
They are both successful in their own right, so perhaps it's also a good idea to focus on their individual careers. For instance, Durant is well into his peak and can continue to earn more championships and money as well. Moreover, he has also shown savvy investment skills as he is known to be an investor of over 40 startup tech companies. He owns a small stake in several companies such as Postmates and the investment app Acorns.
129.Damian Lillard and Kay'la Hanson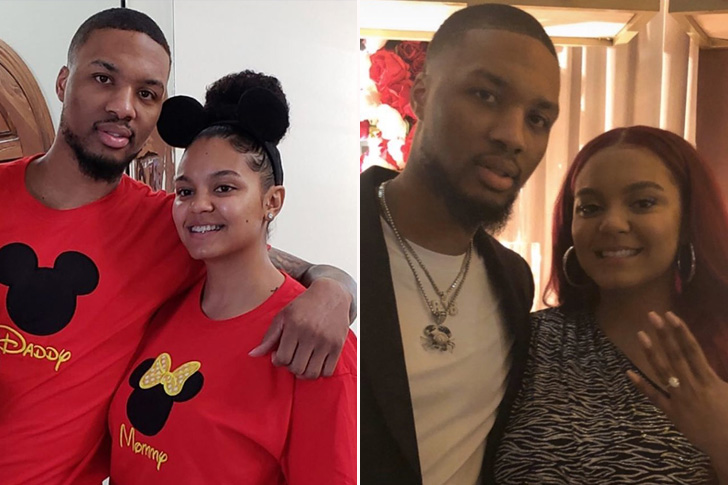 Damian Lillard is one of the greatest clutch players in the NBA today. He is currently playing for the Portland Trailblazers, which many people consider to be a strong contender in the Western Conference because of Lillard's exceptional skills and incredible 3-point-shooting ability. He was Rookie of the Year in 2013 and is currently one of the NBA's highest-paid players.
What most people don't know, however, is that he is also a proud father to three wonderful children, two of whom are twins. Lillard's fiancée Kay'la Hanson recently gave birth to twins named Kali Emma Lee Lillard and Kalii Laheem Lillard. With a net worth of over $70 million, he can surely provide a comfortable, if not luxurious, lifestyle for his family. However, it's never a bad idea to secure a sound insurance plan to protect their three children's future.
130.Stephen Curry and Ayesha Curry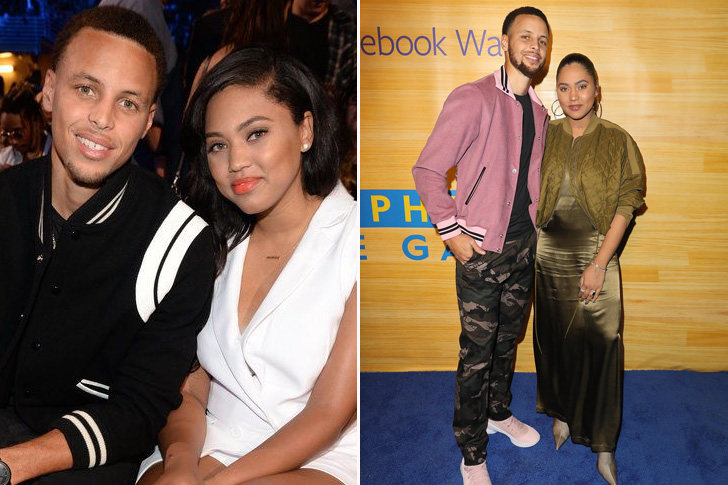 There's no doubt that Stephen Curry is the master of 3-point-shooting and is unmatched for his overall shooting ability. In fact, he changed the entire offensive strategies of most NBA teams, and he has inspired a lot of young players to focus on shooting buckets from outside the paint. He has broken many records and has won back-to-back NBA championship titles, a season MVP award, and a Finals MVP award. He is also known for being the other half of the esteemed "Splash Brothers" together with another shooting maestro Klay Thompson.
On the other hand, Ayesha Curry is an accomplished actress, author, and TV cooking personality. She is best known for hosting her own show called Ayesha's Homemade on the Food Network. She has also written a cookbook called The Seasoned Life, which got published in 2016. They are both extremely talented people with a strong relationship and a growing net worth, which they've used to purchase extravagant investment properties.
131.James Harden & Amber Rose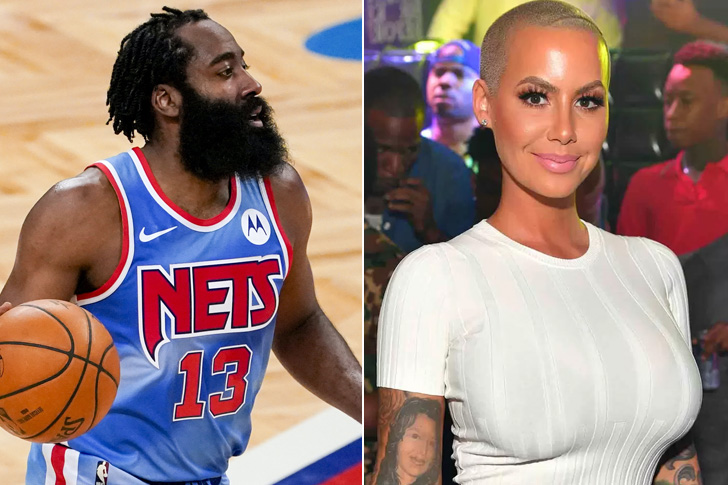 James Harden is another basketball superstar who people widely recognized for his unique and effective basketball skills. He is perhaps best known for his iconic signature move called a "step back," which allows him to evade the defender while shooting. He is currently playing for the Brooklyn Nets along with former OKC teammate Kevin Durant. They are a solid contender for the championship in the current season.
Amber Rose, on the other hand, is a successful actress, model, and television personality. She rose to fame for her credit roles in various TV shows such as Running Russell Simmons, RuPaul's Drag Race, Master of the Mix, and a contestant in the popular dancing show Dancing with the Stars. She is also known for her musical pursuits. She released her debut single called "FAME" in 2012 and was followed by "Loaded" in the same year.
132.Nikola Jokic & Natalija Mačeši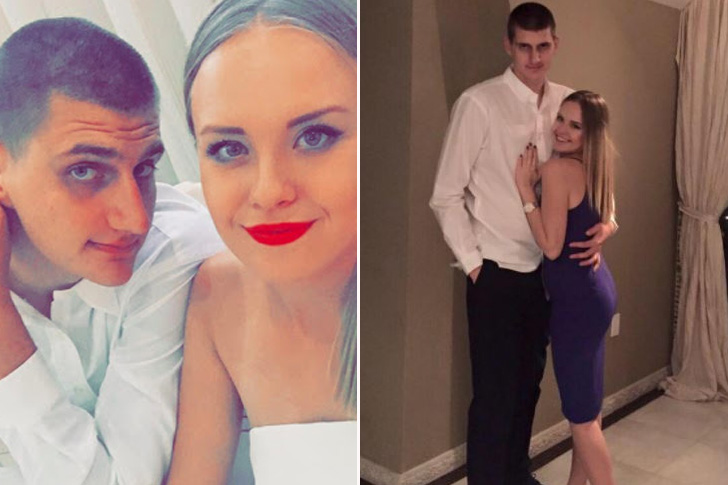 Nikola Jokic might still be very young and inexperienced, but he has already shown great potential and competitiveness. He got drafted by the NBA team Denver Nuggets in 2014 and immediately rose to the NBA All-Rookie First Team. He is also one of the highest-paid players in the league, signing a maximum contract extension with the Nuggets in 2018 for $148 million for five years. He currently has a net worth of $30 million.
Natalija Mačeši is Jokic's wife. They recently got married in 2020 in a private ceremony. Nikola Jokic and Natalija Macesic have been dating since 2013 and have reportedly decided to tie the knot in their hometown. After all, the couple has been dating since high school. With such a massive fortune and still a bright future ahead of him, Nikola and his wife are sure to live a comfortable life. Smart investments are still necessary, however, as Nikola cannot rely on his salary alone.
133.Dwyane Wade & Gabrielle Union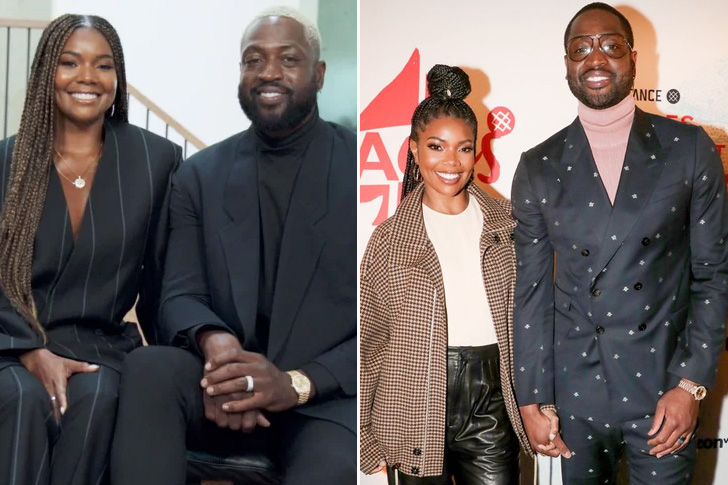 Dwayne Wade and Gabrielle Union are among the most famous power couples in the basketball world and entertainment business. Dwayne Wade is a former NBA superstar who won multiple championship titles with the Miami Heat. On the other hand, Gabrielle Union is an accomplished television and film actress known for blockbuster films such as Bring It On, Think Like a Man, and Bad Boys, among many others.
They first met in 2007 while co-hosting a Super Bowl party and began dating in 2009. The pair finally decided to tie the knot in 2014. Together, they are known for their lavish lifestyle with substantial investments such as their $20 million mansion in Hidden Hills, California, and a $6 million abode in Sherman Oaks. They also own a luxurious waterfront mansion in Miami, Florida, which they bought for a cool $10.7 million.
134.Tim Duncan & Vanessa Macias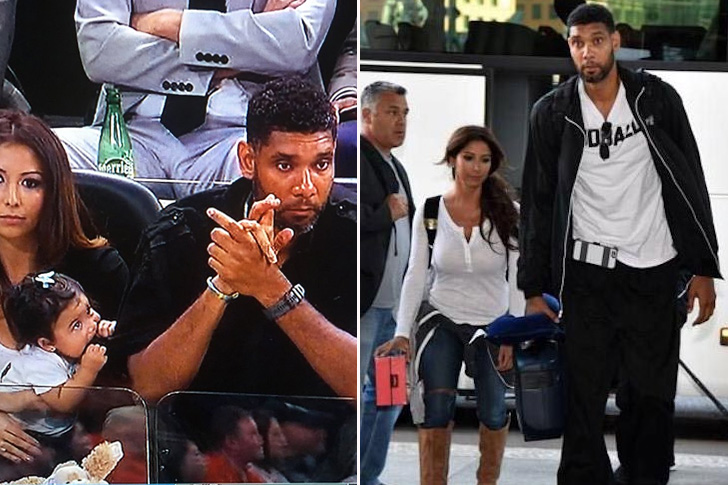 Tim Duncan is a legendary NBA superstar who became the San Antonio Spurs flagship player, where he won multiple championships along with Tony Parker and Manu Ginobili. People mostly know him for his strong fundamental skills in basketball that allowed him to dominate players both in and out of the paint. Moreover, Tim easily became one of the highest-paid players in the league at his peak, earning more than $20 million per season. He also made tens of millions more from endorsements.
Tim Duncan is also a loving father and a devoted partner to his girlfriend of seven years, Vanessa Macias. Vanessa is best known for being a host, and a contestant on the hit reality competition show Amazing Race. Together, they welcomed a daughter named Quill, joining Duncan's other children from his previous wife. With a net worth of $130 million, we just hope that they have also made some wise investments to protect their wealth.
135.Kyrie Irving & Marlene Wilkerson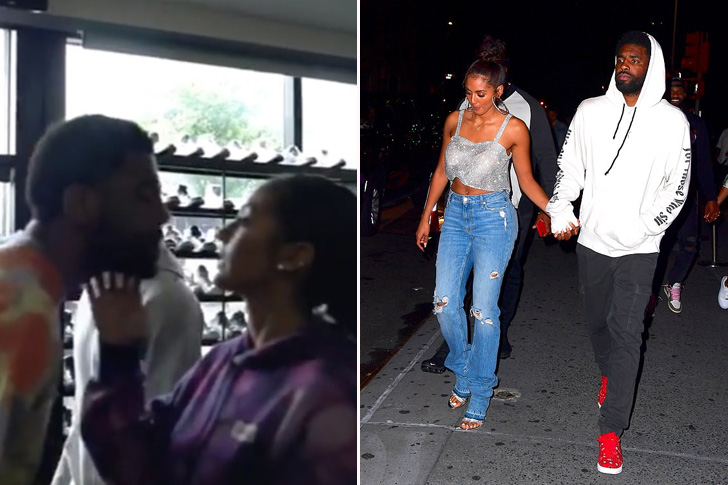 Although Kyrie Irving has been mum about his private life, fans still found a way to know something about him and Marlene Wilkerson's romance. Rumors are even starting to circulate online about their relationship. However, the couple has stopped sharing photos on their respective social media account. Does it mean it is over for the two of them? Kyrie and Marlen started dating in 2018. Since then, fans often spotted them hanging out together, though they didn't officially admit that they were already a thing.
However, after a year, news broke out they were already engaged after paparazzi saw Marlene sporting a huge diamond ring. Indeed, it was a good investment for Kyrie to buy but was it worth it, knowing there were claims that they already broke up? Well, as of this writing, the only proof fans have about their alleged split is the disappearance of Marlene's posts where she was wearing the so-called engagement ring, while Kyrie deleted his posts about her.
136.Hakeem Olajuwon & Dalia Asafi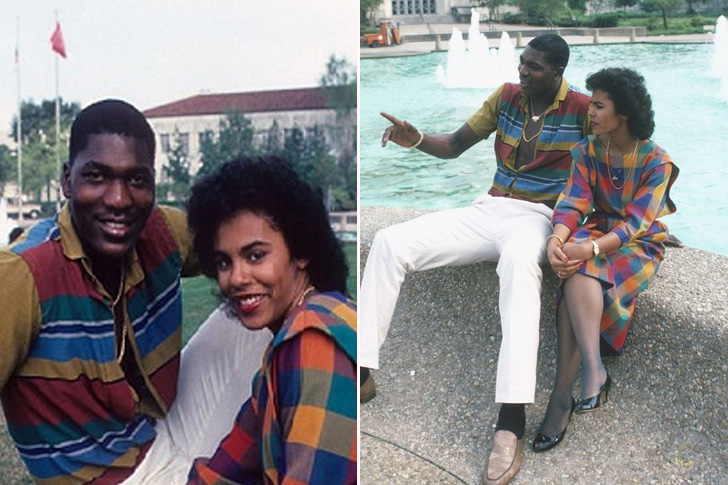 Another baller on the list is Hakeen Olajuwon, who is evidently taller than his wife, Dalia Asafi. The former basketball player is an icon in his own right, being named one of the greatest basketball players of all time. Now 58 years old, he even compared to the likes of Michael Jordan, Magic Johnson, Bill Russell, and more, getting the same credits. Hakeem also got the nickname of The Dream for his effortless dunks, which his college coach said was like a dream.
How lucky could Dalia be? The two tied the knot in 1996 in Houston and now share four kids. They have two daughters, Rahmah and Aisha, and two sons, Abdullah and Abdul. However, Hakeem has another child, Abisola, from his previous relationship with Lita Spencer. Just like her dad, Abisola is also into basketball and played in the WNBA.
137.Dwayne Johnson & Lauren Hashian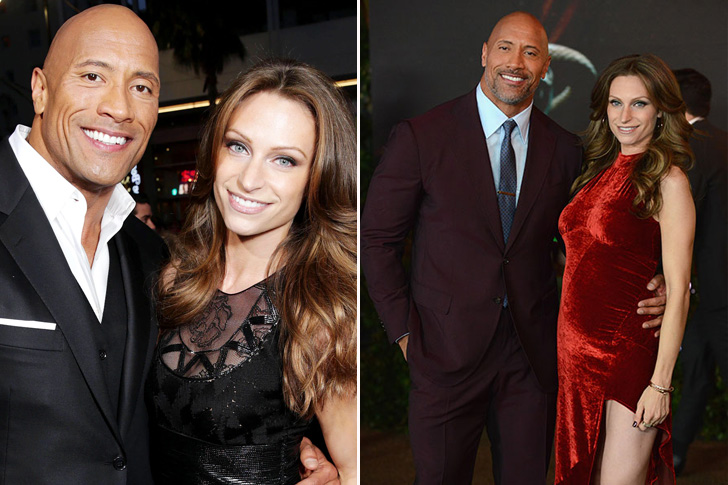 We don't have to state the obvious. You probably know the difference between Dwayne Johnson and Lauren Hashian—their body—, and yes, it doesn't matter. These two have withstood the most challenging problems in life, and yet they remain to be in each other's side. No height or weight difference can break their romance. They have the strongest degree of love you could ever see.
Everything started when they met on the set of the movie The Game Plan in 2006.
After Dwayne parted ways with his wife then, he started seeing Lauren. After they became an official couple, they quickly moved in together. Dwayne found himself very lucky to have fallen in love again with someone like Lauren. Fast forward to today, they officially tied the knot in 2019 and now share two kids, Jasmine and Tiana Gia Johnson.
138.Stephanie McMahon & Paul Levesque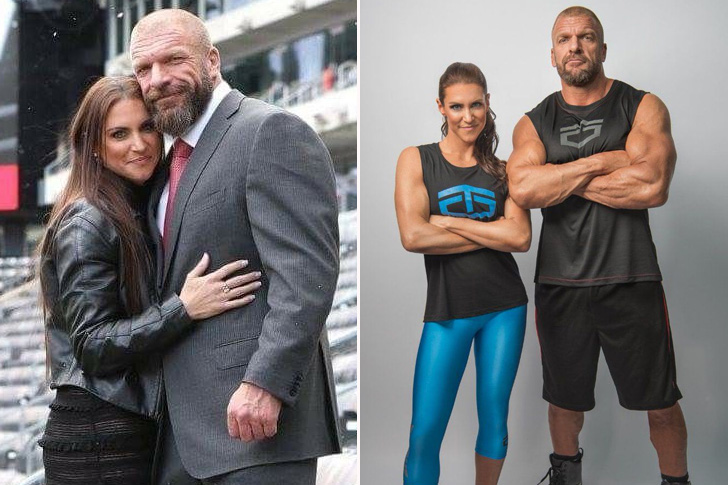 Stephanie McMahon and Paul Levesque, famously known as Triple H, are a match made in heaven. They are both famous for their WWE stints and even among the most recognized couples in wrestling's history. In case you don't know, Stephanie is the daughter of Vince McMahon, the chairman, and CEO of WWE itself. On-screen, Vince is very against Triple H, but he lets him date his child behind the camera. He also allows this to happen despite executive relations' policy not to date any superstar.
However, the heart wants what it wants, and the two are now married for about 18 years. They now share three kids, Vaughn Evelyn, Aurora Rose, and Murphy Claire Levesque. As Stephanie currently serves as the brand office of WWE and Triple H is now the Executive Vice President of Global Talent Strategy & Development, their children will undoubtedly be out of any money loans and have a bright future ahead.
139.Jonathan Scott & Zooey Deschanel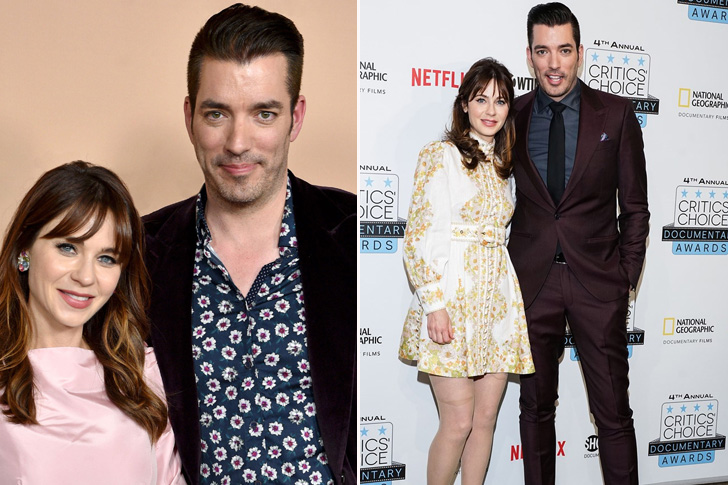 No amount of height difference will affect Jonathan Scott and Zooey Deschanel's romance. The two instantly felt the spark of electricity the first time they met and developed "instant chemistry." The couple quickly bonded over their love for the arts, and as soon as they exchanged digits, a romantic relationship began. Jonathan and Zooey share the same passion, have the same interests and sense of humor. No wonder they have been together for more than a year after starting dating in 2019.
The couple will often post their loved-up photos on their respective social media accounts, displaying major PDA even online—and they are never shy about it. They are even proud of their romance and prouder of each other's achievements. Everybody knows Zooey is a successful actress, model, and singer-songwriter, while her partner, Jonathan, is the famous reality TV personality and one-half of Builder Brothers.
You've Reached The End